'There is a silent emergency prevailing in India today'

S P Udayakumar
&nbsp | &nbsp Idinthakarai
27-June-2012
Vol 3&nbsp|&nbspIssue 25
Today (June 26) is the 37the anniversary of the infamous emergency that Prime Minister Indira Gandhi imposed on the people of India. While some people were quite happy that the bureaucrats came to offices on time, shopkeepers kept price lists outside their shops, trains were punctual and so forth, many people were worried and concerned about the curtailment of our freedoms and entitlements.
As a 15-year-old boy, I was worried about my father's safety -as he was active in the DMK - the complete absence of freedom of speech, freedom of press, freedom of assembly, and most importantly, freedom from fear.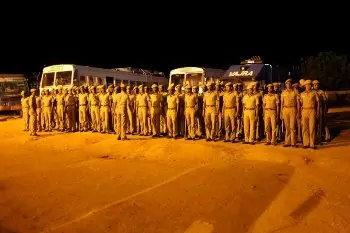 The police siege around Idinthakarai affected movement of people and essential commodities (Photo: Amirtharaj Stephen)
People were afraid to speak their minds out, and the newspapers were full of blank spaces because of censorship. That was not the India I had grown up to love and cherish. Never did I imagine even in my wildest nightmares that I would find myself in a similar but silent emergency after some 37 years of liberty and freedom.

Today is the 100th day of my self-exile here at Idinthakarai. On March 18, 2012 at 4:45 PM the Personal Assistant (General) of the Tirunelveli Collector called me and invited us to meet the Collector at his office the next morning at 10 am.
The Collector, Dr. R. Selvaraj, himself called me later asking us to go and meet him. A warning bell rang in my mind and I told my friends that we were all going to be arrested.
My intuition proved to be right; some 200 of our friends from Koodankulam, Koottapuli, Chettikulam and Erode were arrested. Rayan, I and 13 others embarked on an indefinite hunger strike demanding our friends' immediate and unconditional release.

The Superintendent of Police, Mr. Vijayendra Bidari, called me on my mobile on March 19th evening and asked me to surrender. With him still on the phone, I asked the thousands of people who had gathered there for their permission to surrender and they all shouted down the idea.
I asked the SP to send enough vehicles and two officers with the arrest warrants so that we all would get arrested en masse. He did not like that idea and hung up by saying, "This is the last time I will speak to you."

Ever since March 18th, Rayan and I never left this small coastal village (barring two short visits to the nearby Kuthenkuzhi village by sea).
Thousands of people including women and children from all the neighboring villages were keeping a constant round-the-clock vigil to protect us from police action. The Tamil Nadu government imposed 144 prohibitory orders in our area and blocked our access to food, water, electricity and other essentials such as baby food, vegetables and fruits.
Young mothers were forced to feed their babies sugar water; pregnant women could not go to hospital; and men could not leave or enter the village. We were surrounded by a massive deployment of police personnel from all over Tamil Nadu and paramilitary forces. We rightly called the situation another 'Mullivaikal.' Indeed, it was!

Pushparayan, Jesuraj and I are not afraid of police arrest or incarceration; we just do not want the struggle to be folded up by the Tamil Nadu police, the Government of India and its intelligence agencies.
This is the reason why we have decided not to venture out of Idinthakarai. This self-exile has not been easy or smooth-going. But the singular achievement of our self-exile is keeping the struggle alive and active with several hunger strikes, public meetings, campaigns, planning meetings and other assorted activities.

So far, more than 300 false cases have been filed against us, the leaders of the People's Movement Against Nuclear Energy (PMANE), and the struggling people of southern Tamil Nadu.
Up until December 31, 2011 some 170 FIRs were filed against us. A friend tabulated these cases and remarked: "Just between September and December 2011, 109 FIRs have been filed against 55,795 people and an undisclosed number of "others."
At least 21 sections of the IPC have been used, including Section 121 (Waging War against the Government of India) against 3600 people, and Section 124A (Sedition) against 3200 people.
The Koodankulam police station has the dubious distinction, perhaps, of being the first station where the largest number of "sedition" and "waging war" cases have been filed in the shortest time in the history of colonial and independent India."
Facing more than 300 cases, which include 'sedition' and 'waging war against the State' charges, and living a life in self exile in a remote coastal village without any mobility, family, access to health care, and other essentials, remind me of the 'Emergency' and MISA (Maintenance of Internal Security Act) days.
Yes, there is a silent emergency prevailing in India today. The State that accuses us of waging war against it is indeed waging a war against its own people.
Also we have to ask what is seditious today in India. The Manmohan Singh government has scores of ministers who are accused of serious corruption and fraudulence charges, but it is the common people like us who struggle for the safety and betterment of our people who stand accused of sedition.

The Manmohan Singh government, the most controversial government independent India has ever had, has tried all kinds of dirty tricks to put down our struggle and the movement. They have been accusing us of receiving foreign money, acting at the behest of foreign powers, conspiring with the Catholic Church, conniving with opposition parties and so on.
They have damaged my school, destroyed the poor little children's library books, vandalized the children's water taps, intimidated family members, and indulged in all kinds of inhuman, devious and criminal behavior.
The Indian government and the Department of Atomic Energy have refused to give any information to the public and are speaking half-truths, non-truths and complete nonsense just to mislead the country and enhance their own self interests.

Having exhausted all options to end opposition to the Koodankulam Nuclear Power Plant, the Government of India now plans to take a peek into all our minds with the help of psychiatrists from the National Institute of Mental Health and Neuro Sciences (NIMHANS) in Bangalore.
The government is getting sicker and sillier. Besides the prevailing 'silent emergency,' there is also a telling emergency in the country, with a government that works for foreign governments, foreign corporations, foreign interests, and cannot for a second accept the simple fact that 'Ordinary Indians' can think through policy issues, take a stand on them, and stand up for their rights. We have got an emergency situation indeed.

S P Udayakumar is the Coordinator of People's Movement Against Nuclear Energy (PMANE) and the opinions expressed here are his own.

Trending Now: