Ganga activists threaten to re-launch campaign in support of their demands
14-May-2012
Vol 3&nbsp|&nbspIssue 19
Activists working for the Ganga river conservation Monday threatened to launch a massive campaign from Varanasi May 21 if the government failed to take effective steps in this direction.
Lashing out at the central government for "not fulfilling" its promises, Pramod Krishnam, Ganga Mukti Mahasangram's convenor, told reporters here: "The energy ministry is playing into the hands of a few corporates, instead of thinking about the Ganga, which is deified by crores of Indians."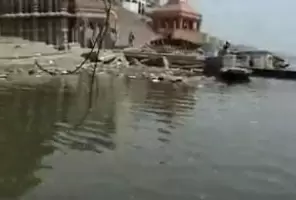 Activists want the government to clean the Ganga
Krishnam said political parties talk about Ganga conservation at the time of elections only and forget their promises once people vote them to power. "For people of the country, the Ganga is more important than the government."
Announcing the demands of activists, he said if the Ganga is our national river, it must get the status accorded to other national symbols.
"If Ganga is officially our national river, it should have a separate act like the one for national flag, which prevents any disrespect towards the flag. Also, instead of the National Ganga River Basin Authority (NGRBA), chaired by the prime minister, a dedicated commission should be formed," Krishnam said.
"Also, the hydro-electricity projects planned on the tributaries Alaknanda and Mandakini should be cancelled just like Bhagirathi, as Ganga is formed by all three of them...there should be strict regulation on the waste being dumped in the holy river," he demanded.
If the government does not pay heed to these demands, he said, a countrywide campaign will be launched from Varanasi May 21.
Krishnam said just like former IIT professor G.D. Agarwal, who had observed a 45-day fast for conservation of the river, some other activists like Gangapremi Bhikshu, Krishnapriyanand and Sadhvi Poornamba were fasting in Varanasi and their health was steadily deteriorating.
"If any of these activists die... the responsibility will rest on the central government and the government of Uttar Pradesh."
Speaking on the occasion, Magsaysay Award winner and National Ganga River Basin Authority (NGRBA) member Rajinder Singh accused both the central and Uttar Pradesh governments of backing out on promises made during April 17 meeting of the authority.
"So far, the government has not delivered on the promises made on April 17. We had, on our part, given the draft of Ganga lokpal bill and submitted it on time," he said.
"Further, Uttar Pradesh Chief Minister Akhilesh Yadav, who had been speaking against Ganga Expressway project before the elections, has said that no extra clearance would be needed for construction of the Ganga expressway," he added. - IANS

Trending Now: