Pamela Anderson adopts Indian 'homeless' puppy
05-May-2012
Vol 3&nbsp|&nbspIssue 18
Hollywood actress and model Pamela Anderson, who is also an animal rights activist, has adopted an Indian homeless puppy with the help of People for the Ethical Treatment of Animals (PETA), a PETA official said.
"When Anderson came to India to appear as a guest on Bigg Boss 4, her heart was captured by the plight of the homeless dogs she saw on the streets," the official said.
"When Anderson, an honorary director of PETA US, learned that PETA India chief functionary Poorva Joshipura was headed to the US to meet with her overseas colleagues and her family, she asked if Joshipura would take along a homeless Indian puppy," the official added.
"Anderson has decided to name her new family member Pyari, or 'loved one'."
The puppy was rescued from a construction site in Mumbai.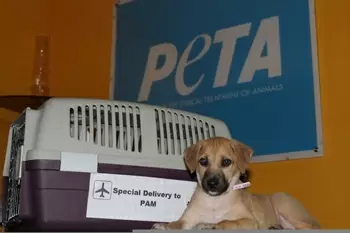 The Indian puppy adopted by Pamela Anderson through PETA (Photo: IANS)
"I'm tickled to be able to give Pyari a loving home," Anderson said in a statement.
"I already have rescued dogs, and I urge everyone to join me in adopting a homeless 'desi' dog from their local animal shelter or the streets instead of buying a so-called purebred," she added. - IANS


Trending Now: