Ex-army officer sentenced to life imprisonment in Dilshan murder case
20-April-2012
Vol 3&nbsp|&nbspIssue 16
Retired army officer K. Ramaraj was sentenced to life imprisonment by a fast track court here Friday for last year's killing of a 13-year-old boy who had entered his residential premises to pick almonds.
The court also levied a fine of Rs.60,000 on Lt. Col. (retd) Ramaraj, 50, of which Rs.50,000 has to be given to the family of the victim, K. Dilshan, said a prosecution lawyer.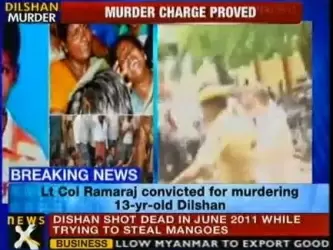 A TV grab from News X, which reported the verdict
The judge also found Ramaraj guilty under two sections of the Arms Act and awarded him prison terms of three years and one year each, besides a fine of Rs.10,000.
All the sentences would run concurrently.
The shooting of the boy for trespassing raised a nationwide uproar, with people demanding exemplary punishment for the killer.
Reacting to the judgment, Dilshan's mother K. Kalaivani told reporters assembled at the court: "I am happy. It is a good judgment. This will be a lesson to everybody. Such incidents should not happen to anyone, anywhere in the world."
A prosecution lawyer told reporters that the hearing by the court began in September and ended April 11. Around 55 witnesses were examined by the court. The police had submitted 45 exhibits and 13 material objects, besides the murder weapon.
Tamil Nadu Police cracked the case within a week of the killing of the boy.
According to police, Ramaraj was irritated by the boy trespassing into residential premises housing retired and serving army officials to pick up almond nuts.
Police had charged that Dilshan was shot by Ramaraj from the balcony of his residence July 3 afternoon when the boy and his friends residing nearby entered the residential campus to pluck almonds.
Dilshan was fatally wounded and succumbed to injuries in a hospital. Ramaraj has three sons serving in the army.
The murder investigation was taken over by the Crime Branch-Criminal Investigation Department (CB-CID). Police had initially suspected some other official but later ruled out his involvement and zeroed in on Ramaraj.
According to police, Ramaraj, who retired from service last year, had acquired a 0.30 calibre Springfield rifle in 2004 when he was posted in Jabalpur, Madhya Pradesh. The gun licence had expired and Ramaraj had applied for licence renewal.
The army officers here were not aware that Ramaraj was in possession of a rifle. Ramaraj had later thrown the rifle in Cooum river here. It was recovered by police.
According to the CB-CID, extensive searches were carried out at the place of shooting and a bullet component was recovered and sent for ballistic tests to ascertain the type of weapon used.
Initially, it was thought that three boys, including Dilshan, had entered the campus. But the investigation established the presence of a fourth boy, who gave information about the probable involvement of Ramaraj in the shooting.
Twelve probe teams were constituted to crack the case. - IANS

Trending Now: