Jaya continues to pile pressure on Sinhalese racist regime
11-April-2012
Vol 3&nbsp|&nbspIssue 14
Tamil Nadu Chief Minister J. Jayalalithaa Wednesday withdrew her AIADMK MP from an all-party delegation set to visit Sri Lanka April 16-21.
The team led by BJP's Sushma Swaraj is to inspect the rehabilitation of those displaced during the war against the Tamil Tigers that ended in May 2009.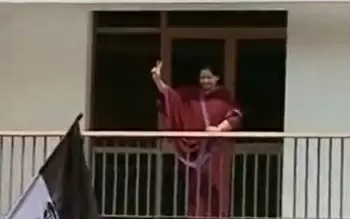 Jayalalithaa feels the visit is designed to create a positive image about Sri Lanka
Jayalalithaa said in a statement that her MP A. Williams Rabi Bernard will stay away as the itinerary does not include a meeting with the affected people and taking up their issues with President Mahinda Rajapaksa.
She said the itinerary "gives importance to meeting and dining" with Sinhalese leaders and government officials and that the programme seemed to have been designed by Sri Lankan officials to create a positive image about them in India.
"Further the delegation does not comprise of journalists, human rights activists and independent observers," she said.
Jayalalithaa also came down on the Indian government for not acting on the Tamil Nadu assembly resolution to take steps to impose economic sanctions against Sri Lanka and for diluting the US resolution against Sri Lanka at the UN Human Rights Council.
She said Colombo was continuing with "its anti-Tamil activities by attacking Indian fishermen" as well as over the rehabilitation of Tamils in the island nation.
According to Jayalalithaa, the MPs' visit will turn out to be an eyewash as it happened with an earlier team of parliamentary members belonging to the Congress, DMK and VCK parties. - IANS

Also Read

'Diaspora Tamils should be part of UN referendum on Eelam'

Trending Now: