Tamil Nadu journos appeal to Jaya to shut down nuclear power plants in the State
22-March-2012
Vol 3&nbsp|&nbspIssue 11
Over a hundred journalists, writers, poets, and artists issued a joint statement Thursday appealing to Chief Minister J Jayalalithaa to take an immediate decision against establishing nuclear power plants in the State and explore alternative sources of energy.

Following is the Full Text of the Statement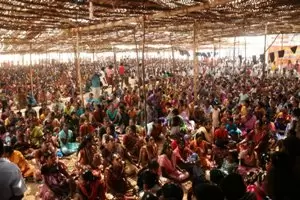 Villagers are continuing their protest against the Kudankulam nuclear power plant
As several thousand people were protesting peacefully against the Koodankulam Nuclear Power Plant (KKNPP) for the last three months, Tamil Nadu Chief Minister Jayalalithaa wrote to the Union Government requesting that the nuclear plant need not be commissioned until the peoples' fears and misgivings were allayed.

Moreover, she promised the agitating people that she would be among them on the Koodankulam issue. We are extremely disappointed by the State Government's action of sending thousands of police to that area and taking steps to ensure the functioning of the nuclear plant just a day after the completion of the Sankarankovil by-election.

Because no steps have been taken to allay the people's fears, we, writers and journalists condemn this act of the Tamil Nadu government.

We also strongly condemn the State Government's act of isolating the agitating fisher-people who live in the coastal areas by cutting access to their villages from the mainland.
We further strongly condemn the efforts of the State Government in using its armed power to silence a non-violent struggle, and its striving to quash the anti-nuclear protests by isolating the people from other sections of society and through violence.
On the basis that it is the duty of every writer and artist to pay immediate attention to an issue that will gravely affect our state and our people for several generations, we wish to place our opinion before the general public and particularly, the Tamil Nadu Chief Minister through this statement.
The wrongful notion that the Koodankulam Nuclear Plant will solve the problem of shortage of power in Tamil Nadu is being propagated. This is not the truth. We should take up alternative methods of solving our electricity crisis.
To seek nuclear power is like jumping from the frying pan into the fire. Several research studies point out that merely replacing ordinary filament bulbs with Compact Fluorescent Light (CFL) light bulbs will save 500 megawatt of power.
Looking at this with foresight, even reducing by half the forty percent of power that is lost during transmission, we would not require fresh generation of electricity.
There are also other renewable sources of energy like sunlight and wind power. In order to facilitate taking up such projects, the people there requested the Chief Minister of Tamil Nadu to meet the protestors. It is disappointing to observe that the Tamil Nadu government has decided to commission the nuclear power plant once the Central Government-appointed Committee submitted a report in favour of the nuclear plant as part of a well-orchestrated plan.
Statistics have also proved that compared to the huge costs taken to establish a nuclear plant, it provides only a minimum amount of electricity. Therefore it is our opinion that we do not need nuclear plants which are going to cause trouble to our future generations.
It is our request that the existing nuclear plants are also shut down gradually. In the last fifty years, several intellectuals in India and abroad have testified several facts in support of our opinion.
In these circumstances, we request the Chief Minister of Tamil Nadu to take an immediate decision against establishing nuclear power plants in our state similar to the decisions taken by the Governments of Kerala and West Bengal several years ago.
We request her to save the people of Koodankulam who are caught on the verge of destruction by taking into mind the great tragedies that have taken place all over the world because of nuclear reactors. We also request the Chief Minister to pull back the police heaped in the Koodankulam area and we request her to directly meet the people immediately.

The following are the signatories of the joint statement:
Writers
Indira Parthasarathy
Prabanjan
Ponneelan
Nanjil Nadan
Pa.Jeyapirakasam
Gnani
Konangki
Ambai
Bama
S. Ramakrishnan
A.Marx
Bhaskar Sakthi
Yuma vasuki
Azhagiya periyavan
Ajayan Bala
A.Muthukrishnan
Kurumbanai Berlin
Chandra
Yuvabharati manikandan
Stain rajangam
Yazhini munusamy
Suba kunarajan
Muruga boopathy,manal makudi nadaga kuzhu
Lakshmi saravanakumar
Aloor shanavas
Cyril Alex
Boutha Ayyanar
Muthu Meenal
Poovalagu Sundarrajan
Thi Ka Sivasankaran
Tho.Paramasivan
Lena. Kumar
Kottravai
Vishnupuram Saravanan
Meena Kandasamy
Living Smile Vidya
Pamaran
Parveen Sultana
Bharathi Krishnakumar
Prema revathi

Poets

Ingulaab
Arivumathi
Malathi Maithri
Kutti Resvathi
Kalapriya
Sukirtharani
Yaazhan Athi
Manushyaputhran
Thamarai
Yugabharati
Devadevan
Shankara rama subramaniyan
Jeyabaskaran
Selma Priyadarshan
Veli Rangarajan
Sa. Vijayalakshmi
Thi Parameshwari
Yavanika Sriram
Vasumitra
Nesamitran
Jamalan Jahir Hussain
Aranga mallika
Inquilab
Yamuna Rajendran
Film personalities

Directors
Ameer
Jananathan
Ram
Seenu ramasamy
Senthamizhan
R. R. Srinivasan
R. P. Amudhan
Journalists

Babu Jayakumar
A.Tha. Balasubramaniyan
Barathi Thambi
Rajumurugan
Arul Ezhilan
Cartoonist Bala
Punitha Pandian
Balachandran
Balabharathi
Tamilkkanal
Kavitha Muralidharan
Muralidharan
R. Bhagat Singh
Tiruvannamalai Raja
Priya Thambi
Suguna Diwakar
Sundhra puththan
Yuva krishna
N. Vinod Kumar
Athisha
Kavin Malar
Aaraa
N. Asokan
Jeyarani
Thalavai Sundaram
Mahalingam Ponnusami
Arul Chezian
M.P.Udhaya suriyan
Neeya Naana Antony
Keetru Ramesh
Kavitha sornavalli

Artists

Trotsky Marudhu
Veera Santhanam
Rohini Mani
Mani Varma
Mugilan
Chandru
Natraj
Aras
Thamizharasu
Pugazhendhi
Venkat
Amirthalingam
Balaji
Shyam
Hasifkhan

Wish to share your story?
Trending Now: