Curtail visits by Sri Lankan dignitaries: Jayalalithaa
07-March-2012
Vol 3&nbsp|&nbspIssue 9
Hardening her stance against Sri Lanka, Tamil Nadu Chief Minister J. Jayalalithaa has urged Prime Minister Manmohan Singh to discourage frequent private visits by Sri Lankan VIPs and allow the visits only after consulting her government.
In a letter to Manmohan Singh, released to the media Wednesday, the chief minister said "it would be appropriate" if the Tamil Nadu government was kept informed about such trips.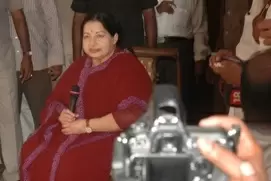 Jayalalithaa has continued to exert pressure on the government of India to take on Sri Lanka for its war crimes
She said the external affairs and home ministries had already been told about the difficulties her government faces due to frequent visits by Sri Lankan officials, army officers and other VIPs.
Referring to a letter from the Deputy High Commissioner of Sri Lanka in Chennai to the Tamil Nadu government and the external affairs ministry, Jayalalithaa said: "The tone and tenor of the letter is unwarranted, unacceptable and totally unjustified."
Referring to the Tamil Nadu people's "strong views" on the conduct of the Sri Lankan government in dealing with Tamils and their rights, she said: "The local perception is that (Colombo) has completely failed in ensuring the Tamils' right to live with dignity, self-respect and equal constitutional status on par with the Sinhalese."
Given this background, there have been instances when dignitaries from Sri Lanka visiting Tamil Nadu faced protests, she said.
She referred to the attack attempt on Thirukumaran Nadesan, brother-in-law of Sri Lankan President Mahinda Rajapaksa, in January.
The chief minister said no precautionary security measure could be taken for him "as there was no information (with my) government, either from the Sri Lankan government or from the government of India".
The death of a large number of Tamil civilians in the last stages of the war against the Tamil Tigers in 2009 has led to widespread anger in Tamil Nadu, which is separated from Sri Lanka by a strip of sea.

Interestingly, Jayalalithaa Tuesday termed India's support to Sri Lanka at the United Nation Human Rights Council (UNHRC) untenable and demanded support for the US resolution next month on accountability issues of the Sri Lankan civil war.
In a letter to the Prime Minister, the text of which was released to the media here, Jayalalithaa, referring to her earlier Feb 29 letter, said: "The media reports mention that India is against the 'Country Specific' resolutions and wants to take up discussions only under Universal Periodic Review as a routine matter."
"This means direct support to the Sri Lankan Government, which is most unfortunate and untenable," she said, adding she reiterated earlier requests that India should support the US-backed resolution in the UNHRC and "strongly condemn the Sri Lankan Government".
Noting her Feb 29 letter had gone unanswered, Jayalalithaa said that she awaited a positive response to it. - IANS
Also Read

Voice of Jayalalithaa may be a dawn of new hope for Sri Lankan Tamils


Trending Now: