Have your own Knee; a benchmark treatment for Knee Arthritis
25-August-2018
Vol 9&nbsp|&nbspIssue 35
Chennai is living up to its reputation as the medical capital of India with two city based doctors V Thirumal Selvan, 55, and S H Jaheer Hussain, 46, offering a path-breaking alternative to knee replacement for patients suffering from arthritis.
The symptoms of arthritis, which has affected an estimated 180 million Indians, are stiffness or swelling of knees, knee lock or clicking, loss of gait in walking, buckling of knees in some cases, and pain in knees or even loss of mobility.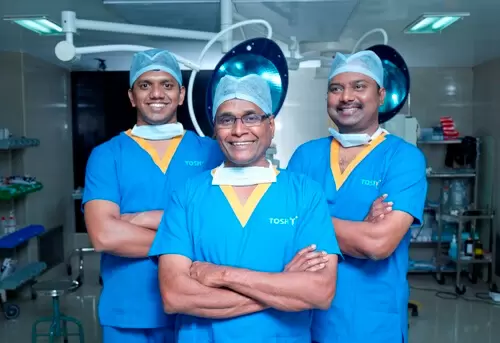 Dr V Thirumal Selvan (centre) and Dr S H Jaheer Hussain (far right) set up TOSH Hospitals in Chennai along with two other doctors in 2011

The key-hole procedure that the Chennai based doctors are offering, aka stem cell alternative to knee replacement, is done by harvesting stem cells from the patient's pelvis and injecting it into their knee joint.
"The worn-out cartilage in the knee which is the cause of all the discomfort and pain is first removed. Then the stem cells are mixed with clotting gel and injected into the knee joint. These stem cells help in the growth of new cartilage," shares Dr Thirumal Selvan, co-founder of TOSH (Trauma and Orthopaedic Specialty Hospital), Chennai.
The surgery takes about an hour and a half and the patient remains in the hospital less than 48 hours totally. "We give spinal anesthesia to make both legs numb below the abdomen and the patient remains awake throughout the procedure," says Dr Jaheer Hussain, adding that in rare cases general anesthesia is given.
Dr Thirumal Selvan and Dr Jaheer Hussain had worked in the UK under Dr A A Shetty, an Indian origin doctor - who along with Prof. Seok Jung Kim from South Korea pioneered the knee cartilage regeneration procedure - before returning to India and setting up TOSH in 2011 along with two other doctors.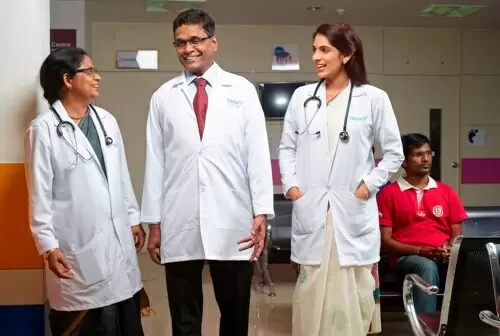 Dr Thirumal Selvan believes stem cell knee treatment will replace knee replacement by 50 per cent in the next 10 years

This procedure received the prestigious Hunterian award for best surgical innovation in the UK in 2017. TOSH was the first hospital to introduce this procedure in India and has performed around 350 such surgeries so far.
As awareness about the surgery is reaching the people, the number of patients undergoing the knee cartilage regeneration procedure at TOSH is increasing day by day.
The numbers speak for themselves. While between 2012 and 2016 the hospital performed 100 surgeries, there were 250 cases in the last two years.
"Happy patients are our referrals. We do not advertise much," says Thirumal Selvan, who feels in the next 10 years stem cell knee treatment will replace knee replacement by at least 50 per cent globally.
According to the doctors, the major advantage of stem cell knee treatment is that it is a natural way to preserve one's knee and avoids any artificial implant in the body. But knee replacement surgeries require a revision surgery after 15-20 years and there is also high risk of infections attacking the region of the implant, since a foreign material is implanted into the body.
The stem cell knee cartilage regeneration treatment can be performed at any age. Around 60 per cent of patients who underwent the procedure at TOSH were above 60 years (40 patients were in the age group of 65-80), 30 per cent were in the age group of 50-60 and around 10 per cent were below 50 years.
"We are getting patients from all over India, from as far as Punjab and Assam, and from foreign countries such as Kenya and Zimbabwe," says Dr Jaheer. Outstation patients need not worry about frequent trips to the hospital for post-operative care. "They can just send x-ray through email or WhatsApp and follow up with phone consultation."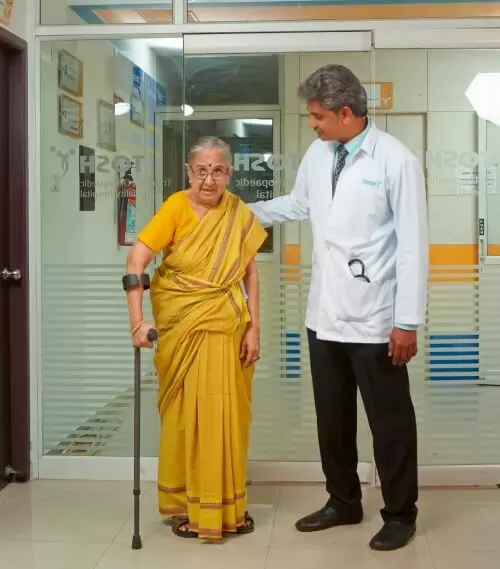 Out of the 350 patients who have undergone knee cartilage regeneration surgery 40 were in the age group of 65-80 (Photo for representational purpose only)

Though the knee cartilage regeneration treatment is available in UK, it is far expensive there compared to the rates offered by TOSH. "We charge Rs 1.6 lakh, but whereas in the UK it would cost around 18 lakh in Indian rupees. We expect more patients from abroad," says Dr Thirumal Selvan.
The cost of stem cell knee treatment or knee cartilage regeneration surgery is much lower than knee replacement surgery in India. Patients vouch for it.
Mukthi Biswas, a 62-year-old housewife came to TOSH last year from Bengaluru, with her feet swollen from arthritis. The swelling used to get worse in the morning and she would find it hard to get up on her feet after being in a sitting position or after lying down.
The swelling has now gone and she has got much relief from the pain. "We are here to do the surgery on her other knee. We are happy with her progress," says Bikram, her son, who chose TOSH after consulting other major hospitals for a knee replacement surgery. "Their rate came to around Rs 3.5 lakh for knee replacement surgery, but we decided to do the stem cell surgery at TOSH."
Eight months later they have come back for the surgery on the second knee. The total cost for the two surgeries would still be less than the amount they would have spent on a single joint replacement surgery in the other hospitals that they had checked with earlier.
"We performed this keyhole cartilage regeneration surgery on an 87-year-old from Bengaluru, the oldest patient we have treated, someone who would be considered too old for knee replacement treatment elsewhere. At 87 he is active and has become our brand ambassador now," says Dr Jaheer, laughing.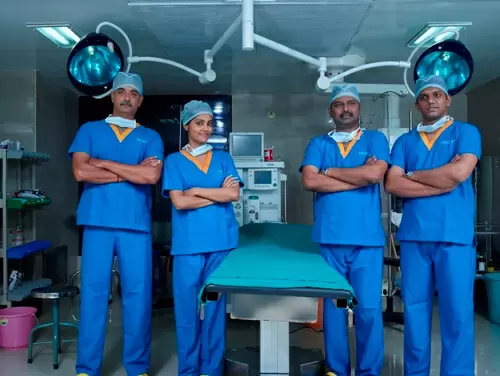 Dr Jaheer (third from left) shares that the oldest patient who has undergone stem cell knee treatment at TOSH is a 87-year-old man from Bengaluru

For G Ayyammal, 68, a resident of Kovilpatti in South Tamil Nadu, the stem cell knee surgery was performed by a team guided by Prof. Kim, who was on a visit to Chennai, along with Dr Shetty in 2017. "I am feeling completely normal today. I am back doing my regular activities," she says.
When 52-year-old Malathy, a housewife, was diagnosed with arthritis and recommended knee replacement, she was apprehensive about going for surgery but had to take a decision as the pain in her knees was persistent, also affecting her mobility severely.
She had reached stage four arthritis and her legs had also begun to buckle. A radiologist then suggested that she check on the keyhole procedure for cartilage regrowth that was showing promise as an alternative to knee replacement.
After doing their research on the internet, including watching surgery videos, Malathy visited TOSH hospital, which is close to her residence. The doctors encouraged her to speak to others who had undergone the keyhole surgery and their testimonials boosted her confidence.
She underwent the surgery in September 2017 and the results delighted her. In July 2018 she got a surgery done on her other knee as well. "The pain was down by 90 percent in the first knee. I am now looking forward to drive the car," says Malathy, who has since been promoting the surgery among her friends as well as those who call and ask.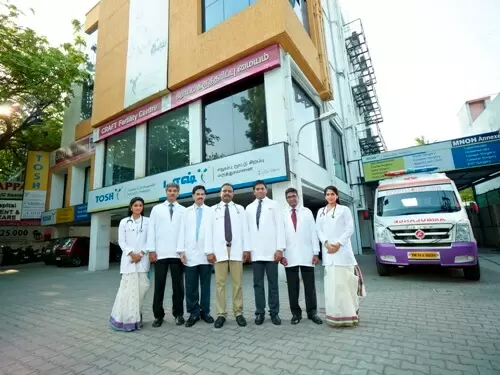 TOSH Hospital is located at Kilpauk, Chennai

"It is cost effective but the relief from pain is the biggest gainer. It is also natural which is why I went in for this surgery," says Malathy.
For the doctor entrepreneurs, Dr Thirumal Selvan and Dr Jaheer, the last financial year turned out good when they achieved a turnover of Rs 6 crore. But for them the real reward is in seeing more and more people benefitting from their technique and relieved of their pain.
Sharing their future plans, Dr Jaheer says, "We are operating on a light asset model and working out of a leased building. We are currently having a 30-bed facility, and we are doing an average of two to three surgeries per day, which includes all types of orthopaedic surgeries. Our vision is to develop a world class orthopaedic chain."
Brand Zest seeks to capture the spirit of business from the entrepreneur's perspective

Trending Now: