How a former medical representative turned Rs 100 crore turnover entrepreneur built a beautiful farm stay

Somma Banerjjee
&nbsp | &nbsp
13-August-2022
Vol 13&nbsp|&nbspIssue 32
It may seem like another farm stay by the highway near Hyderabad city. Not really, when you know it is a significant milestone in the inspiring story of a successful entrepreneur who began his career as a medical representative for a monthly salary of Rs 1,200.

Today, Srinath Potlapalli Rao, founder of Farm Stay - A Farm Concept Resort near Hyderabad city, has stakes in many businesses including real estate, construction, interior and hospitality under the banner of Elegant Group of Companies with an estimated combined turnover of Rs 100 crore.

Farm Stay – A Farm Stay Concept Resort

If you are someone who dreams of owning and running a farm stay business one day, or you wish you could at least live a farm-style life with all the modern amenities, you might like to visit Farm Stay.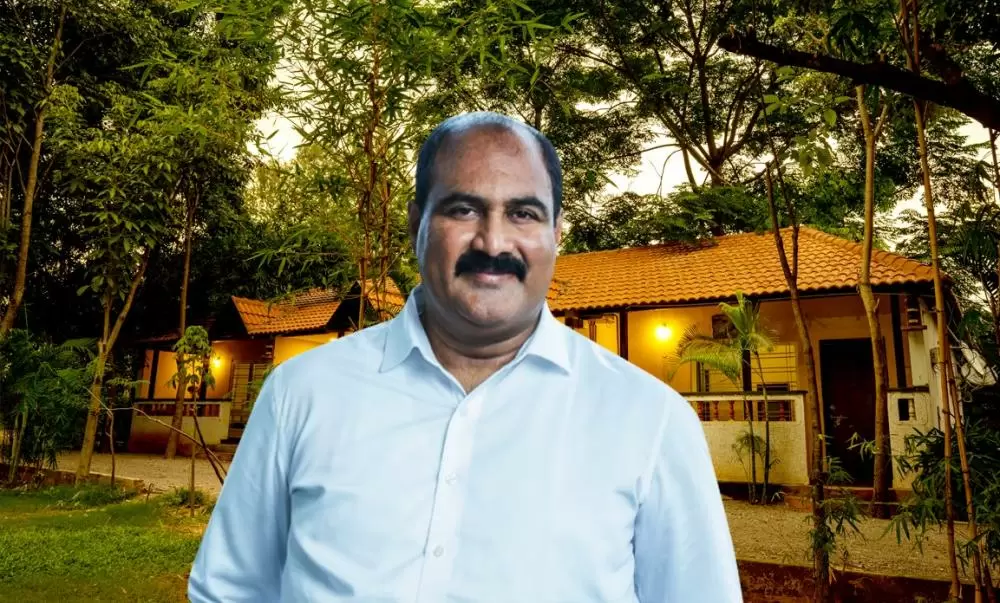 Srinath Potlapalli Rao, Founder of Farm Stay - A Farm Concept Resort, near Hyderabad started his career as a humble medical representative (Photos: Special Arrangement)

You can spend your weekend at a serene place in the lap of nature and enjoy a quaint family time. And if Srinath's plans become a reality, you may soon avail of his organisation's professional advisory services on how to use your land for farming or farm-style living, be it for personal or business purposes.
Meet the Man Behind the Farm Stay Resort
An avid nature lover himself, Srinath realised the commercial potential of eco-tourism long back and put his heart into building this resort. It is a testimony of an individual's passion, determination, vision and hard work.
It all started after he left his well-established software business in the USA and came back to India to take care of his ailing mother.
The younger son of a mid-level government officer, Srinath grew up and studied in residential schools.
"Due to my father's transferable nature of the job, this was the arrangement," says Srinath. As a student, he was active in sports a lot. He dreamt of getting into the armed forces. He tried his luck in NDA and CDS entrance tests but did not succeed.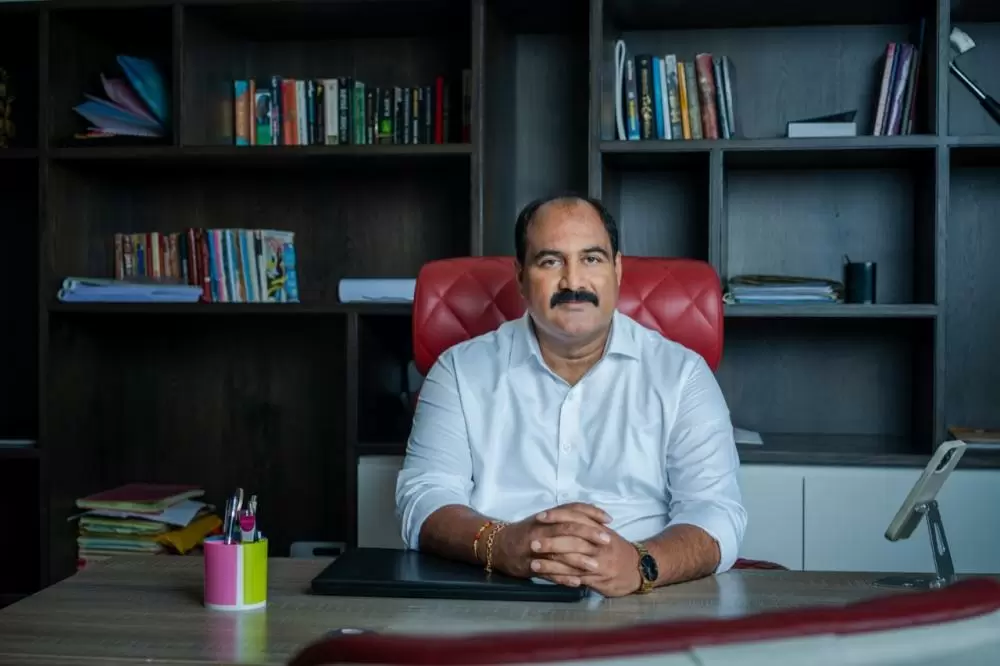 Srinath worked in Ukraine and in the US before returning to India and setting up his own business
After graduating from Nizam College with a Bachelor of Arts in Hyderabad, Srinath had to take up a job as a medical representative in a pharmaceutical MNC that came his way in 1993-1994.
After his successful initial stint in the company, he got posted in Ukraine. "I was offered many options for posting. But I chose a country next to Russia. Right from my childhood, I developed a love for Russia," shares Srinath.
"Reading the marvel comics about the Russian superhero Sputnik might have caused it. The adventurous aspect of working in a far-away alien country attracted me more than the money."
He won over the challenges of a new language, different culture and geographical conditions. Soon he established his career there very well. Within six months, he would help and guide his colleagues who travelled to Ukraine and other nearby countries with expert tips.
He steadily climbed the corporate ladder of the company and moved on to the USA in 1999, where he joined his elder brother in setting up an IT Consultancy firm. It was his first step toward fulfilling his entrepreneurial dreams in full throttle.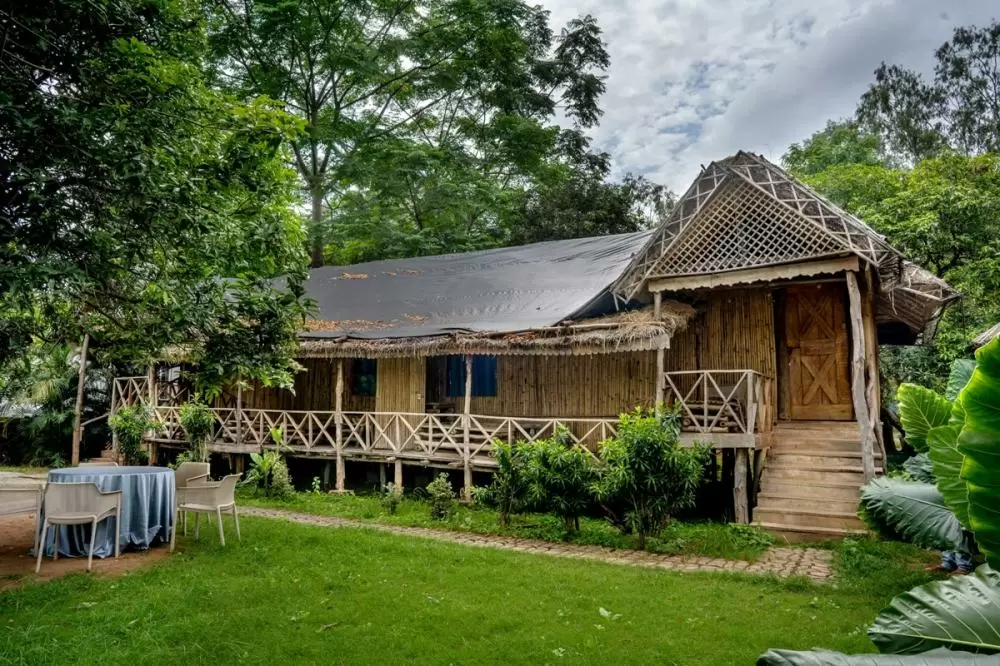 Srinath purchased the land on which the resort is located in the year 2000
During this period, he got married to Smitha, who now helps him in his farm stay business. He has two children, a daughter and a son who are pursuing their studies in college and school respectively.
After a year when his mother got diagnosed with cancer, he left everything and came back to India to help his retired father in taking care of her. In the initial years after coming back, Srinath got into many other businesses.
Today, the Elegant Group of Companies incorporated by him twenty years back has carved out its name in the real estate, construction, hospitality, interior and furniture businesses.
The Resort
In the year 2000, Srinath, along with his elder brother bought some land on the outskirts of Hyderabad. In 2010 he converted the land into the Farm Stay Resort
Located near Gouraram off the Karimnagar Highway, a quick drive from the Outer Ring Road, Hyderabad, spread over a 20-acre expanse of land, Farm Stay stands true to its name.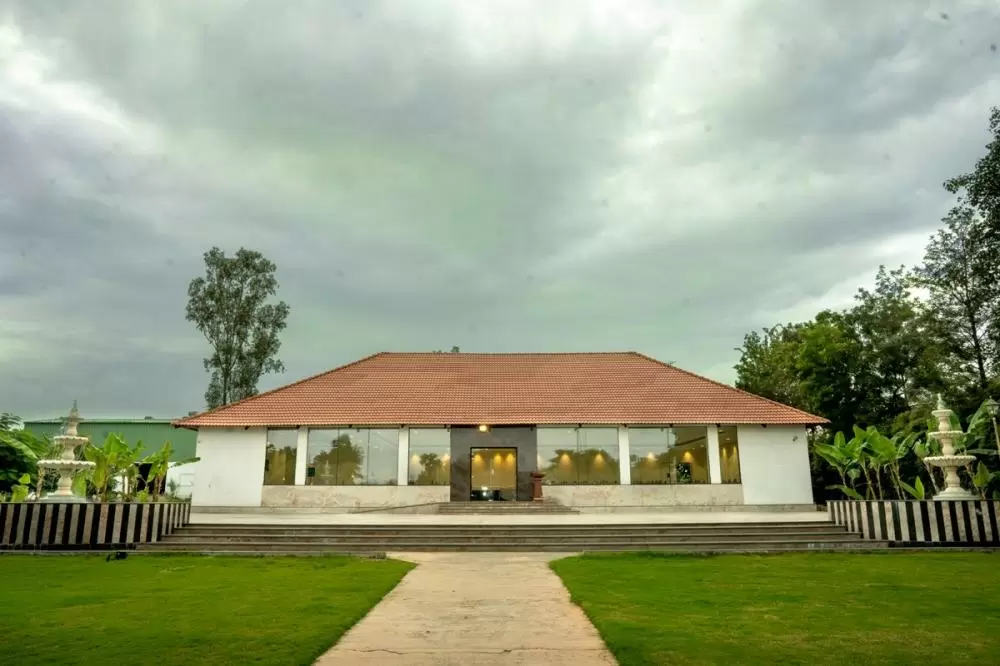 The farm provides different types of accommodations
When you step into this resort, thousands of trees of myriad varieties including fruit-bearing trees such as Mango, Jamun, Pomegranate, Guava, Water apple, many types of berries and lush green lawns embrace you in its soothing fold.
"To preserve the pristine biodiversity here, we have not concretized the premises of the resort. We do not have blacktop paving and asphalted roads. Except for little patches near the constructions, we have left it as it is," explains Srinath.
"We try to retain all the rainwater and allow it to seep into the soil. We have been using a type of small stone chips to keep the roads intact. It saves the land from soil erosion and increases the groundwater level. It helps in our farming and maintains the greenery around."
Types of Accommodations

Talking about the accommodations at the resort, he says, "You will get all types of accommodations suiting your need and purpose here. Right from grand to intimate villas and expansive condos, you are spoilt for choices.
"Be it a small simple wedding or other family functions or corporate events, we provide you with all kinds of facilities such as banquet halls, open restaurants, farm fresh food and luxury accommodations."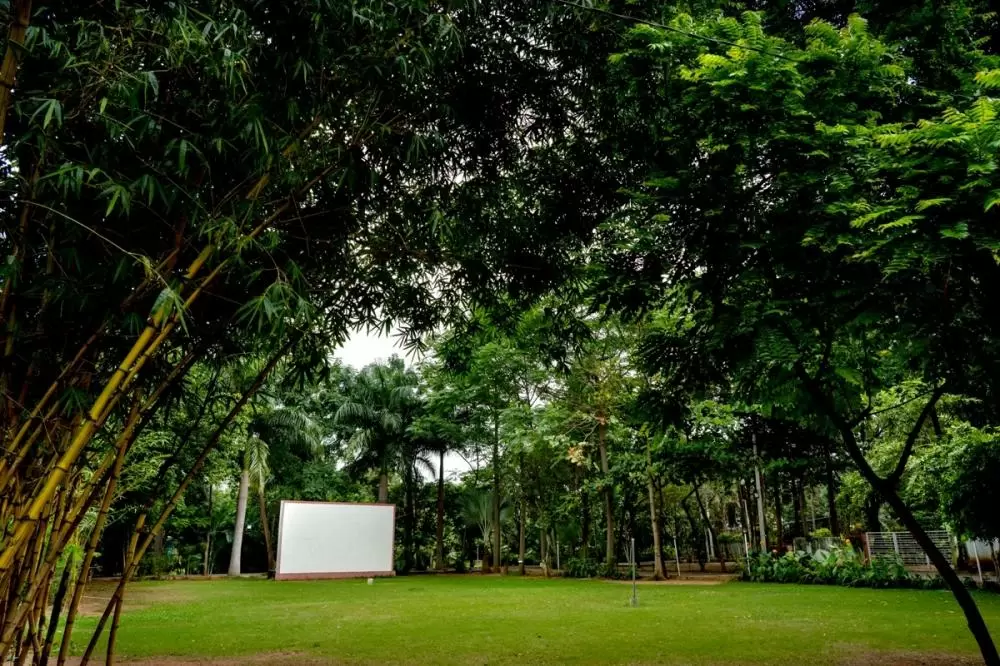 Srinath has planted several trees and cultivated greenery in the campus
The accommodations were named thoughtfully. Brindavan - the Grand Villa can accommodate up to 20 guests with an AC Hall, four bedrooms with attached bathrooms, an outdoor sitting area, dining and three extra bathrooms.
Durbar - the Group Villa has dormitory-style beds that can accommodate up to 15 guests. Avasa - the Mini Villa has two studio rooms with two bathrooms including one open bath, and a private lawn to accommodate up to 10 guests. This is ideal for a group of tourists visiting nearby places for a day.
Then there are these exquisite Kerala Cottages Pampa and Kurumali, Kabini and Kallada.
The bamboo cottages Amantran and Casbah are aesthetically built with locally sourced bamboo and wood. The interior is also designed to keep synergy with the exterior.
The all-inclusive room tariff as of now ranges from Rs 5,000 to 30,000 per night. It includes food and beverage.
"At the Farm Stay, we have taken care of blending comfort and luxury with rustic charm and tranquillity. We do not allow loud DG music on our premises. To make it a wholesome experience we serve the best of authentic Telangana cuisines in our spread of delicacies," says Srinath.
"You can savour both vegetarian and non-vegetarian dishes. You must try our free-roaming chicken, Hyderabadi gosht biriyani, Farm Stay special handi lamb curry, Telangana's daal with local Rasam called Pachi Pulusu."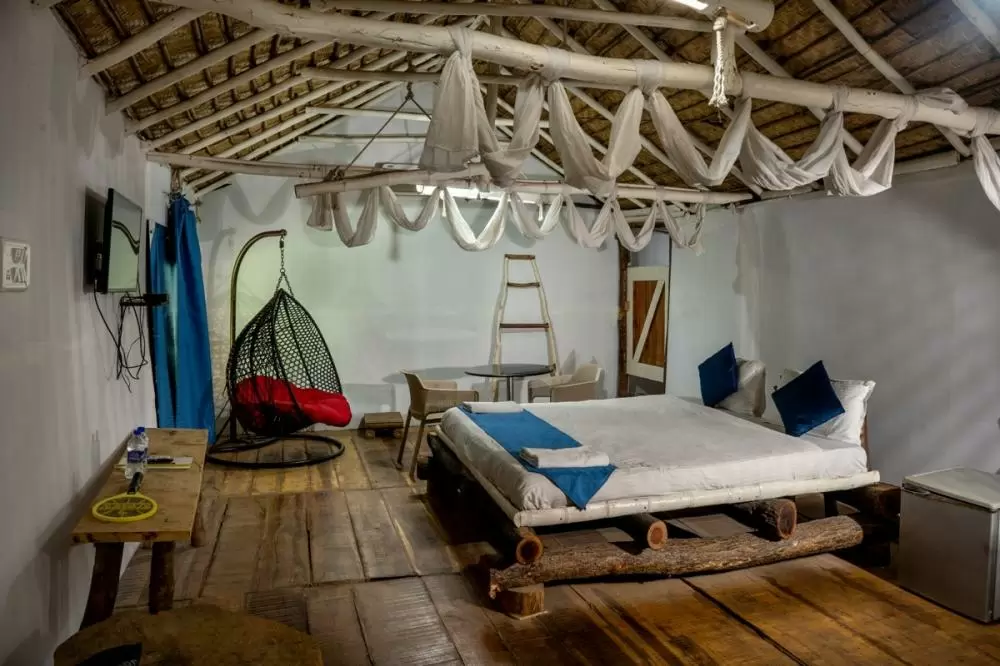 An inside view of one of the cottages in the farm
Fun Activities
Good food combined with fun activities becomes unforgettable memories. "You can enjoy bullock-cart rides and pony rides. We have a well-maintained clean and hygienic swimming pool. You can try your hand at tilling during the tilling season," says Srinath, listing the options before the guests.
"Observing organic farming at our resort is a calming experience. Befriending farm animals such as cows, sheep, geese, and dogs will be an extra attraction."
Farm Stay resort is located near other tourist attractions. The Kondapochamma reservoir is an engineering marvel. You will get paragliding and boating facilities there. The famous Wargal Saraswati temple is also nearby.
A couple of generations back, most of our ancestors lived in villages. Farming was one of their main occupations and sources of income and sustenance. Hence vacationing at a farm stay feels like a homecoming.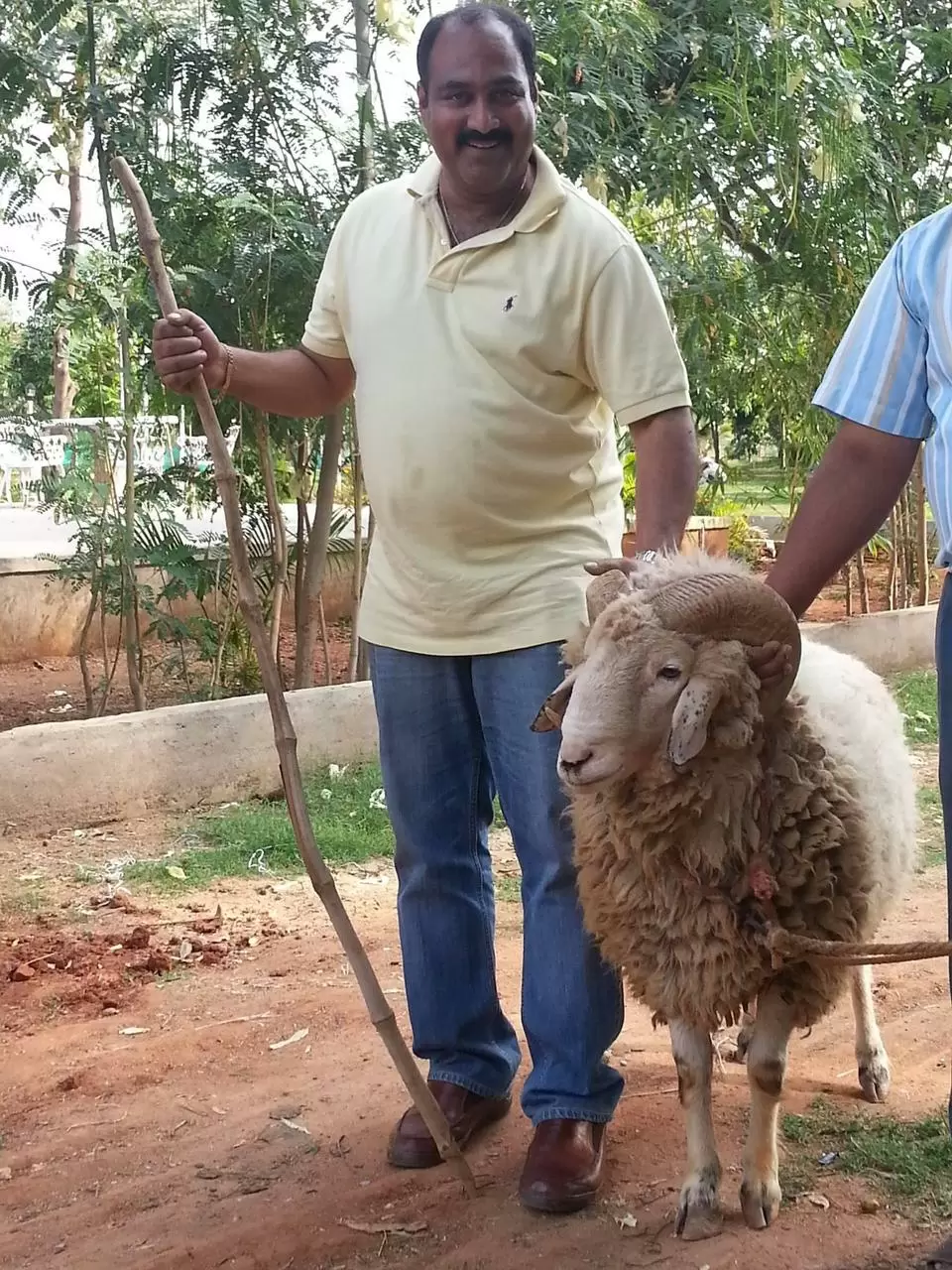 Srinath enjoying the laid back 'farm life' at the resort
A visit to Farm Stay Resort may rejuvenate your love for nature. Not only that. It may even ignite your held-back dreams of farm living.
Like Srinath Rao, you too may take a leap of faith toward promoting farm living, breaking free of concrete jungles. That too without compromising on modern amenities of comfort! - ©
TWL

Trending Now: