How a Jaipur businessman created a tree house resort on a 300-acre farmland partnering with a rural community

Somma Banerjjee
&nbsp | &nbsp
23-June-2022
Vol 13&nbsp|&nbspIssue 25
Are you among those who travel not only to explore a destination, but to discover yourself? Do you prefer vacationing in the lap of nature, yet not compromise on comfort and luxury?

How about a destination where you witness the fruit of someone's passion for nature that might inspire you to work on your dreams too? Is your answer yes to all the above?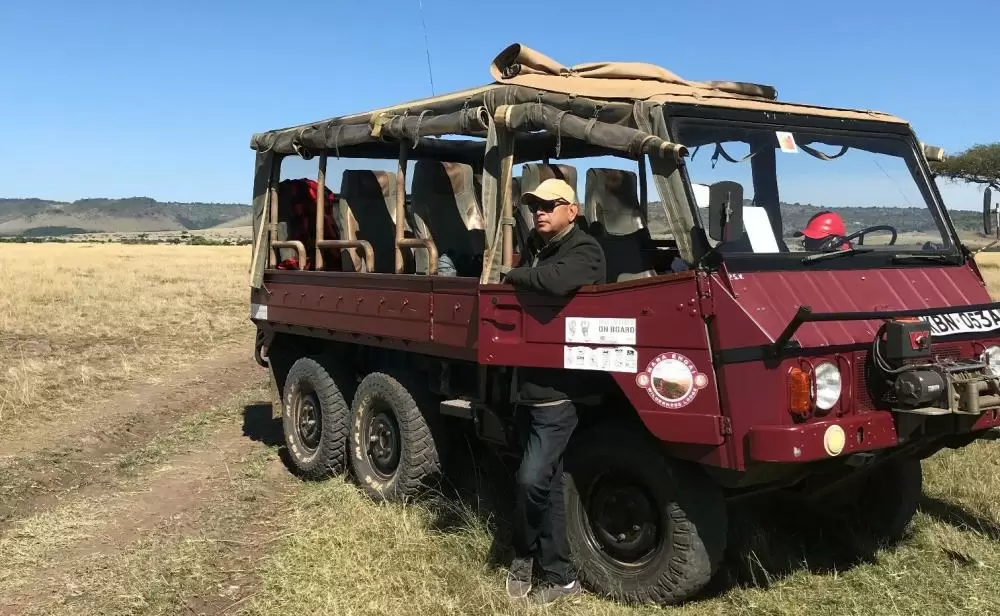 Jaipur resident and businessman Sunil Mehta developed the Jaipur Tree Resort out of his love to live with nature (Photos: Special Arrangement)

Then the Tree House Resort, situated near Jaipur in the Syari Valley, with a royal view of the mighty Aravallis, could be your perfect choice. The resort, built on a spread of 300-acre farmland by the NH11c, is 3.4 km away from the centre of Jaipur in Rajasthan.
The Tree House Resort - A story of manifestation
The property is special because it is not only a commercial venture, but it came into existence as a manifestation of its owner, Jaipur resident and businessman Sunil Mehta's soul connection to nature.
Right from childhood, vacation meant travelling into the woods for Sunil. The natural ambience would make him feel elated every time he stepped into the forests.
Over a period of time, he developed an intimate relationship with nature. He began to believe the trees are the truest representation of God on earth.
"Though the trees are silent and stationery form of life, they gave me solace and solution every time I came to them," says Sunil. "The forest became my doctor, my psychiatrist, philosopher and religion."
But his love and passion did not remain within the limits of his heart. He put his mind to it.
As he studied the problem of ravaged forests causing man-animal conflict, he developed a concept called COCOON - Community Owned Community Operated Nature Conservancy.
He chose a village near Jaipur and requested the agrarian community to unfence their lands and allow him to rewild them without giving away their ownership. He offered to build eco-friendly resorts there and operate them as their managing partner.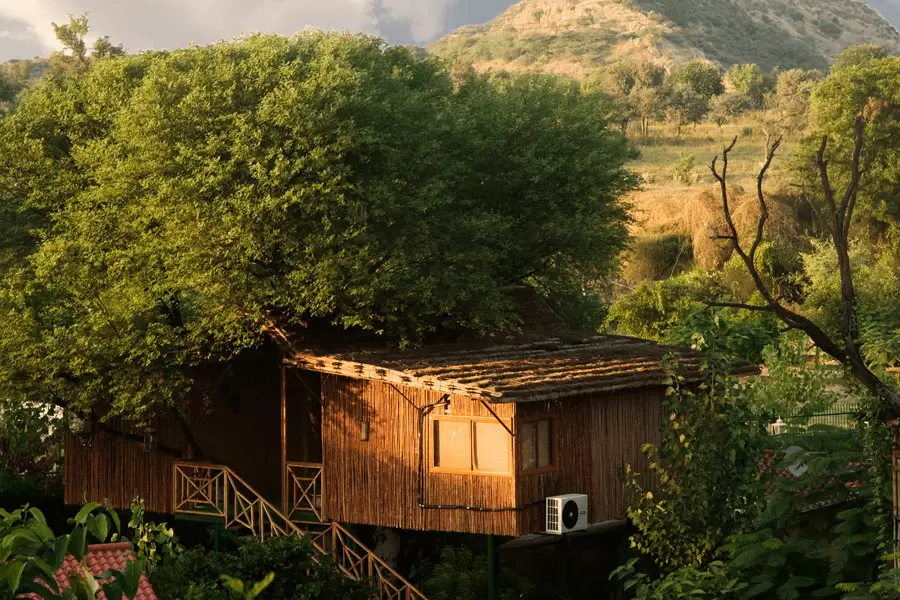 The Jaipur Tree House Resort has 20 tree house nests, built atop "keekar' trees

He promised to provide one of their able and capable family members a job in the resort. Apart from that, he would also give them Rs 18,000-20,000 per acre per annum - their minimum guaranteed income.
He also helped the families get a gas connection so that the villagers did not have to cut trees for firewood.
With the help of villagers, Sunil enabled the reforestation of the acres of barren lands. The indigenous water conservation system he created through man-made canals helped to recharge the underground water level in the area.
The Tree House Resort is a manifestation of Sunil Mehta's farsighted vision for conserving nature and generating employment through long-term, sustainable eco-tourism.
It also provides a pleasant break away from the typical heritage resorts or 'bed in a box' type of vacation accommodations, commonly available in Rajasthan.
The Accommodation
The property is built on a 3-pronged alignment with nature - Air, Water and Earth.
It has 20 Tree House Nests, built atop "keekar' trees, exposing one to the element of Air.
The luxurious wooden rooms, constructed around live tree branches, are tastefully done up with all the 5-star comforts. Varieties of birds and butterflies would keep you company in the serene ambience of the facility.
The element of Water could be enjoyed in the nine exclusive cottages constructed over water bodies. Gurgling mini waterfalls, streams, jacuzzi, private patio, glass floor sections in the room and outdoor showers let you immerse in the cooling effect of water.
The Earth House Abodes, comprising 38 deluxe rooms and suites and six luxurious hilltop villas, are inspired by the mud houses in Indian villages.
While the exteriors of these rooms decorated with village art and relics give you the experience of living in rural homes, they do not let you down on the comfort and luxury maintained thoughtfully throughout the property.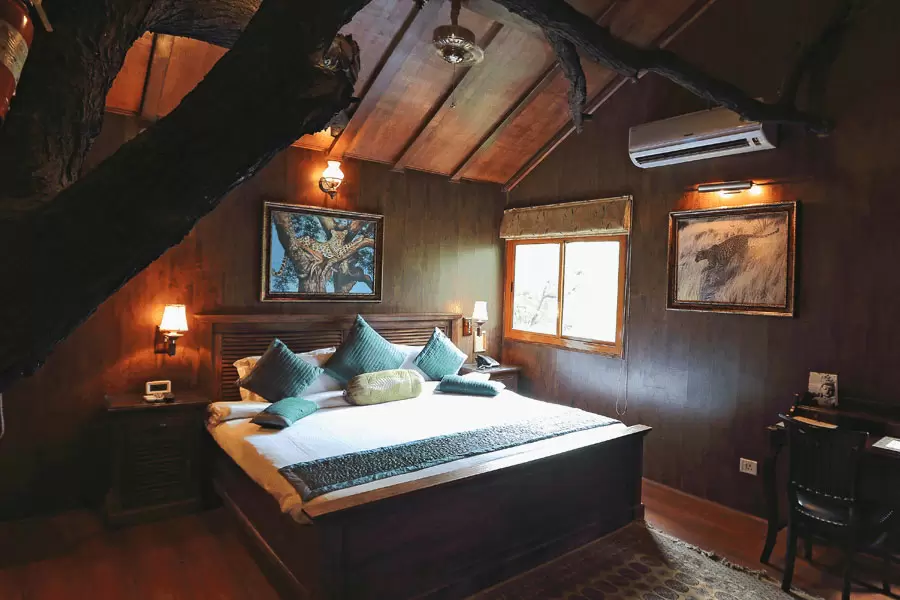 An interior view of a luxurious tree cottage
The Experience
Besides enjoying your stay in this 'Nature Heritage' resort - as Sunil Mehta, the Founder of The Tree House Resort loves to call it - you have ample experiences to explore.
You can seep into the serenity of nature. You may choose to indulge in quiet self-care. You can explore local history and culture. You may venture into the wilderness around. You may go for a spiritual retreat or engage in a plethora of activities. Here you have it all.
If you are a person who loves to relax quietly, you can opt for spa and wellness programmes. The quaintness of the place is perfect for some pending readings, writings or meditation. One can also try their hand at archery, pottery, riding a bullock cart or organic farming and cooking.
For a sporty person, the facility provides various activities. Swimming pool, a mini-golf, billiards room, games room, badminton and tennis court and playing equipment, cycling and a fitness centre.
Those who love to explore the thrills of wilderness can avail jungle safaris in the 300-acre sanctuary. It has a teeming population of more than 150 avian species and hordes of mammals and reptiles.
Cohabiting with the rabbits, the ducks and the cranes on the resort premises are awesome. Be it Gypsy safaris or bicycle safaris, camel rides or nature treks, you are spoilt with choices here.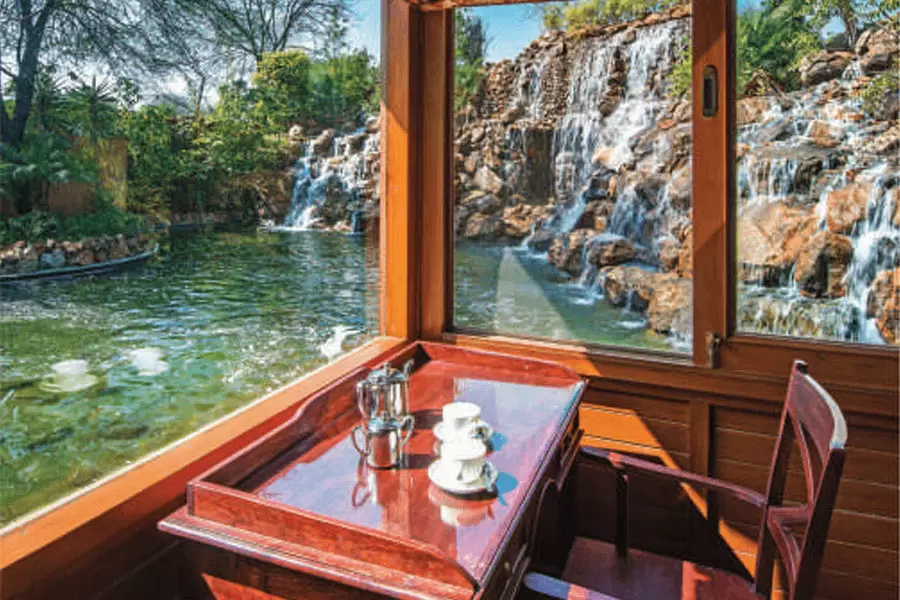 The resort has nine cottages built over water bodies
Jhalana, the world's best place within city limits to spot leopards and hyenas is an hour's drive from the resort.
If the Mughal and Rajput history intrigue you, you can take a trip down the memory lane. You can visit the royal fortresses and monuments nearby. The Hawa Mahal, Amber Fort, Jaigarh, Jal Mahal and the Jantar Mantar among others are within half an hour's distance.
The revered Salasar Dham, built in 1754 AD is less than a 3-hours' drive. Other famous pilgrimages such as the Rani Sati temple, Jeen Mata and Khatushyamji are nearby.
Gastronomical pleasures
Good food is an integral part of any vacation. The Tree House resort offers a 'farm to plate' gastronomical experience. An array of delicacies are available at its on-site restaurant called Machan.
How to get there
The nearest airport Jaipur Sanganer is around 13 km away. Jaipur railway station is a stone's throw away at 2.6 km.

Trending Now: