India's Grand Canyon Gandikota is a Must Visit Place for its Breathtaking Sights
Manuvidhya
&nbsp | &nbsp Gandikota
20-February-2019
Vol 10&nbsp|&nbspIssue 7
Gandikota is not yet another weekend getaway from Bengaluru. This place is one of a kind. We don't get to see gorge formations in India very often. Do we? It is called the Indian Version of Grand Canyon or Desi Grand Canyon. But I am going to refrain myself from comparing Indian tourist places to their foreign counterparts. So let's just call it Gandikota canyon or Gandikota gorge formation.
Gandikota lies about 280 km from Bengaluru and is located in Kadapa district of Andhra Pradesh.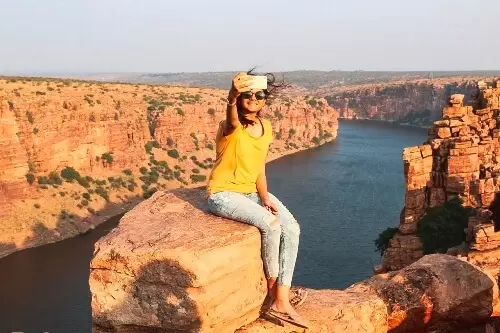 Gandikota is a photographer's delight and it offers a good view of River Pennar that flows beneath. Author taking a selfie (Photos: Manuvidhya)

I will be honest with you - the drive is not a very pleasant one. It's hot and dry. But just like oasis in a desert we get to see sunflower fields on the way that will lighten up your drive a little bit. It was a really picturesque area. I am not sure about the location name though, because there was no network to check the coordinates.
It is better to fill up on breakfast when you leave Bengaluru because there are no proper restaurants or even small hotels on the way. Carrying enough water bottles and snacks is very much essential for this drive.
You will probably be famished by the time you reach Gandikota and that's when APTDC's (Andhra Pradesh Tourism Development Corporation) hotel comes to your rescue. It's a basic hotel, but you get decent meals here with limited options which will be good enough.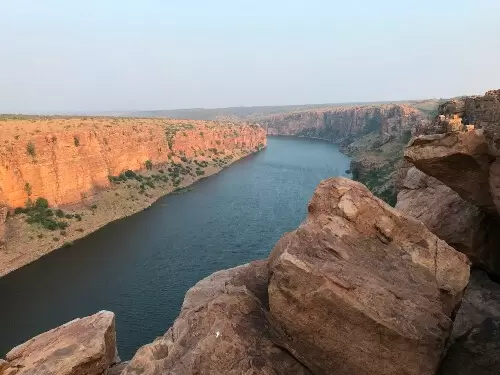 The best time to visit Gandikota is late afternoon and catch the sunset

After lunch it's best to chill here for a while because it is not advisable to visit the canyon in afternoon sun. Gandikota canyon is a 15- 20 minutes drive from the APTDC Haritha guest house. You reach the Gandikota fort first, and well, you can actually drive through the fort (how cool huh?!) to reach the canyon.
Now to get a good view of the gorge formation you need to start climbing the boulders to reach the point where you can see the grandeur of River Pennar flowing through the gorge. The place looks so grand! Both sides of the canyon look damn beautiful. The view is absolutely gorge'ous! (see what I did there, he he.)
After clicking pictures, I sat down for a few minutes just to absorb the view completely - the sun going down between the gorge and the windmills gracing the background was an awesome sight.
To the left I saw a temple and a mosque co-existing .Overall what a peaceful sight it was. That's when I realised this place was worth the long drive, climbing all the boulders and tolerating the scorching heat.

A wide-angle view of Gandikota canyon

Now where do you stay at Gandikota? That is the downside to this place. APTDC Haritha Guest house has got only a few rooms and they get booked well in advance (at least 4-5 months before). And there are no other hotels available in Gandikota. Absolutely none!
We stayed at a hotel in place called Tadipatri that is two hours away from Gandikota. Tadipatri doesn't have many options for food. Dinner was from a local bar and breakfast next day was from a tiny place en route to Belum Caves. But no complaints, as the food was really good.

But if you love camping, you can pitch your tents in Gandikota. Take your sleeping bags and stay there for the night to witness sunrise next day from the gorge. I have heard it's quite beautiful.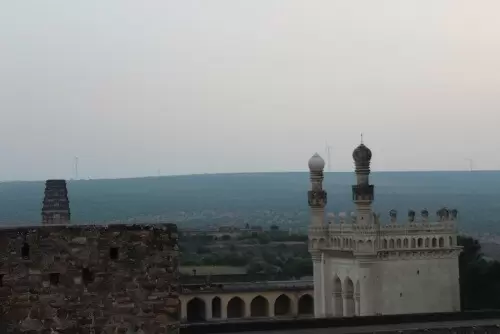 A mosque and a temple located near to each other at Gandikota

We left from Tadipatri next day to visit Belum caves. Belum caves is located in Kurnool District of AP. Apparently this is one of the largest natural cave formations in India and runs through a length of 3,229 m and falls to a depth of 46 m at its lowest point from the entrance level.
APTDC is doing a good job maintaining this place well. The entrance looks like a deep pit and the cave is well lit. But one cannot avoid the sweating and suffocation after a while. Nevertheless if you are into history or geology you will find this place very interesting.
Wish to share your story?
Trending Now: