A homestay in Majuli that offers Mishing delicacies and a slice of the Mishing way of life
Aditya Barua
&nbsp | &nbsp Kamalabari (Majuli)
31-March-2017
Vol 8&nbsp|&nbspIssue 14
A family's kitchen in Assam's Majuli Island has become a must-dine venue for the people visiting the world's largest freshwater river Island.

Run by Manjit Risang and his family, Risang's Kitchen has been serving authentic, mouth-watering delicacies of the Mishing tribe with the aromatic Mishing rice beer called apong.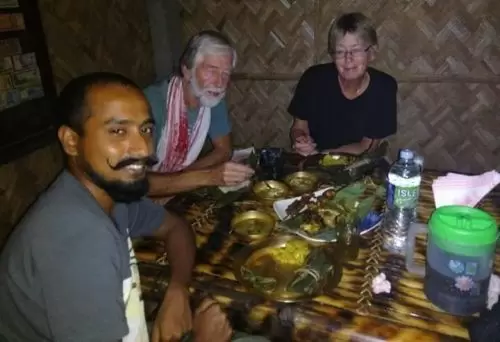 Guests from other hotels and resorts from Majuli visit Risang's Kitchen to get a taste of their traditional Mishing meal (Photo: IANS)

Manjit owns the La Maison De Ananda (the House of Happiness) home stay that has eight cottages to accommodate 16 people with everything inside and outside made of bamboo, which grows in abundance in Assam and in the northeast region.

"A young Frenchman named Jim Chauvin came to visit Majuli in 2005. An architect by training, the visitor fell in love with the Island and decided to build the best tourist accommodation on the island.
"Upon completion he named it La Maison De Ananda and returned to his country. I have been running it since then. The place has become a hot favourite with the tourists visiting the Island," said Manjit.

He said that gradually he decided to share his family kitchen with the tourists to give them an authentic taste of Mishing delicacies and a slice of the Mishing way of life.

"Jim built just one bamboo cottage following the traditional Mishing architecture. That cottage is the hot favourite of all the tourists. Later, we constructed another seven cottages to accommodate the ever-increasing tourists," he said.

"We receive guests from other hotels and resorts from Majuli as well every day. In fact, if someone wants to have a Mishing traditional meal, they call us and book it," said Manjit who runs the kitchen with his wife and two girls of the neighborhood.

He said that a traditional Mishing meal includes rice, vegetables, fish and meat. "Porag aapin is the rice we serve to our guests, which means rice cooked in a leaf called tora pat. It gives a different flavour to the rice, which is the essence of the food.
"Other items include pamnam (fish baked in banana leaf), pamnam chicken (chicken baked in banana leaf) and mamsing, chutney of dry fish," he said, adding that they also serve fish, chicken and pork cooked in bamboo pipes, a traditional technique.

"The ingredients used in cooking are all the traditional ones and highest care is taken to ensure that there is no dilution. We want the tourists or visitors to go back happy with good memories," said Manjit, who has also decorated his kitchen in traditional way with an open fire place in the middle.

"This is how it is. If you enter any Mishing household, you'll see this thing. We have not altered the design of the kitchen and kept it as it is."

Besides, he also serves that mouth-watering apong, a home-brewed rice beer.

"We have two types of rice beer, one is poro, the sweet one which is the most sought after by the visitors, and nokjin, the sour one," he said, adding that his visitors, however, must inform him in advance for the rice beer as it takes time to brew it.

The charges are also nominal. While Manjit charges only Rs 100 for vegetarian food per person, a non-vegetarian meal costs Rs 300 and includes rice, vegetables, and fish and chicken cooked in banana leaf. If one wants chicken or pork cooked in bamboo pipes it costs additional Rs 100 with the non-vegetarian meal.

"It's not only about food in Manjit's Kitchen. It's the experience and culture. Majuli is not a destination for mass tourism considering the specialty of the river Island.
"We have taken many of our guests to Manjit's Kitchen in the past and they really appreciate it. Manjit and his colleagues also explain to the guests about the food and culture there and it's a worthy experience," said Javed, founder of Root Bridge, a renowned travel company and advocacy group for ethical travels operating in the region.

Located over 300 km from Assam's main town of Guwahati, one has to take a ferry ride of close to one hour to reach the river island, which is famous for neo-Vaishnavite culture and Vaishnavite satras. The island is slowly gaining popularity as there has been a substantial increase in the tourist inflow in the past few years. - IANS

Trending Now: