'Manipur has a lot to offer in terms of tourism and culture'
Ashish Mishra
&nbsp | &nbsp Imphal
24-December-2016
Vol 7&nbsp|&nbspIssue 52
If you want to explore the raw beauty and rich culture of Manipur, one of the eight northeastern states, but are unsure about where to stay, here's some good news for you.
Manipur's Tourism Department, in collaboration with private players, has come up with an innovative idea to attract more holidaymakers: state-funded homestays in far-flung corners.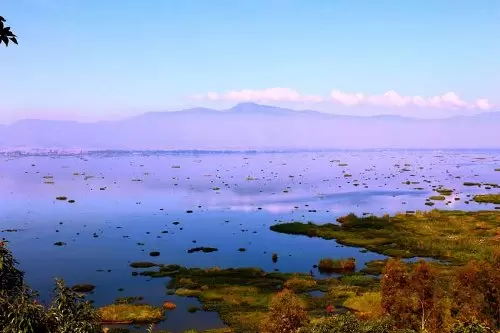 Loktak lake, a major tourist attraction with its 'floating islands', might soon have a cable-car ropeway (Photos: IANS)
And the state government is also mulling a ropeway over the Loktak Lake, northeast India's largest fresh water lake.
"Whenever people talk about Manipur, it's about the law and order problem. It has to be changed as the state has a lot of things to offer in terms of tourism and culture. Here there are eight hill districts which are remote but their beauty is very distinct and unexplored," said Manipur Tourism Director N. Bandana Devi.
Manipur is a mosaic of ancient traditions and rich cultural patterns. There is much to explore in the hills like adventure sports, culture, natural beauty, beautiful landscapes and the like.
"Homestays are going to be a big boon for Manipur tourism and will change the face of the industry here," a confident Bandana said, adding: "We are inviting tour operators, hospitality firms and other private players to set up homestays in the hilly region of the state."
Homestays would, besides offering a chance to explore the kaleidoscopic beauty, local cuisine and culture, give a distinct feeling of seeing Manipur from the local perspective.
"Tourists will be able to explore local cuisine, local culture and the pristine beauty of the place at homestays in different parts of the state. We have found out a few places for homestays but it has to be increased manifold. It should not be restricted to a few selected areas. We are exploring more places for homestays," Bandana said.
She said that only 10 per cent of the tourism potential had been realised and 90 per cent remained to be done.
"We have planned that every month we will identify one new place which is very remote from Imphal and develop that area into a tourist destination. There we could explore for homestays and ethnic tourism. Different tribes of Manipur live in the hills, which are yet to be explored," she said.
Last year, 146,169 domestic tourists and 3,250 international tourists -- mainly from Japan and South Korea -- visited Manipur. Bandana hoped that with the help of homestays, these numbers will rise.
She said that the department has tied up with several tour agents or operators for homestays. Tourists can approach these government-approved tour operators for booking homestays.
"We will make it online but it will take another year. We have five to six homestays in Senapati district, more than 10 homestays in Bishnupur district near Loktak lake and a few in Ukhrul," Bandana said.
Besides homestays, the state government is coming up with several other measures to boost tourism. For instance, Loktak lake, on whose southwestern shore lies the Keibul Lamjao National Park, is home to the endangered Sangai deer or brow-antlered deer that is native only to Manipur.
"Loktak lake is a major tourist attraction. We are planning to go for a cable-car ropeway project. A detailed project report (DPR) is under preparation in this connection," said Manipur Tourism Special Secretary N. Ashok Kumar.
"There are three-four hillocks in the Loktak lake area. We want to connect these through the ropeway which will certainly boost tourism. We are also mulling some water sports activities in the lake in the near future," he added.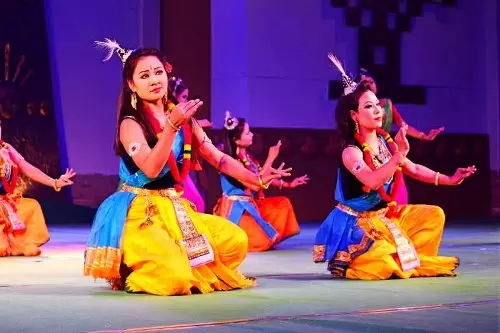 Artists performing a traditional Manipuri dance
This apart, the Manipur Sangai Festival is also organised to boost tourism by attracting more people from across the country.
"With the festival, we try to establish cultural exchange which is needed for bridging the gap between the people of Manipur and other parts of the country," Ashok Kumar said.
There is also the Swadesh Darshan Scheme under which there are two circuits. The Krishna circuit showcases several Vaishnavite temples in Imphal, including the Gopinath temple and the Shree Shree Govindajee Temple.
The other is the northeast circuit connecting Imphal (Kangla fort surrounded by a moat), Khongjom (where the British and the Manipuri people fought a war), the Moreh border town with Myanmar, and Moirang, where the flag of Indian National Army (INA) was unfurled for the first time on April 14, 1944.
(Ashish Mishra was in Manipur at the invitation of Manipur tourism.) - IANS

Trending Now: