The things you can do at Itanagar — a traveller's account
Natalia Ningthoujam
&nbsp | &nbsp Itanagar
03-September-2016
Vol 7&nbsp|&nbspIssue 36
"Why Itanagar? Go to Tawang," suggested my friends. But the capital of Arunachal Pradesh, that borders China, has a lot to offer -- peaceful places, fun nightclubs and good food.
I was told that it would take only six hours to reach Arunachal Pradesh from Guwahati, Assam, by road. Little did they know about my material form of love -- food and photographs. Forget about six hours, at least for me, it was a 12-hour drive to the northeast Indian state's capital. Worth it? Absolutely.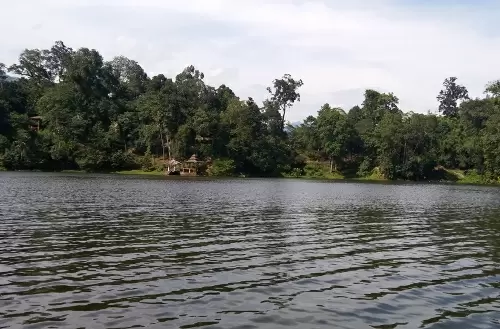 The picturesque Ganga lake at Itanagar surrounded by trees (Photo: IANS)

Accompanied by a bunch of fellow journalists from Assam, the journey was all about food, selfies and songs -- whether they captured the spirit of travel or not -- by Assam's singing sensation Zubeen Garg.
After halting a number of times to dive into snacks or to get a perfect shot of the full moon, the sparkling stars and the lush green surroundings, we reached the 'Land of the Rising Sun', as Arunachal Pradesh is popularly known, around 4 a.m.
Unlike Delhi, where I am currently based, the hotels are protected by metal shutters. Double safety for sure, but with no guard around, we had to honk for a few minutes to get the gate opened. It was certainly not a luxury hotel, but I was too tired to even think about the hygiene of the room. I crashed into bed while some of the locals hit the road to jog as the sun was already up. The chirping birds further induced sleep.
A few hours later, I ordered a chicken sandwich with my all-time favourite -- masala tea. Generally, restaurants serve sandwiches with fries. I got those on my plate along with an unexpected food item -- a disc-shaped papad. All stuffed, I geared up to explore the city.
I asked the receptionist about must-visit places in Itanagar, which is nestled at the foothills of the Himalayas. Had there been a Worst Ambassador of Itanagar Award, the receptionist would have won it hands down. All he said was, "You are wasting your time here. There is nothing interesting to do. Go to Tawang."
I am so glad that he was proved wrong. My driver took me to Ganga Lake. Surrounded by trees, the lake was absolutely calm. It tempted me to go boating. Obviously paddling wasn't on my mind as I didn't want to exert my legs. Since the sun was in a mood to show off its hotness, I sat in the shade under an umbrella and enjoyed the moment.
Then I was on a lookout for a restaurant. There were lots of eating joints, including a Manipuri restaurant. The driver suggested I dine at ABC Restaurant, where I could see schoolgirls, families and groups of youngsters enjoying Chinese dishes.
The chicken fried rice and chicken sweet and sour tasted similar to the ones available in Delhi. They had that "desi" touch, but the dim sums were different. Served with chicken clear soup, the steamed appetiser had a good amount of chicken filling, though the oil percentage was slightly high.
I then headed to the newly-built multipurpose cultural centre -- venue of the second edition of the North East India Fashion Week (NEIFW) -- situated atop a hill. A low budget event, but a great initiative by designer Yana Ngoba Chakpu who brought the designers and weavers of the region on the same stage.
Once the event wrapped up, me and fraternity members-turned-friends checked out the nightlife. I could see military forces patrolling the streets where hardly any people could be spotted. Yes, I was a little jittery, but I mustered the courage and checked into a restaurant-cum-club. After crossing a few youngsters enjoying their drinks, we went to the reserved area, which had shiny disco balls and loud music.
It turned out to be a fun night as I gave my maiden karaoke performance and also made my Bihu debut by dancing to "Aaya mausam dosti ka" from Salman Khan-starrer "Maine Pyar Kiya". Not an ideal Bihu song, but yes the steps matched the Bollywood beats.
The next day, we went to Gompa where the fluttering of colourful prayer flags provided a soothing sound as we sat near a statue of the Buddha placed under a banyan tree at the monastery. Then we beat the heat by dipping in the Senki View River.
Soon, it was time for me to hit the road. But due to some problem, the mode of transport had to be changed. It was suggested I take a chopper. The thought of a possible chopper crash made me pick a sleeper class coach instead.
Situated at a distance of about 10 km from Itanagar, the Naharlagun railway station, inaugurated in 2014, was relatively clean. The train journey took me back to my childhood days. Within 10 hours, I was back to Guwahati and two hours later in Delhi.
My maiden trip to Itanagar was one of those rare opportunities where you get a chance to befriend people from all northeast Indian states -- Arunachal Pradesh, Manipur, Assam, Nagaland, Sikkim, Meghalaya, Tripura and Mizoram. A trip to remember, certainly.
(The writer was in Itanagar at the invitation of the fashion week's organisers.) - IANS

Trending Now: