Sikkim's eco-tourism efforts receive major boost with Unesco recognition
06-August-2016
Vol 7&nbsp|&nbspIssue 32
The Khangchendzonga National Park in Sikkim, home to dozens of lofty mountain peaks, 18 glaciers, lakes, waterfalls and some unique flora and fauna, has been named India's first "Mixed World Heritage Site" by Unesco.
The UN agency has recognised the park's outstanding universal values both in terms of its natural and cultural significance -- thanks to its rich and unique bio-diversity, as also sacred treasures and legends associated with Vajrayana form of Buddhism, officials here said.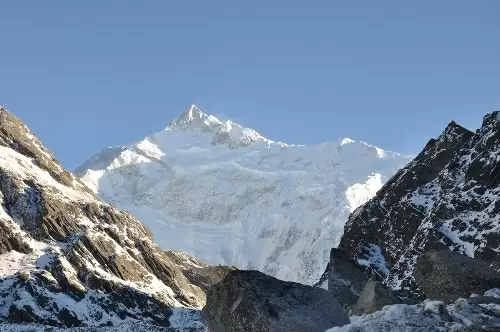 Mt. Khangchendzonga (also called Mt. Kanchenjunga), which towers at 8,586 metres above sea level and is the third highest in the world. (Photo: Courtesy, Government of Sikkim)

The park was initially commissioned in August 1977 with a declared area of 850 Sq km. Some 20 years later, it was extended to 1,784 sq.km.
The Unesco designation not only adds prestige to the park, but also entitles it to financing from the World Heritage Fund.
"The Unesco recognition will give a further push to eco-tourism in our state, while also helping us to regulate the high influx of visitors to more popular destinations with only a minimal negative impact of tourism," said Sikkim Chief Minister Pawan Kumar Chamling.
"This is important since tourist arrivals to our state more than doubled to 38,479 in 2015 and our target is around 12 lakh visitors by 2025," he said in a statement.

"At the same time, while there are no major developmental projects like roads or buildings within the Khangchendzonga National Park, tourism associated with the protected park provides local communities with substantial incomes," said the Chief Minister.
"As a result, there has been significant improvement in living conditions, especially at Pelling, Yuksam, Gangtok and Rabongla. Tourism-related activities like running pack animals, portering, guiding and lodge management have become major economic activities."
Khangchendzonga National Park had been on the Unesco's tentative list of World Heritage Sites since 2006, and has among the sharpest altitudinal variations for any site in the world -- from a low of 1,220 metres to 8,586 metres -- within a small aerial distance of 42 km.
"The park has 18 sub-forest types. It has a large diversity of species of higher plants (1,580), mammals (124) and birds (300). There is no other protected area found in the Indian Himalaya with such variety of sub-forest types and species diversity," an official said.
The park is home to the red panda, snow leopard, great Tibetan sheep and musk deer. The birds include black-Nncked crane, grey peacock pheasant, Himalayan monal pheasant, Sikkim's state bird blood pheasant, Tibetan snow cock and Himalayan snow cock.
What is also unique about its eco-system is that it has permanently snowcapped mountains, glaciers, high altitude lakes, grasslands, cold deserts and varied forest types. Consequently, the flora and fauna is also diverse and a delight for visitors.
It has 20 peaks above 6,000 metres -- 11 between 6,000 to 7,000 metres, eight between 7,000 to 8,000 metres and one above that. And that is Mount Khangchendzonga (also called Kanchenjunga), which towers at 8,586 metres and is the third highest in the world.
The park also has religious significance. Sikkim is presented in Buddhism as a "hidden land" and as per scriptures, what now constitutes the park is the sanctum sanctorum, where religious masters have hidden religious texts and treatises marked for discovery in later times.
Officials explained that these hidden treasures, known as "ters", are destined to be discovered by ter-tons, literally treasure revealers, from the sacred spots littered across the park. This has ensured that the sacred places are not defiled, thereby sustaining preservation. - IANS
Wish to share your story?
Trending Now: