So many Israelis visit this tourist destination in India it's got the moniker 'Mini Israel'
Vivek Singh Chauhan
&nbsp | &nbsp Kasol (Himachal Pradesh)
01-August-2016
Vol 7&nbsp|&nbspIssue 31
Break the monotony and get out of your hectic city life to explore the silence and solace of nature amid glorious mountain peaks. In the land of the Himalayas, there are many places to rid yourself of stress and truly search for peace.
Kasol, located 42 km east of Kullu district between Bhuntar and Manikaran in Himachal Pradesh is a beautiful remote village situated in the Parvati valley, some 230 km from state capital Shimla.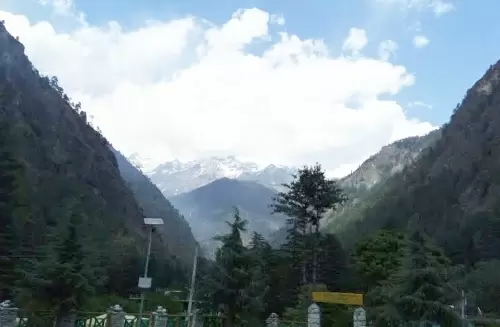 A view of the snow clad mountains from Kasol (Photo: IANS)

The mesmerising view of the valley, complete with beautiful mountain peaks, pine trees, colourful flowers and the breezy wind gave me goosebumps once I touched base at Kasol. The snow-clad mountain peaks looked so calm and peaceful.
Kasol has many things to offer -- from trekking to camping to different types of cuisine, as well as shopping from the local market.
Apart from its scenic beauty the local people of Kasol are also very warm to visitors.
Kasol is also famous as the 'Mini Israel' of India because of the large number of tourists from the West Asian country. The locals say they come to Kasol to unwind after finishing their compulsory military service in Israel.
This influx has seen an explosion of restaurants and shops catering catering to their needs. Thus, one can easily get a variety of Israeli foods in Kasol.
To check this out, I ventured into the Sasi restaurant, situated on the banks of River Parvati. I glanced through the menu and ordered Shakshouka -- an Israeli dish made of poached eggs in tangy tomato gravy along with hummus and pita bread served with a glass of fresh watermelon juice. Quite a treat it was.
Apart from the amazing hospitality, Kasol is also trending on social media sites for its long and short distance trekking options for casual walkers and the hardcore ones -- and even a combination.
There is, for instance, Tosh, a village on the slope of a mountain 18 km from Kasol that involves a 16 km walk on a bumpy trail and a two km hike.
With its small population, the village can be explored within a day. It also provides a 360 degree view of the Parvati Valley and one can sit back and enjoy the beautiful view and sunset. It was even more vibrant than a smoky party.
Another trek is from Tosh to Kheerganga, 2,960 meters above sea level. This is a moderate trek of 14 km and takes fit and regular travellers about six to seven hours. The place remains snow-covered during whole winters.
At the highest point, there is a little pool with natural hot spring water. According to the locals, it is believed to be "holy" and also has healing powers. The pool is divided into two sub-pools separately for men and women.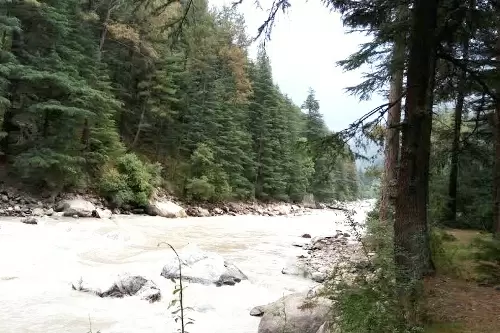 River Parvati flowing across the valley

On the way to Kheerganga, the village of Nakthan and the temple of Rudra Nag are ideal places to take short breaks. The sunrise and sunset are a must watch in the mountains. The sound of chirping and giggling birds, the silence of the valley and the majestic view of those snow covered peaks will surely rejuvenate you.
Then, a short distance night trek to Chalal after dinner is a must do for all those travelling to Kasol. It takes around 20-30 minutes and it is advisable to carry a torch for a better view and safety on the road.
Unlike other popular hill stations which offer equally majestic views, Kasol appears to be much more serene and tranquil.
So, get your bags packed and start exploring Kasol and the region around it. You will surely not regret doing so.
FAQs:
* How to reach: Alight at Bhuntar, which is well connected from Delhi and Chandigarh by bus. You can take bus or taxi from Bhuntar to Kasol.
* One can also take a flight from Delhi to Bhuntar.
* Places to visit: Camping near Parvati river, treks to Chalal, Tosh and Kheerganga.
* Where to stay: From budget home-stays to costly hotels and resorts, one can easily find various options to stay in Kasol in the Rs 300 to Rs 4,000 price ban.
* Summer is the best time to visit. - IANS
Wish to share your story?
Trending Now: