Backpackers can experience one-of-a-kind pleasure of mingling with nature
Iboyaima Laithangbam
&nbsp | &nbsp Imphal
29-February-2016
Vol 7&nbsp|&nbspIssue 9
Backpackers on a shoe-string budget who want to mingle with nature and see rare flora and fauna not found anywhere in the world and those who have emotional attachment or want to learn more about the battles between the Japanese and Allied forces during World War-II have been flocking to Manipur in northeast India like never before.
Imphal has daily flights from Guwahati or can be reached from Guwahati and Silchar through the mountainous NHs 2 and 37. There are cheap hotels for backpackers or three-star luxury hotels for those with expense accounts or rich travelers.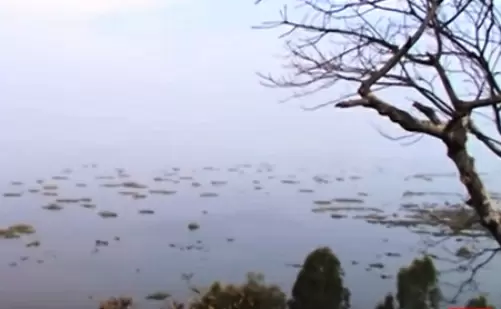 Loktak lake, the largest fresh water lake in eastern India. is a major tourist attraction in Manipur

Those who want to watch the brow-antlered deer, which is found only in Manipur, head to the Loktak lake where the Keibul Lamjao national park, its natural habitat, is located, about 60 km from Imphal.

The tourism department has constructed huts at the Sendra hillock on the shore of the lake, but most of the tourists prefer the private hovels constructed on the floating bio-mass in the lake or in the thatched inns that have been constructed in the recent past.
Also available are water sports and canoe riding in the Loktak lake, the largest fresh water lake in eastern India. Thousands of fishermen and their families have been staying in the floating huts constructed on the bio-mass. There are no toilets and the tourists are supposed to answer the call of nature or take bath while on the country canoes, like the fishermen.
Apart from the deer, tourists can watch hundreds of varieties of migratory birds coming from several countries.
Many backpackers said that they had experienced one-of-a-kind pleasure of mingling with nature.
Other tourists go to Ukhrul district to study the Shiroy lily which cannot be grown anywhere except high up on the Shiroy moutnain. Attempts to transplant the Shiroy lily in the foothills of the mountain have not been successful. Despite warnings, domestic and foreign tourists clandestinely carry away some saplings in the hope of growing them in their homes.
It was at Moirang in Manipur where the flag of India's independence was first hoisted by the INA forces and it is here that the Indian National Army museum is located, displaying the many objects the soldiers had used, including their personal effects.
The INA and the Japanese forces had stayed for four months in Manipur after which they went to Kohima for more battles.
Thangjam Dhabali, president of the Manipur Tourism Forum, said that during the battles in Manipur and what is now Nagaland, then a part of Assam, 53,000 Japanese and 15,000 Allied soldiers were killed. The number of civilians killed cannot be ascertained. Because of their identical Mongloid features civilians were mistaken for Japanese soldiers and were probably attacked on sight.
"There is an understanding with the Japanese government to construct a war memorial in Manipur," Dhabali said.
Till recently, the Japanese government and the relatives of the dead soldiers would come to Imphal to take away the skeletal remains for performing the last rites. There is also a proposal to construct an ultra modern hospital in memory of the dead soldiers but this is stuck in bureaucratic red tape. - IANS


Trending Now: