In Mussoorie, you can dine at a farm or by a riverside, thanks to the JW Marriott resort
Venkatachari Jagannathan
&nbsp | &nbsp Mussoorie (Uttarakhand)
03-August-2015
Vol 6&nbsp|&nbspIssue 31
When a team of star hotel chefs started ploughing the land adjacent to their property in Mussoorie, around nine months back in this popular Uttarakhand tourist destination in the Gharwal Himalayas, the villagers were not only baffled but they thought they had gone nuts, said the top chef at JW Marriott Mussoorie Walnut Grove Resort & Spa.
"But it finally turned out to be a good business decision as the people who come here are mostly couples celebrating their anniversaries and want an unforgettable experience," said executive chef Sunil Kumar.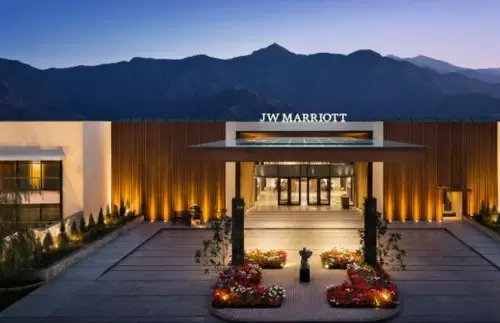 The 115-room Mussoorie hotel is the first resort property in India for the global hospitality chain JW Marriott (Photo: IANS)

The experience he talked about is not just dining at the organic farm but also choosing the vegetables grown there to be cooked and served in the scenic setting with no one around except ones beloved or the family.
"Now we are working on picnic packages called "farminic" or "riverinic" - dining at the farm or by the riverside. We are also planning to start walnut walking trails," Kumar said.
The 115-room Mussoorie hotel is the first resort property in India for the global hospitality chain JW Marriott.
Kumar was part of the pre-opening team of the resort and decided to try out something different and was struck with the idea of dining at a farm.
The twist is that the farm has to be run by them.
With the management giving the go ahead, Kumar spoke to the landlady and convinced her to allow them to grow vegetables.
Clearing the wild growth, the star hotel's chef team, along with the local villages, decided to plough the field in the traditional way - tying the plough to two oxen and pressing it down with the palm.
"Driving the animal down to the farm from the village was also a difficult part apart from ploughing. Some of the team members got blisters on their hands," Kumar said.
As it is said the proof of the pudding is in its eating, the top officials of the hotel were given the first chance to experience a dinner at the farm gate.
Soon the guests were enthused to experience it and they started liking it.
Kumar said a Bollywood actor with his family enjoyed the experience of five-star dining at the farm.
According to Kumar, vegetables like tomatoes, brinjal, bitter gourd, pumpkin, Chinese cabbage and corn are grown.
"In real sense we have not done a proper harvest. But we have been using the vegetables in our cooking. We are hoping for a good tomato harvest," he said.
To a query whether he grows aphrodisiac plants Kumar said, asparagus, strawberries are grown separately in a green house set up by the hotel.
"We are planning to grow white bell peppers and lettuce of different colours," Kumar said.
According to him, the resort property has an average occupancy of around 75 percent.
Queried about the food rates for dining at the farm Kumar said the breakfast cost would range between Rs.1,500-Rs.1,600 per head. If one goes for champagne then the rates would even cross the nearby mountain peaks. - IANS

Trending Now: