Making children understand the need for nature conservation through cartoons
Sahana Ghosh
&nbsp | &nbsp Kolkata
29-June-2015
Vol 6&nbsp|&nbspIssue 26
Have you ever seen maps that take you through lush forests harbouring endangered animals, birds and people enveloped by nature's bounties, all depicted through enticingly funny caricatures?
Well, thanks to wildlife cartoonist Rohan Chakravarty's prowess with the pen and some digital tools, these 'illustrated biodiversity maps will soon be made available at certain popular Indian biodiversity hotspots to make conservation more appealing to the public.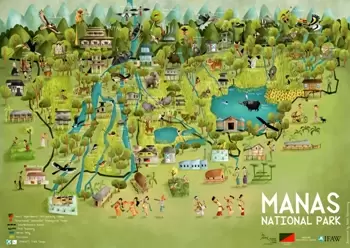 The illustrated Manas National Park map (Photo: Wildlife Trust of India)
Commissioned by the Wildlife Trust of India (WTI), two such graphically-rich maps have been launched: one on Pakke Tiger Reserve in Arunachal Pradesh and the other on Manas National Park in Assam.
"We are mapping the entire park or reserve, right from the terrain, the animal habitats, the threatened, endangered or vulnerable fauna and the interdependence of the tribal communities, locals and wildlife in a way that is educative and fun," said Chakravarty.
Pegged as souvenirs to be sold in and around these parks as an awareness initiative, the latest in the series takes one through a visual tour of Manas, a national park at the base of foothills of the Bhutan-Himalayas and a UNESCO Natural World Heritage site.
At first glance, the map resembles a vibrant graphic design layout of a board game - almost like animation frozen in time.
Look closer and you find illustrations of crisscrossing rivers, the diverse terrain, and caricatures of Bodo and Assamese dancers as well as endangered species like the Bengal florican (soaring somewhere in the map's northeast) and the Pygmy hog ambling in the grassland.
The 20-something Chakravarty, who observes the nitty-gritty of diversity during his travels for the project, said the most challenging aspect was to replicate the variety of terrain seen in Manas - grasslands, evergreen forests, montane forests, riverine ecosystems, lakes and marshes.
"During the four days in Manas and Royal Manas National Parks (in Bhutan), I interacted with locals as well as forest officials, witnessed their daily activities and customs and learnt about the animal species and in which habitats they are found inside the parks," explained the Bangalore-based illustrator, whose comics, cartoons and caricatures can be enjoyed on the 'Green Humoura' site.
"The sketches I made during the visit, as well as images from memory and photographs, helped me to put everything down in the form of a map," Chakravarty said, adding the next map is on Karnataka and features eco-tourism.
In addition to highlighting important spots like field stations and anti-poaching camps, the illustrations also shows life in action.
For example, there are caricatures of Purabi and Doimala, two orphaned rhino calves being hand-raised by WTI, its chief veterinarian, as well as smiling figures of locals engaged in rice and tea cultivation.
"The idea is to make them attractive so that people, especially children, will be excited to learn the value of these animals, birds and preserving the environment around them.
"We have more maps in the pipeline and will incorporate them on merchandise like mugs, T-shirts and the like," said Rupa Gandhi, WTI's chief of social entrepreneurship and chief marketing officer, Terai region. - IANS


Trending Now: