A flower bedecked Kashmir beckons tourists from all over the world
Sheikh Qayoom and Waseem Shah
&nbsp | &nbsp Srinagar
20-April-2015
Vol 6&nbsp|&nbspIssue 16
After losing its peak autumn tourist season last year due to unprecedented floods, Kashmir is bedecked with flowers to receive tourists this year. The good news is that tourists are already arriving here in encouraging numbers.
In the first week of April, which traditionally marks the beginning of Spring tourism in Kashmir, 10,000 tourists arrived here, an official said.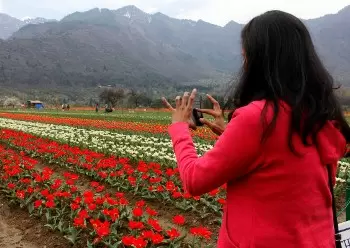 A view of tulip flowers at the Tulip Garden in Srinagar (Photo: Kamran Raashid Bhat/ IANS)
"This also includes about 4,000 foreign tourists," another official at the Foreigners' Registration Office said in this Jammu and Kashmir summer capital.
The early spring arrivals are encouraging given the fact that rains in late March and early April had almost brought back the horror of last September's floods.
"It was just water-logging that had been given unnecessary hype by the media outside the state. This damaged our tourism prospects," Chief Minister Mufti Muhammad Sayeed told reporters while throwing open to visitors Asia's largest Tulip Garden here on April 6.
Despite the media hype of spring floods in Kashmir, tourism players are optimistic about increased inflows.
"Nearly 60 percent of our bookings for this month were cancelled due to the fear of floods. The media should have acted responsibly. They created unnecessary hype as if the entire Kashmir was flooded," said Muhammad Azim Toman of the Houseboat Owners Association.
Houseboat owners are now ready to receive guests after sprucing up their vessels with paint and polish.
"We have completed repair work of houseboats. Now, the government should vigorously work for attracting tourists in Kashmir," Toman added.
Hoteliers and travel operators echoed similar views.
"The media hype created fear-psychosis among potential tourists. April and May are important months for tourist flow in Kashmir as most of our bookings for the year happen in these months", said Tariq Habib, sales and marketing manager of Hotel Vintage in Gulmarg.
Omar Nabi, a tour and travel operator, said most of the bookings for April were cancelled.
"Last year, this season, we had 80-90 percent bookings. But this month we had just five-eight percent bookings", said Nabi.
Farooq Ahmad Shah, Kashmir's tourism director, said: "A negative message went out due to the false media reports about floods in the Valley when it was just water-logging. Our premier tourist destinations were not affected even in last year's floods."
"Our state presents a unique and complete package for its visitors. We have declared 2015 as Visit Jammu and Kashmir year," Shah added.
He also said the tourism department, with the help of the state government, has planned various activities to woo tourists to the state.
"We are going to promote shrine tourism in the Kashmir, Jammu and Ladakh regions this year so that tourists visit shrines which have historical and cultural significance. We are organising road shows and campaigns to promote this new concept.
"Tour and travel operators inside the country and also abroad have promised to act as tourism ambassadors for the state this year," Shah said.
"I am an optimist, we should remain positive. The tourist flow is gradually picking up. It will take time, but I seriously believe it will gain pace," said Nazir Bakshi of Shiraz Travels.
Bakshi also said they are organising a roadshow at the end of this month in Mumbai to bring back Bollywood to Kashmir in a big way.
Last year nearly 1.1 million tourists, among them 50,000 foreigners, visited Jammu and Kashmir.
"So far, bookings mainly comprise domestic tourists. Only 10 percent are foreign tourists," Bakshi added.
"We used to have full bookings for May; this time we have just 40 percent. But it is slowly picking up and, hopefully, we will have a good season this year," said another travel operator here.
Most hotels which suffered in last September's floods are gearing up for tourists.
"Hotel renovation, repair and refurbishing are almost done. We are ready to welcome our guests like before. The new government has initiated steps for our rehabilitation and we are confident of a good season ahead," said Ghulam Ahmad Malik of hotel Shahenshah Palace on the Boulevard Road by the banks of the Dal Lake.
Industry stakeholders said adverse travel advisories, lack of quality infrastructure and sudden increase in airfares during the peak season are affecting domestic and foreign tourist inflows.
"For many years we see there is a sudden increase in airfares during the prime season. Sometimes, our package gets costlier than other states and even some foreign packages due to spurt in airline charges. This discourages many tourists from travelling to Kashmir," said Omar Nabi of Heavenly Kashmir tour agency.
Bad roads are, however, worrying tour and travel operators.
"The state government should improve road connectivity in Kashmir on a priority basis. You see, it takes a lot of time to travel from one destination to another because of bumpy and dusty roads," said Nazir Bakshi of Shiraz Travels.
Despite problems, Kashmir's tourist industry is ready to bounce back this year to break past records.
"You just can't have enough of Kashmir and that is true despite the problems we face in giving a run to tourist destinations outside the country," said Nazir Ahmad War, a hotelier in north Kashmir's Sonamarg hill station. - IANS

Trending Now: