Savour the history and beauty of Rajasthan by driving to Mandawa and staying in Sara Vilas
Sugandha Rawal
&nbsp | &nbsp Mandawa (Rajasthan)
09-March-2015
Vol 6&nbsp|&nbspIssue 10
Golden yellow mustard fields, long winding roads, shimmering stars and a gentle wind whistling in the ears - that was the first impression that Mandawa cast on me once I left the hustle-bustle of metropolitan Delhi for an alluring charm of the small village of Rajasthan.
Though Mandawa is well-connected by road from Delhi, it's quite a bumpy ride of eight hours. But there's no gain without pain, and you know it once you meander your way to hotel Sara Vilas.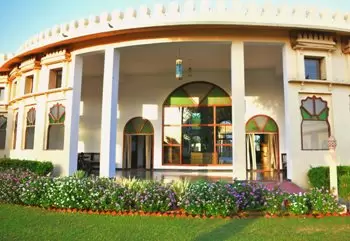 The front view of hotel Sara Vilas (Photos: IANS)
There are two ways to reach the hotel - one through a village and one through a long stretch of about 17 km with just open fields around you. By chance, I landed on the latter route, which was nothing less than eerie.
Once you reach the ostentatious gate of the hotel, it's like you're teleported to a different era. It's almost like having entered a time machine.
The ambience of the haveli-style hotel, with its 62 vilas (yes, a room is called a vilas at Sara Vilas) and three mini-suites, will leave you entranced and enchanted.
Started in 2007 under Khatri Hotels group, the destination promises an authentic experience of Rajasthan's history. And with elephant statues, big wooden doors, fresco paintings, brass pots, drums, antique motorcycles and many other artifacts of the bygone era - it delivers it.
"We have intentionally recreated the ambience with decorative fountains and pavilions to give it an authentic look. Guests come with a mindset that they will get a taste of rural life, so we strive to live up to their expectations," said Mahesh Kuntal, general manager of the hotel.
Kuntal also mentioned that since Mandawa is being overshadowed by other popular tourist spots in Rajasthan, they want the village to come into limelight so that it attracts more business.
Interiors of the rooms are also very colourful and display a variety of artifacts with large windows that allow ample amount of sunlight in the rooms.
Even if you are not a morning person, watching the sunrise with chirping of birds while breathing clean air and while sipping on a hot cup of tea is a treat.
You can also relax in the lush green lawn, take a dip in the swimming pool, indulge in some recreational activities like pool table or satiate your foodie spirit by savouring Rajasthani delicacies at the restaurant.
The restaurant offers an array of local delicacies like laal maas and gatte ki sabzi along with Indian food and a wide range of liquor as well.
Too tired to do anything? Calm your senses with an Ayurvedic massage at the in-house. Get a whiff of spa or just stay inside the room, the decor of which is marked by furniture and paintings, exuding an old-world charm, and adding to the vibrancy of the place.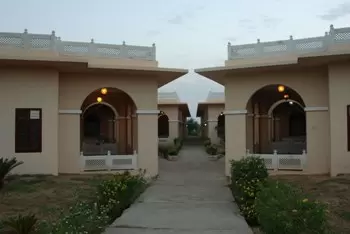 A view of the independent rooms for guests at the hotel
Though there are drawbacks like technology and security issues, Kuntal notes that they are planning to overcome all the hurdles to provide the best to their guests.
"We are planning to add more rooms. The lack of technology is a big drawback here. So we are also planning to provide Wi-Fi in every room and upgrade our TVs, as well as build more fortified boundaries," he added.
The place calls for a small visit for sure!
FAQS
* How to reach:
By road - Mandawa is well connected with roads and it is 270 km from New Delhi
By air - the nearest charter airport is Jhunjhunu. Jaipur is the nearest airport for regular flights.
By rail Jhunjhunu is the nearest convenient railhead and one can take trains for Sikar, Jaipur, and Delhi from Jhunjhunu.
(The writer travelled to Mandawa on an invitation from Sara Vilas.) - IANS


Trending Now: