Get set and go, the snow beckons the adventurous, looking for thrills
10-January-2015
Vol 6&nbsp|&nbspIssue 2
If you are an adventure junkie and snow excites you, how about planning a trip to the world's best skiing destinations? Try gliding on snow at locations like Aspen, Colorado in the US to Fernie in Canada.
Online accommodation booking website Hotels.com has enlisted exciting skiing destinations, which are marked by scenic surroundings, snow-filled ice caps and varied slopes: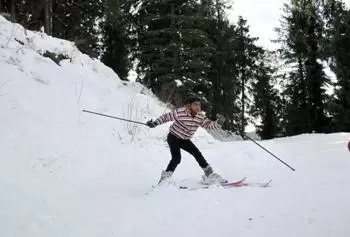 A boy enjoys skiing in Kufri, Himachal (Photo: IANS)
* Aspen, Colorado, US: Situated in a remote area of the Rocky Mountains' Sawatch Range and Elk Mountains, Aspen runs along the Roaring Fork River at an elevation just below 8,000 feet (2,400 m) above sea level on the Western Slope.
The Aspen Mountain is famous for its black-diamond terrain and offers a variety of glades, bumps and steeps to ensure an out-of-bounds experience. The great views and food at the Sundeck makes this resort one of America's favourite.
* Alyeska, Alaska, US: Alyeska, is a seaside ski resort where the bottom of the pistes finish just 100m above sea level. A combination of helicopters, snowcaps and ski-touring will ensure that you access the very best virgin slopes for extraordinary runs offering descents of between 500 and 1,700m.
* Fernie at British Columbia, Canada: Fernie is a city tucked in the Elk Valley, the place where the dramatic Rocky Canadian Mountains surround the small, charismatic community and the stellar ski destination of Fernie Alpine Resort.
This mountain town is not only known for its skiing and snowboarding but its lifestyle, inspiring beauty and varied activities and festivals even in summer.
* Chamonix, France: Chamonix is known as the 'extreme adventure sport' capital for European adventure junkies. The skier's paradise is located in the Haute Savoie department of the Rhone-Alpes region of south-east France. With the pearly white flanks of the Mont Blanc massif as a sensational backdrop, the Chamonix Valley is the Alps at their most dramatic.
* Cortina, Italy: The picturesque Cortina is truly Italy's most fashionable resort. Just three hours from Venice, the town is nestled in a valley at approximately 4,000 ft and is surrounded on all sides by slopes. It is also the host of the 1956 Olympics and invites some serious skiers.
* Mont-Tremblant, Quebec: Winter or summer, there is nothing more enchanting than the Mont Tremblant, Quebec. The province is mostly dominated by the French-speaking and is the point where Europe meets North America.
With a dazzling array of lakes and trails, gourmet restaurants, charming bistros, exclusive boutiques, nightclubs and casinos, this truly is an unforgettable retreat in the heart of Quebec.
* Kitzbühel, Austria: The small medieval town in Troy, Austria, Kitzbühel is home to big names, ski pioneers and the high society. It was named the 'Best Ski Resort in the World' for 2013. - IANS

Trending Now: