A woman biker turns professional doing a treacherous stretch to reach Ladakh on her own

Samiksha Bali Dutta
&nbsp | &nbsp Mumbai
22-September-2014
Vol 5&nbsp|&nbspIssue 38
I was finally heading out to the motorcycling destination I have been craving for as long as I can remember - Ladakh. My dream had come true at last. For years I had admired all those bikers who went on such adventurous trips.

Yes, it was happening for real and it was happening much earlier than I had thought I would attempt the ride.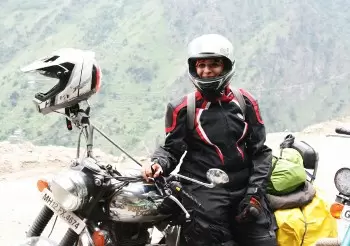 Samiksha Bali Dutta on her Enfield 500cc bike on way to Ladakh
I and my hubby had been riding the Enfield 500cc bike we had bought in January and taking her on a few short trips. But we set out on a challenging trip to Ladakh from Chandigarh one afternoon in early August.

I was riding the Enfield and my hubby was riding a bike he had borrowed from a friend. I was nowhere near being called a pro rider unlike most of the other riders in our group, 10 men and one other woman, me being the youngest of the lot.

Yet, our level of gusto and passion for riding made us choose the most treacherous route to the heavenly destination of Ladakh.

We would ride through Spiti Valley, covering the most stunning and challenging terrains and some very high passes - Khardung La 5580m, Chang La 5183m, Taglang la 5359m, Baralacha La 4870m, Kunzum La 4550m.

And were we glad that hubby and I took separate bikes!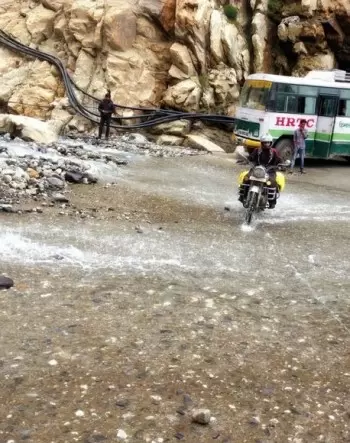 Treacherous route to the heavenly destination of Ladakh
Revving myself and my beast beyond acceptable oxygen levels and reaching a destination to which the journey is more than just memorable, my ascent of the Himalayas on my Royal Enfield 500cc bike had well and truly begun.

We rode for over twelve hours a day, for eight days, with speeds sometimes not exceeding 20kmph, since the roads we took were not really roads, just cut up mountains, sand, gravel and landslide spoils.

We rode with the sight of the rugged snow capped mountains in between our handlebars, carrying our treasured possessions of a few warm clothes, rain coats, bike spares and petrol cans tied on our seats.

Enroute Ladakh, peeking down 15000 ft perched on my bike wondering how I managed to ride up that narrow mountain way with no room for error, reminiscing that moment when we crossed the first glacial water crossing made me fall in love with motorcycling all over again.

I was cold, I sweated it out, my calf muscles complained, my bike refused to start at times without all the cajoling and tinkering, but I was on my way to Ladakh and my spirits were elated.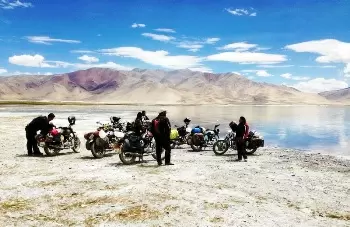 Bikers enjoying the sight of snow capped mountains
My bike and I rode along raging rivers, squeezed into the side of the rugged mountains to give way to army trucks coming from the other side on the narrow terrains, battled hair pin turns on mind-boggling inclines, bore the brunt of paucity of oxygen, waited patiently for bulldozers to clear away landslides and we were loving every bit of it.

When your bike dances on the sandy Himalayan desert terrain happily struggling for a grip and taking you in a completely involuntary direction and roars over intimidating rocky routes, it is your passion that keeps you going.

At every break I took, I now understood the whole point of riding your bike to someplace as challenging as Ladakh for both you and your machine, where both struggle for oxygen and brave the hostile terrain together.

It creates a bond with the bike which cannot be put into words. We rode into the clouds and chased the snow capped Himalayas, tamed bottomless drops, and pushed ourselves to reach remote destinations.

There were times when I could not see anyone in my rear-view mirror for miles, leaving me with a feeling like I had been riding on the moon's surface for hours, and still being satisfied and happy at the end of the day.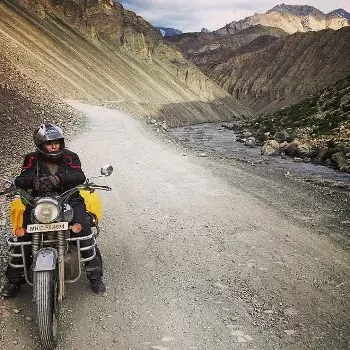 Feeling top of the world
I did reach Khardungla Top, the highest motorable road in the world at 18,380 ft and boy, was I proud of my bike for having weathered it all.

Being a woman biker, I always get asked the obvious question on how I handle such a heavy bike.

And yes, people do stare when they manage to make out it is a woman biker underneath all the gear and helmet and face scarves, but I've come to realise that its more out of intrigue than anything else.

What goes into biking is not the weight of your machine or your height, but the passion in your heart. It's the zest to go beyond your limits and achieve something you'd remember for the rest of your life.

From someone who was scared of riding on gravel and stone a few months ago, now having covered offroading at insane altitudes, I can proudly call myself a true biker now, thanks to some of my closest buddie bikers who have taught me to ride better.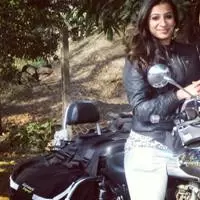 About Me: I am a marketing professional based out of Mumbai. Always having loved bikes and the Royal Enfield in particular, now that I possess my very own wheels, I plan on riding all over India with my partner and then maybe even more. On long weekends, me and my biker hubby always try and make the most of it by riding out to interesting destinations.

Trending Now: