Places to visit in Kashmir is an exhaustive list, yet here is a comprehensive one

Afsana Rashid
&nbsp | &nbsp Srinagar
24-May-2014
Vol 5&nbsp|&nbspIssue 21
Snow-clad lofty mountains, lush green meadows, wide parks and pastures, breathtaking waterfalls, vast lakes, pristine streams, beautiful gardens and mesmerizing hill stations, aptly describe Kashmir Valley. Mughal Emperor Jehangir summed up the beauty of the Valley in these words: "If there is paradise anywhere on the earth, it is here, it is here, it is here."

The Valley has many tourist-attractions. From 'shikara' to cable car (Gondola) to horse ride; from waterfalls to golf-course, from hotels to houseboats, from glaciers to serene meadows; Kashmir has it all.

The Weekend Leader has compiled a list of 15 places to visit in Kashmir, starting with some of the must-see-places in and around Srinagar.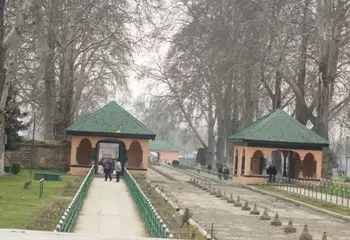 Shalimar Bagh (Photos: Afsana Rashid)
1. Mughal Gardens

A major tourist attraction in Srinagar, the three Mughal Gardens, Nishat, Shalimar and Cheshma Shahi, witness huge rush of visitors, especially on weekends. The Mughal Gardens with their terraced lawns, bright flower beds, and cascading fountains have a captivating effect on heart and soul of a person.

Nishat Bagh: The largest of the Mughal gardens, Nishat, about 14 km from Srinagar, is located along the banks of Dal Lake in the foothills of Zabarwan mountain range. The water channel, water cascades and pools, fountains, terrace walls and pavilions are its key historic architectural structures.

Shalimar Bagh: Like Nishat Bagh, this garden, about 16 km from Srinagar city, too was developed along the lines of traditional architectural structures in the form of pavilions and water-cascades.

Cheshma Shahi: The smallest of these gardens, lying on way to Pari Mahal, it is located about 10 km from Srinagar city. (Located about 10 km from Srinagar city on the slopes of the Zabarwan mountain range, Prince Dara Shukoh, the eldest son of Emperor Shah Jahan built Pari Mahal around 1650.)
2. Tulip Garden

The Indira Gandhi Memorial Tulip Garden is located in the foothills of Zabarwan mountain range, about 8 km from Srinagar city, with an overview of the world famous Dal Lake.

Spread over an area of about 12 hectares, it's the largest Tulip Garden in Asia. The magical bloom of various varieties of Tulip flowers in the spring season (April-May) attracts visitors from far and wide. It is a must-see-place in Srinagar.

Just adjacent to the Tulip Garden is the Botanical Garden, whose serene beauty fascinates all.

3. Dachigam National Park

Located in Zabarwan mountain range and spread over 140 sq. km, Dachigam National Park lies 22 km from Srinagar city. The Park is divided into two areas; the lower and upper Dachigam. Dagwan River that originates in upper Dachigam divides it into two.

Dachigam is most famous for Hangul or Kashmiri stag. Best time to visit the Park is from May to November. Early mornings and late afternoons are preferred.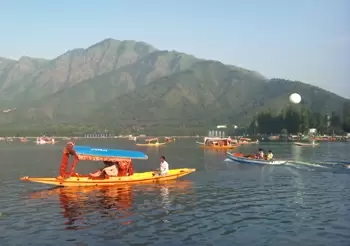 Dal Lake
4. Dal Lake

Known as the "Jewel in the Crown of Kashmir" the Dal Lake with houseboats on it, presents a spectacular view. It is a must-visit-place in Srinagar. Houseboats in the Lake are known as 'floating palaces'. You might want to take a 'Shikara' ride in the lake when you visit the place.

The Lake, about 5 km from city-centre, is also famous for floating-gardens. Such gardens are known for lotus flowers that blossom during peak summer season, July and August.

The Lake also has a floating market. In the middle of the Lake is 'Char Chinari' (an island in the lake with majestic Chinar trees at the four corners).

The Lake is lined by Mughal gardens, parks, hotels and restaurants along its bank on one side and the famous Hazratbal shrine on the other. The lake has attracted filmmakers, since years.

5. Nigeen Lake & Nigeen Club

Though sometimes referred to as a separate lake, Nigeen Lake is actually part of Dal Lake. It is linked to Dal Lake through a causeway that is suitable for walkers and bicyclists. A must-see-place in Srinagar, houseboats and gigantic Chinar trees add to the lake's glory.

On the bank of Nigeen Lake stands the picturesque Nigeen Club, which provides ample recreational facilities to visitors.
Pari Mahal
6. S P S Museum

Situated on the banks of river Jhelum, just adjacent to the historic city square Lal Chowk, stands Shri Pratap Singh (SPS) museum. The museum houses ancient art and artifacts including manuscripts, miniature paintings, sculptures and other artifacts. It is one of the places to visit in Srinagar.
7. Hari Parbat Fort

A heritage site, the 18th century Hari Parbat Fort or Koh-e-Maran is located on a hill overlooking the Srinagar city. It has the famous Hindu Shakti Temple on the western slope, the highly revered Muslim shrine of Makhdoom Sahib on the southern slope and a Gurudwara on southern side of the outer wall.

The Fort is maintained by State's Archaeological Department and tourists have to seek special permission from the department to visit the Fort.

Adjacent to the Fort lies the Badamwari Garden. The garden is worth-visiting during spring when almond trees are in full bloom.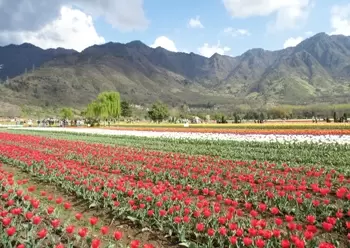 Tulip Garden
8. Nehru Park and Zabarwan Park

Nehru Park is located about 6 km from Srinagar city. Include it in your places to visit in Srinagar list. You need to cross the Dal Lake (in a shikara) to reach the Park.

At nearby Zabarwan Park, there is much for visitors to enjoy - Aero Balloon, Indoor Games Zone for children, Heritage Museum, Recreational Hall and a Food Court. Live Kashmiri music programmes are arranged during evenings in summers for the entertainment of visitors.

9. Shopping Complexes

These are some of the shopping complexes in Srinagar you might want to check out.

Sangarmal shopping complex: A first of its kind and government owned state-of-the-art shopping complex, Sangarmal, is spread over 20-kanal of land, housing showrooms, fountains & cascades, and recreation points.

Town Square shopping mall: Located in Gogji Bagh (opposite Amar Singh College), the mall hosts outlets of famous brands like Cantabil, Reebok, and Bata. Wide range of products like baby-products, foot-wears, garments and other accessories are available here.

M S Mall: Located in the heart of Srinagar city, on the banks of river Jhelum, the mall offers varied choice to shoppers.

V Mart: Located in city-centre, the Mart offers kitchen and home appliances, crockery & grocery items, apart from readymade garments, footwear and baby-products.
10. Burzhama Ruins

A must-visit-place in Srinagar due to its historical importance, it is the most famous archaeological site in Kashmir and the first Neolithic site to be discovered in Kashmir. About 5 km from the famous Shalimar garden, Burzhama Ruins provides an insight into the archaeological remains of an ancient settlement dating back to Neolithic age.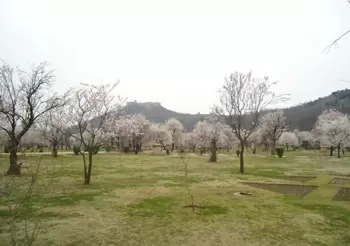 Badamwari Garden
11. Sonamarg

A major tourist attraction outside Srinagar is the beautiful hill station Sonamarg - meaning 'meadow of gold' - situated on the Srinagar-Leh highway, about 84 km from Srinagar. The hill station has historical significance as it was the gateway to the ancient Silk Road that connected Kashmir and China.

Popular for Thajiswas Glacier, Baltal and Zojila Pass, Sonamarg has much more to offer. Though the traditional route to Amarnath cave is from Pahalgam, it can also be approached through Sonamarg.

12. Gulmarg

World renowned ski-resort of exceptional beauty, Gulmarg is one of the most visited tourist destinations in Kashmir. Also known as 'meadow of flowers' Gulmarg is a premier hill station, about 60 km from Srinagar-city. It has the highest green golf course in the world.

Visitors here can enjoy Cable car (Gondola) drive, apart from horse-riding. The first phase of Gondola takes tourists to Kongdori station (8530 ft) and the second phase up to a height of 12,293 ft.

Snowfall attracts tourists, who throng the spot for snow-skiing and other winter sports. Many Bollywood films have been shot here.

13. Pahalgam & Betaab Valley

Another world-famous hill station and health resort, Pahalgam, about 95 km from Srinagar, has been a favourite spot for all and is a must-see place.

A fascinating valley with lush green meadows, it is the place for horse-riding and hiking. Pahalgam Club has a 9-hole golf course. Lidder river and Kolahoi glacier are the prominent sightseeing places. White water rafting is done here. Pahalgam is associated with the annual Amarnath Yatra.

Quite adjacent to Pahalgam lies the scenic Betaab Valley. About 15 km from Pahalgam, the valley got its name from the Sunny Deol-Amrita Singh hit debut Bollywood movie 'Betaab'.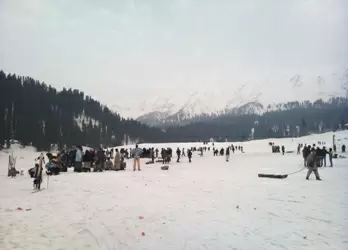 Gulmarg
14. Manasbal Lake

A picturesque water body and a tourist-spot, Manasbal Lake is situated about 30 km north of Srinagar. Being the deepest Lake of Kashmir valley, the lake overlooks the remains of Darogabagh, a 17th century fort and Jharokha, a beautiful Mughal Garden.

15. Wetlands

The Kashmir Valley is home to many wetlands, some of which are:

Hokersar Wetland: About 14 km from Srinagar, Hokersar is a world-class wetland on the Srinagar-Baramulla National Highway. It attracts migratory birds from Siberia, Central Asia, China, North Europe and the Indian sub-continent.

Haigam Wetland: Situated about 30 km north-west of Srinagar, the wetland is protected as a game sanctuary. During winters, migratory ducks, particularly Anas species, flock here in thousands.

Shalbug Wetland: The wetland lies roughly 16 km northwest of Srinagar and is thronged by the game birds.

Mirgund Wetland: About 16 km from Srinagar city on the left side of the Gulmarg road lies the Mirgund wetland.
Wish to share your story?
Trending Now: