A trip of the island of a thousand temples in Indonesia can rejuvenate you
Aparajita Gupta
&nbsp | &nbsp Bali
01-March-2014
Vol 5&nbsp|&nbspIssue 9
Are you a sea urchin who wants to soak in the sun in a serene ambience? Do you also fancy ancient temples and the fascinating stories around it?

Then a visit to the island of Bali in Indonesia - a predominantly Hindu enclave in a country with the world's largest Muslim population - will more than quench your thirst.
Bali's undulating landscape is a real treat for the eyes as well as the soul. Bali is an Indonesian province where 84 percent of the population is Hindu followed by Muslims and Christians. It has tropical weather conditions and July-August are considered the best months to visit.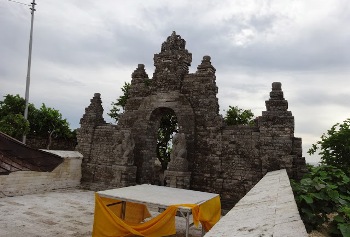 Uluwatu Temple is located on the edge of a cliff overlooking the sea (Photos:IANS)
The picturesque city of Nusa Dua, 40 km from Denpasar, the provincial capital of Bali, points to the aesthetic sense of its planners.

The city is dotted with huge lush green parks. Statues of various Hindu mythological figures and sculptures of dancing women and various tropical animals and birds are spread across the city.
During the religious festivals, the Balinese people dress up the sculptures. Even temples put umbrellas over the heads of the statues.
The people are soft-spoken, friendly and religious. They start their day by offering flowers and fruits to the gods, a common scene across the island.
"Tourists come from across the world. Many people from the West come just to enjoy the sea," a tour guide said.
People also throng Bali for the beautiful ancient temples; the place is also known as "The island of thousand temples."
A visit to Uluwatu Temple will sweep you off your feet. Located on the edge of a cliff overlooking the blue sea, it has a therapeutic effect on visitors.

Constructed in the 11th century, it is one of the nine directional temples meant to protect Bali from evil spirits. It is a ritual to wrap a cloth around the waist while entering.
But one needs to be cautious about the monkeys in the temple premises! They are present in huge numbers and at times give tourists a tough time.
There is also an amphitheatre-like structure within the premises where Hindu mythological plays are performed in the evening.
Bali is also known for its handicrafts like batik works on dress material, wooden crafted objects, showpieces made of shells, leather goods made of snakeskin, various utility items made of wood and cane and traditional musical instruments crafted out of coconut shells, wood and cane.
One needs plenty of rupiahs to purchase this stuff. With the inflation rate steep, $100 will fetch you 1,135,000 to 1,140,000 rupiah depending on the day's exchange rate. And, any beautiful object one will lay one's hands on will cost not less than 75,000 rupiah.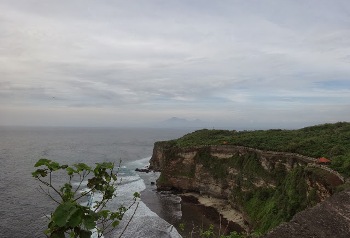 A view of the sea from Uluwatu Temple
Nusa Dua is a serene and private location with lots of upmarket hotels, but to get a hang of the night life in the city one must go to Kuta.

Life starts there after 10 p.m. Here one can find lots of reasonable accommodation and open restaurants. Kuta has innumerable night clubs and the hookah crowd flocks the place.
Beaches in Bali are a hot spot for swimming, surfing and sunbathing. Since the mercury never dips substantially in this zone, one can travel light.
Bali caters to the beach spirit of both the rich and bagpackers alike.
How to reach
* From India, travel through Kuala Lumpur (Malaysia Airlines, Air Asia), Singapore (Singapore Airlines and others) or Bangkok (Thai Airlines). Thence, fly by carriers like Air Asia, Lion and others to Denpasar.
Flight time from New Delhi to Kuala Lumpur/Singapore: 5 hours 30 minutes.
Flight time from Kuala Lumpur/Singapore to Denpasar - less than 3 hours.
* Accommodation: Ranges from Rs.3,000 to Rs.50,000 ($47-$792) per night.
For the really high end traveller, there is the Bulgari hotel, one of only two in the world, where a room costs Rs.150,000 ($2,380) a night.
* A meal for four in a mid-range restaurant will cost Rs.2,000 ($31) without alcohol.
* Cuisine to watch out for: Nasi Goreng (Indonesian fried rice), Mie Goreng (fried noodles), Opor Ayam (Chicken curry), Tuna Sambal Matah (Seared Tuna with raw Sambal), Sambal Udang (Prawns in spicy sambal sauce) and Beef Rendang - IANS

Trending Now: