The 15 must-visit places in Bangalore other than its widely known pubs

Sudha Narasimhachar
&nbsp | &nbsp Bangalore
22-February-2014
Vol 5&nbsp|&nbspIssue 8
Bangalore has so many places of interest that it was a difficult task listing 15 must see places for a tourist. The Weekend Leader has compiled a list of 15 places to visit in Bangalore, hoping to give you a bit of history, fun, and entertainment. (Places have been listed in alphabetical order and not according to their importance.)
1. Bangalore Fort

Bangalore Fort was originally built by a feudatory of the Vijayanagar Empire and the founder of Bangalore, Kempe Gowda, in 1537. Hyder Ali converted the mud fort into a stone fort in 1761.

Since 1791, when the British conquered this fort, they kept dismantling it for various reasons like laying roads, building schools, and hospitals, etc. until 1930s. What remains now is its Delhi Gate and remnants of 2 bastions.

Include it in your list of places to visit in Bangalore to get a sense of the historical roots of the city.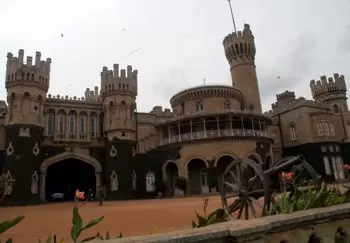 Bangalore Palace: A must visit place in Bangalore (Photos: Saggere Radhakrishna)
2. Bangalore Palace

The construction of this beautiful stone palace was started in 1862 and completed in 1944. The Maharaja of Mysore bought the palace in 1884.

Situated in a 450-acre property in a prime locality of North Bangalore, the palace is surrounded by a vast garden of various species of trees.

The palace has nearly 30000 paintings. An audio tour would introduce the tourists to the rich history and heritage of the erstwhile Mysore Empire.

A must visit place in Bangalore!

3. Bannerghatta National Park

Bannerghatta National Park, covering nearly 25000 acres, is located at a distance of about 22 km from Bangalore city and is home to one of the richest natural zoological reserves.

Many wild animals like the tiger, lion, panthers, deer, elephant and a variety of reptiles and birds roam around freely in this park.

Safari rides are organized by the Forest Department to view the wild animals from close quarters. Besides, a lovely Zoological Park and a Biological Park have been created in this park. There is a small museum showcasing zoological exhibits and a butterfly conservatory.
4. Cubbon Park

This wonderful green island situated in the middle of the city was created in late 19th century by Major General Richard Sankey, the then British Chief Engineer of Mysore State.

Initially it covered an area of 100 acres but it spreads over 300 acres now. Thick bamboo gardens add a special beauty to this park.

Cubbon Park is interspersed with many heritage buildings - which surprisingly do not disturb the beauty of the Park - such as the Seshadri Iyer Memorial Hall, which serves as the Central Library today, the Attara Kacheri, which serves as Karnataka's High Court, and the Museum of Archeological Survey of India.

You would also find beautiful marble statues of Queen Victoria, King Edward VII, Major General Sir Mark Cubbon, Sri Chamarajendra Wodeyar and Sir K. Seshadri Iyer in front of these historical buildings.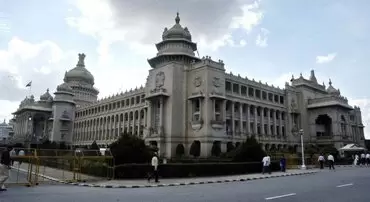 Vidhana Soudha
For kids you have the children's centre called the Jawahar Bal Bhavan, a toy train, boat ride on a tranquil canal, a children's library, and a play station.

There are many interesting places to visit within and around the park such as the Vidhana Soudha, the General Post Office, the Sir M Visweshwaraiah Science Museum, the aquarium, the doll museum, and the historic band stand.
5. Indira Gandhi Musical Fountain

The dancing and musical fountain was commissioned in 1996 in the heart of the city on the Raj Bhavan Road on a 17-acre land beautifully landscaped by the Department of Horticulture, Government of Karnataka.

The fountain is designed using latest multimedia technology and varieties of Indian and Western musical themes. A number of beautiful patterns are formed in three distinct levels and the formation gives an illusion of a folk or group dance.

It is located opposite to the Jawaharlal Nehru Planetarium and close to the Vidhana Soudha and Cubbon Park.
6. Innovative Film City

This is an entertainment theme park with something for everybody. Located about 40 km from Bangalore, we can somewhat equate this to Disneyland of the United States of America.

Located on a 50-acre land, the city offers many entertainment facilities to suit all age groups such as Teddy Museum, Louis Tussaud's Wax Museum, Mini Golf field, Ripley's Believe It or Not, Haunted Mansion, Bungee Jumping and so much more.

A wide range of food options are available at the food court and elsewhere. There is a Handicraft and Cultural Village, where the native arts and crafts and cuisines of different states can be found.

The tariff is Rs.599/- per adult for a standard package, while there are special offers for school children.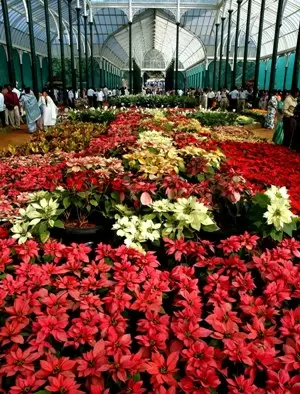 Flower shows are conducted twice a year at Lal Bagh
7. Lal Bagh

This beautiful botanical garden was commissioned by Hyder Ali in the 18th century and beautified further by his son, the famous Tippu Sultan. It's spread over 200 acres and thousands of varieties of trees are found in it.

There is a glass house built by the British, where flower shows are conducted twice a year - on Independence Day in August and Republic Day in January.

The park has a huge rock, which is supposed to be more than 3000 million years old, on top of which there is a 16th century tower built by Kempe Gowda, the founder of Bangalore.

Lal Bagh is a must-visit place in Bangalore and no traveler should miss out on it.
8. Mantri Mall

It was the biggest mall of South India when it was inaugurated in 2010.

Located at Malleshwaram, one of the oldest residential localities of Bangalore, the Mall has retail outlets of almost all national and international brands of garments, accessories, jewellery, electronic goods, books and stationery, footwear, bags, sarees, furnishings and cosmetics.

The only problem is its location at a busy junction, where traffic is very heavy and hence driving into and out of the Mall is bit of a pain.

Weekends and holidays are the busiest times and local and tourist crowds throng this Mall.
9. Mavalli Tiffin Rooms (MTR)

The MTR brand is known for the various kinds of ready mix food items available in the market.

But much before all these came into the market, tourists who visited Bangalore never missed visiting the MTR Restaurant, strategically located just a furlong away from the Lalbagh North Gate.

MTR is a must-visit restaurant for all tourists and is included in the local tours of many travel agents.

The rava idlies, rava dosas, masala dosas and coffee at MTR are most popular. Coffee is served in the ceremonial silver cups. They have just six other branches in Bangalore and one at Singapore.

10. Nandi Hills

Nandi Hills or Nandidurg is an ancient hill fortress about 60 km from Bangalore, which is a favourite picnic spot for the young and old of Bangalore because of its pristine evergreen forests and rich flora and fauna.

It is situated just 20 km away from NH 7, just after Devanahalli, where the Kempegowda International Airport is located.

The fort built by Tipu Sultan, the 1300-year-old Dravidian style Nandi temple, the Shiva and Parvati Temple, the Tipu Drop (from where it is said criminals used to be dropped to death), the Gandhi Centre, and many more interesting places to visit attract thousands of tourists to Nandi Hills.
11. National Gallery of Modern Art (NGMA)
NGMA is located in the prestigious heritage premises of Manikyavelu Mansion, which was originally owned by the royal family of Mysore and then by the leading miner Raja Manikyavelu Mudaliar, from whom it was taken over by the State Government in the late sixties.

In July, 1989, it was handed over to the Ministry of Culture for setting up a modern art museum by NGMA.

The NGMA, Bangalore is well equipped with a refurbished auditorium, an open air theatre, a reference library, offices, art storage space, a cafeteria and a museum.

Being located in a central locality just off Cunningham Road, this serene place is worth visiting, to view the modern art works displayed in the galleries and also attend events, if any, taking place in this ever vibrant cultural space.

Special stage performances by national and international artists, art discussions, and documentary movie festivals, are held here.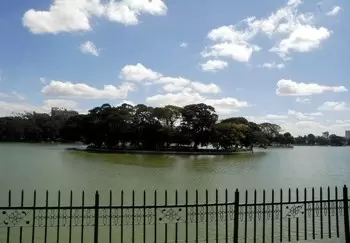 Ulsoor Lake is the only surviving lake gifted to Bangalore by the Gowda dynasty.. Don't forget to visit the lake
12. Sankey Tank

Sankey Tank was constructed by Col. Richard Hieram Sankey of the Madras Sappers Regiment in 1882 to meet the water supply needs of the growing Bangalore city. It was also called the Gandhadhakotikere.

It is situated right in the central zone of the city surrounded by residential localities such as Sadhashivanagar, a very posh locality, Malleshwaram and Vyalikaval.

It covers an area of about 15 hectares (37.1 acres) and is very picturesque with a beautiful park on one side and the lovely nursery of the Forest Department on the other side. There are boating facilities in the lake and it is a nice experience to enjoy the sunset here.

The popular Chowdaiah Memorial Hall is very close to this lake. This hall, built in memory of the legendary violinist Chowdaiah of yesteryears, is a place to visit, as it is built in the shape of a violin and maintained very well, hosting many important cultural events of the city.

13. Tippu's Palace

Tippu's Palace was the summer residence of Mysore ruler Tippu Sultan. Its construction was started during Hyder Ali's reign and completed during his son Tippu's rule in the year 1791.

It was constructed within the Bangalore Fort entirely with teak wood and has beautiful arches, pillars and balconies in the Indo-Islamic architectural style.

Relics like the clothes worn by the erstwhile king, the silver and gold pedestals, silver vessels given by the General to Hyder Ali, and the crown of Tippu are kept in the palace, which is now a major tourist attraction in Bangalore.

The Bangalore Fort is located just a few furlongs away from this palace.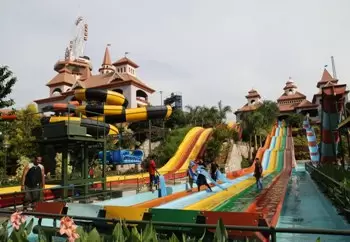 Wonderla has thrill-packed rides for people of all ages.
14. Ulsoor or Halsuru Lake

Bangalore once had 300 plus lakes. But many of the lakes have vanished. Ulsoor Lake is one of the oldest lakes spread over 123.6 acres and is the only surviving lake gifted to Bangalore by the Gowda dynasty.

It was built by Kempegowda II in the later part of the sixteenth century.

The lake has boating facilities, a small park on its bank, and number of beautiful islands in the middle.

15. Wonderla Amusement Park

This amusement park, supposedly the largest of its kind in India, is located at Bidadi, about 28 km into the Bangalore-Mysore road. Spread over 82 acres, Wonderla has 56 thrill-packed rides for people of all ages.

There are kids' rides, water rides, dry rides and high thrill rides. This Park is an attraction to the children and all those who want to get away from the busy city life and soak in some fun-filled activities.

Wish to share your story?
Trending Now: