Beyond nightlife and shopping, Thailand has something for everyone
08-February-2014
Vol 5&nbsp|&nbspIssue 6
What will you do in Bangkok for seven days travelling with your family? The question, raised by a few friends just before we left for Thailand's capital could have even raised a doubt or two in our minds on whether we were doing the right thing.

Should I include Phuket or Koh Samui in the itinerary to cover the days? Will the kids, both aged below 12 years, get bored of seeing the nightlife and shopping? We got the answers as we landed in Bangkok's busy Swarnabhumi International Airport and in the days that unfolded.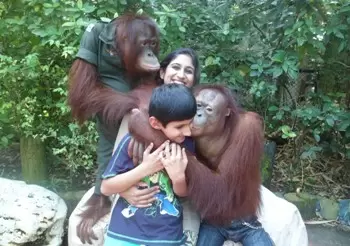 Orangutans playing with tourists at the Safari World Park near Bangkok (Photos: IANS)
The holiday in Thailand, with Bangkok being the base for day trips, turned out to be a wild one - literally - for us.
First-hand encounters with tigers of all ages and sizes - from one month-old cubs to the big cats weighing over 250 kg - at the Tiger Temple in Sai Yok, an absolutely fantastic Dolphin show at Safari World near Bangkok, being with the sharks at the Siam Ocean World and getting kissed by amusing Orangutans or shopping in the floating Damnoen Saduak market. The holiday left us wanting for more.
"Bangkok certainly has a lot more to offer than the nightlife, shopping, massages and sex tourism that it is generally associated with. The floating markets, river cruise, wildlife adventure, Ocean World, Buddha temples and many more delights are there to experience.
"The city has great potential for all kinds of travellers, be it individuals, couples, families or groups," said Patrick Dean, a visitor from Britain who was on his third trip to Thailand.
At the Safari World, which is nearly one hour away from downtown Bangkok, an open zoo and world-class theme park attract hundreds of visitors every day for a close encounter with the best of wildlife and marine life. The place is full of live action.
The Safari Park here is one place where you can drive in your own car or take a park bus to see nearly 200 species of rare and endangered animals - up close and personal.

Rolling down windows or getting out of the vehicles, though, is not permitted as the animals include tigers and lions. Thousands of pelicans can be seen at the Great Pelican Lake. At the Safari Terrace, visitors can feed a big herd of giraffes.
At the Marine Park, the dolphin show is certainly the high point, with six dolphins executing breath-taking stunts with their trainers. To top it all (for 490 baht/Rs.920), one can get photographed while patting a live dolphin which comes up on a platform for a photo-op.
From Orangutans to tiger cubs, one can have pictures taken with ease at the Jungle Walk.
"The Safari Park is an amazing experience with wildlife. It gives you a real close encounter with a variety of animals," said Jayesh Shah, a visitor from Ahmedabad, India.
For the daring ones, a trip to the Tiger Temple complex in Sai Yok district of Kanchanaburi province, which is about a three-hour drive (175 km) from Bangkok, will translate into a live experience with the big cats.

The tigers here are managed by Buddhist monks and assisted by a number of volunteers who come from various countries. The entry fee to the complex is 600 baht per person.
The Tiger Temple offers personal encounters with the big cats as well as playing time with the younger ones out in the open. One can even lap up the tiger cubs inside some enclosures. The personal encounters cost an additional 1,000 baht per person for a 40-minute delight.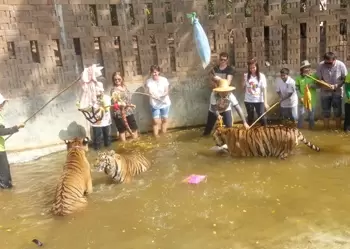 Visitors playing with tigers at the Tiger Temple sanctuary
At the Siam Ocean Park in the heart of Bangkok, the undersea marine life can be seen at its best. One can see sharks and other fish varieties from a glass bottom boat or through a 180-degree glass tunnel. For an additional cost and some amount of daring, one can even get into the water and walk with the sharks.
At the floating market, motorised Thai tail boats take you around on an over two-hour trip. One moves through the small water canals on the boat through gift shops, other boats loaded with cut fruits, snacks and other goodies. For an extra cost, an elephant ride through water and a monkey show are also thrown in.
In Bangkok, though there is no dearth of shopping malls and nigh markets, one recent attraction is the Asiatique night market along the Chao Praya river front. The place boasts of a giant Ferris Wheel, fashion and home accessories shops, pubs, restaurants, food circuses and the riverfront international food joints.
Be it day or night, Bangkok can offer something for everyone.
Getting there
* Bangkok is connected by air to 10 Indian destinations, including the four mini metros.
Accommodation:
*A room in a five-star hotel in Bangkok costs between 3,500 and 4,000 baht.
Eating out
*A buffet in a posh Bangkok hotel or restaurant around costs 800 baht.
* A dinner buffet at Baiyoke Sky Hotel's 78th floor restaurant in Bangkok costs 850 baht.
* A two-hour boat ride in Bangkok and dinner on board costs around 1,400 baht. - IANS


Trending Now: