Pollachi, a beautiful, yet little known tourist destination
Arvind Padmanabhan
&nbsp | &nbsp Pollachi (Tamil Nadu)
01-February-2014
Vol 5&nbsp|&nbspIssue 5
Saddled in the vicinity of the Western Ghats along the Kerala border, this town, which literally means the land of natural wealth and prosperity, remains one of Tamil Nadu's best kept secrets for tourism.
This, despite the fact that some 1,500 films have been shot here, mainly for the breathtaking frames it offers for dream sequences in the backdrop of some pristine settings.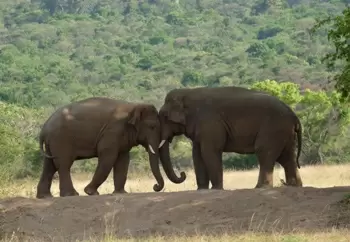 Elephants at the Indira Gandhi Wildlife Sanctuary and National Park near Pollachi (Photo: IANS)
Or for that matter, the near-perfect weather round the year, thanks to the mountainous settings that it is blessed with. The town also boasts among the tastiest tender coconuts one can have - both green and the unique orange-coloured ones.
While Pollachi per se offers tourists a resort experience of tranquil solitude and de-stressing, there is much to explore in its vicinity for those who want more.

Some of the best, yet little explored, tea estates and nature treks in the southern quarters of India are in its neighbourhood -- Valparai being among them.
The fact that the town is well-endowed with nature's bounty can also be gauged by the fact that some dozen dams, large and small, surround the town. As the recipient of both southwest and northeast monsoon, it has perennial water sources -- and hence several waterfalls as well that make excellent backdrops for photos.
Pollachi also caters to a wide range of a tourist's needs - spiritual, adventure, ecology, village-experience, wildlife, agro and wellness and so on. It is also a perfect weekend vacation spot for families, travel freaks and corporates.
The famous Subramanya temple, dedicated to Shiva's son Lord Kartikeya and believed to have been built some 700 years ago, is also just an hour's drive away. Legend has it that when Kartikeya was upset after his older brother Ganesha was given the golden fruit by his parents following a challenge which he claims was won by him, he flew away from Mount Kailash on his peacock to the hilltop at Palani where the temple stands today.
Those who want solitude can check in to some of the best resorts depending on the budget.

Coco Lagoon, run by the Great Mount Resort Group, is one such destination offering luxury, leisure and wellness in the same place, with some 32 luxurious rooms, suites and villas, besides private polls. The ayurvedic treatments are quite soothing.
"Vaidya Sutras, our resort's international ayurvedic wellness centre, has a technical collaboration with the legendary ayurveda family - Asthavaidyan Thaikkattu Mooss Vaidyaratnam of Kerala - and offers genuine ayurveda treatments," says T. Sethupati, the managing director of the group.
"The centre treats various ailments like migraine, obesity, digestive disorders, musculo-skeletal disorders, respiratory disorders, hypertension, diabetes, arthritic problems and psoriasis. We also have a general wellness and beauty care programme."
For those interested in wildlife, there are two sanctuaries to choose from - the Indira Gandhi Wildlife Sanctuary and National Park on the Tamil Nadu side that was recently converted into the integrated Anamalai Tiger Reserve, and the Parambikulam Wildlife Sanctuary, which is a reservoir of tranquil greenery ensconced in a valley that stretches into the Nelliampathi Hills range of Kerala.
A must-see during a visit to either of the sanctuaries is Top Slip, a picturesque location and an ideal picnic spot that offers elephant safaris.
It got its name during the British era, as much of its timber was slipped down to the plains below. It still has an elephant camp to watch pachyderms being groomed. The area has wild elephants as well.
If you still have any doubt in making Pollachi your next dream destination, just watch one of the 1,500 films that have been shot there. Maybe, you can also actually see one being shot during your visit.
Getting there:
* Pollachi is also well connected for air and rail transport. The nearest airport, as also a train station, is at Coimbatore, less that 50 km away.
* Average hotel rates: Rs.2,000-plus per person per night.
* Average meal costs Rs.500-plus per person - IANS

Trending Now: