A laid-back destination that packs quite a punch, 2,200 metres above sea level
12-October-2013
Vol 4&nbsp|&nbspIssue 41
Staying in a boutique mountain resort built in Nordic design with pinewood logs from Finland, playing golf on a 2,200-metre high course with towering cedar trees as the backdrop, breathtaking views of the Himalayas and mingling with simple hill folks. And all this packaged into one makes for a refreshing holiday.
Naldhera, one of the highest 18-hole courses in the world, would charm any avid golfer given the completely different terrain that it offers for golf. The lush green course, spread over the hill slopes, is a delight to watch and play.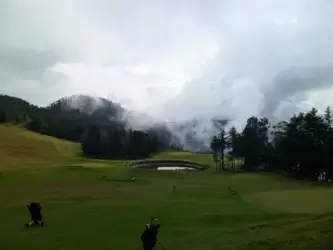 The golf course at Naldhera. (Photos: Jaideep Sarin/IANS)
The golf course was a favourite spot of British viceroy Lord Curzon, who was so in awe of the beauty of the place that he named his third and youngest daughter Lady Alexandra Naldhera (1904-1995).
Located 22 km from Himachal Pradesh capital Shimla, Naldhera may seem to be a laid-back destination but it packs quite a punch. Naldhera is located close to the sulphur hot-springs at Tattapani, 23 km away, along the Sutlej river. River-rafting can also be done at Tattapani.
"The beauty of Naldhera is that everything here is raw nature. You cannot get closer to nature than this," said Amish Sud, a young entrepreneur and owner of the Nordic-style resort, The Chalets.
The Chalets, which opened its doors in 2002, is itself an experience.
"We imported the pinewood from Oulu town in Finland and created this (resort). No trees were cut while the cottages came up. Each cottage and apartment offers a breath-taking view. All cottages have their own balconies and private gardens and a working fireplace," said Sud, a perfect host.
The storybook resort offers forest and nature walks, horse-riding, golf, a solar-heated indoor swimming pool, recreation activities like table tennis, badminton, golf putting and indoor games.

It even has a small revolving restaurant, offering 360-degree views of the Himalayas, a well-equipped conference hall for about 75 people, a spa and outdoor sitting arrangements. The resort has nearly 300 varieties of flowers and plants.
"On a clear night, the stars are a delight to watch through the towering Deodhar trees around the resort," said tourist Harinder Singh.
Each cottage has been given a different name by Shimla-based author and historian Raja Bhasin. One of the cottages has been named the 'Sir Henry Collet Chalet' after a famous British botanist and army officer who authored the book 'Simla Simlensis', a handbook on flowering plants of Shimla and its neighbourhood.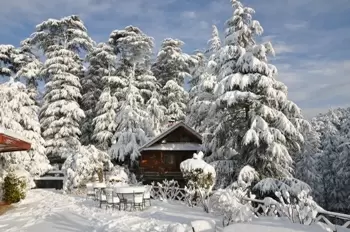 The Chalets at Naldhera in winter
Just two kilometres away from the resort is a tiny village, Kogi, which showcases heritage house architecture of the hills. "The simple life of the village and its residents is a pleasure to observe. Even the hot water hamam is unique," said tourist Ritika Chopra, who was visiting the village.
At the golf course, which is managed by Himachal Tourism, a bright sunny day or even clouds hovering in the vicinity, offer a different experience.
"We get golfers from all over the country and abroad. Playing here is a completely different experience from all golf courses," said its caretaker, Pratap Singh Verma.
Apart from the peak season, playing golf at Naldhera gives the feeling of playing on your own private course.
Getting there:
* Naldhera is 430 km from New Delhi, 165 km from Chandigarh and 22 km from Shimla. The drive from Shimla takes about one hour.
* The Chalets resort is located in Durgapur village, 300 metres ahead of the Naldhera golf course.
* The tariff ranges from Rs.8,000 (room) to Rs.36,000 (cottage with 4 bedrooms) per night.
* Meal for two can cost up to Rs.1,500.
* Peak tourist season is from May to July. - IANS


Trending Now: