Starting with law and order, Nitish Kumar has helped Bihar turn a new leaf
17-February-2012
Vol 3&nbsp|&nbspIssue 7
Siwan is known as the place where boys generally wear white Adidas shoes; a reference to remittances sent by its large expat population settled in the Gulf. Up until his surrender in 2003, this town danced to the tunes of its MP, Mohammad Shahabuddin (popularly known as Sahabu or Saheb), who had 52 criminal cases against him.

RJD's Muslim mascot till then, Shahabuddin was a law unto himself, with then chief minister, Lalu Prasad Yadav's government at his beck and call.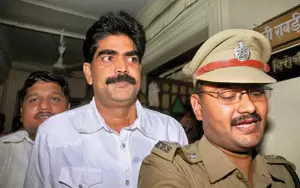 Political heavyweights who called the shots during Lalu Prasad Yadav's regime have fallen silent (Photo: The Sunday Indian)
Today, however, Siwan is witnessing some peace and quiet, with the disintegration of Saheb's empire. The defeat of his wife, Heena Shahab, in the 2009 polls underlined the opening up of Siwan's politics.
That defeat is itself seen as the climax of a process that began in early 2005 with the Election Commission tightening its grip, and gained traction with the setting up of fast track courts by the new government that came to power in November 2005.
If Siwan is now seeing happier times, so is the terrain around Champaran and Gopalganj. In the '80s and '90s, this was a happy hunting ground for big bandits and goons, and was popularly known as the birthplace of the "kidnapping industry".
Today, the guns have been silenced, with the law-breakers no longer seen in the "corridors of power". And if you were to visit any part of Bihar now, you most likely would see school-going girls on bicycles. Law and order truly seems to be a reality in spaces it had abdicated in the past.
Sample these official figures: More than 65,000 people have been convicted in the state between January 2006 and December 2011 – higher than any comparable period for decades.
Of those convicted, more than 150 were sentenced to death while 1,224 got life terms and 3,124 were sentenced to more than 10 years in jail. Director General of Police Abhayanand says the high rate of convictions was made possible by speedy trial of cases.
"The conviction of so many criminals in such a short span of time is a big feat. It has also become a model for other states to follow," he commented.
Interestingly, these convictions have resulted in overcrowding in Bihar jails where, for the first time, convicts outnumber undertrials.
There are nearly 40,000 prisoners lodged in 54 jails, which together are supposed to hold a maximum of 30,000. Siwan district superintendent of police Amrit Raj says: "Now, the people of Siwan fear only the law of the land instead of old-time diktats issued by crimelords."
Nonetheless, with a population that is more than that of Germany, Bihar still suffers from potholed roads, indolent teachers, apathetic officials, insurgent Maoists, devastating floods, shortage of power, skewed landholdings, caste tensions and an income per head that is only 40 per cent of India's as a whole. And yet Bihar is far better today than it was in November 2005.
Today Bihar has pot-holes, where formerly it didn't have roads. Businessmen grumble that they cannot raise money to invest in the state, whereas they once would spirit their capital out of it.
People complain that Nitish's government has fallen short of its ambitious development plans. But at least it has ambitions.
How has Kumar pulled off this transformation? He first imposed law and order, restoring to the state its role as night-watchman rather than rogue. He demanded speedy trials, where formerly defendants could intimidate witnesses and delay proceedings.
He has ensured that convicted criminals no longer get lucrative licences for liquor stores and ration shops. And just as police reformers in US fixed broken windows, his police improved perceptions of safety by forcing Bihar's many gun-owners to conceal their weapons, rather than brandishing them.
People now go out after dark and do not live in fear. The economy, always volatile, has grown at double-digit rates since Nitish Kumar took over. The policies he has pursued so far have appeal across the board.
After the general elections of May 2009, an opinion poll found that 88 per cent of the people of Bihar were more or less satisfied with the state government's performance. Clearly, the CM has shown enough intent to instill widespread confidence.
By arrangement with The Sunday Indian


Trending Now: