Employment is a right, unemployment dole is not, village head tells youth
06-February-2012
Vol 3&nbsp|&nbspIssue 5
The Thalayazham panchayat in Vaikom taluk of Kottayam district in Kerala made history when it took a vow to forego unemployment wages.

According to the villagers, they decided to ask youth to take the vow, after they realised that if each youth contributed to making the village self sustainable, it will stop their dependance on unemployment wages.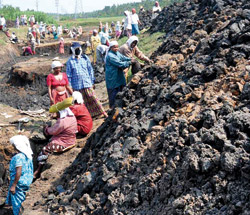 Unemployed youth have found jobs in their own villages, thanks to a decision taken by the Thalayazham panchayat (Photo: The Sunday Indian)
"Employment is right, whereas unemployment is not. Unemployment dole is given to people where there is no employment," said panchayat president MD Baburaj.
According to Baburaj, the panchayat called a meeting of 520 people who had been receiving unemployment wages and told them that employment was their legal right.
The panchayat thereafter, took the responsibility of giving employment under the Mahatma Gandhi National Rural Employment Guarantee Act (MNREGA), giving training under various schemes and helping individuals and groups get bank finance.
"Where is the room for unemployment now?" says Baburaj. "We called a meeting of youth who receive unemployment wages and asked them to give an undertaking to do work under MNREGA and forgo unemployment wages.
"We have given the name 'Ente gramam, swasraya gramam' (My village, self-sufficient village) to this scheme. We plan to make this village self-sufficient in grains, meat, milk, egg and vegetables," he added. The panchayat has a population of about 25,000 people, of which 90 per cent are literate farmers.

The panchayat chalked out schemes to meet targets. "1,500 acres were cultivated this year, if we can make it 3,000 acres and cultivate two times, we will be self sufficient in paddy," says a beaming Baburaj.

The schemes worked, say villagers, because of public mobilisation. "The villages were organised into 50 houses each, and youth from each of these groups extended their help," explains Baburaj.

"We produced an additional paddy yield of 170 quintals. Areas that come under Upper Kuttanad were also made fertile and cash crops were planted. About 2,000 to 3,000 people are working under MNREGA. The panchayat has enough funds and projects which can accommodate surplus hands,'' said panchayat secretary B.Vijayan.
The panchayat has taken care to rehabilitate those who are unable to do physical work, as well. They are being given help to organise schemes befitting their abilities.

By arrangement with The Sunday Indian


Trending Now: