Through self-help, Mahinsa's women have gained a sense of purpose
05-January-2012
Vol 3&nbsp|&nbspIssue 1
Home to a village of nearly 150 families, around 800 people, the shores of Mahinsa island are lined with weathered wooden boats and bundles of bright blue fishing nets.

The sun dances off the surface of Chilika lake as the calls of migratory birds fill the air. When I arrived on the island last month, a group of 15 women stood on the shore to meet us, homemade bouquets of sweet-smelling jasmine blossoms in their hands.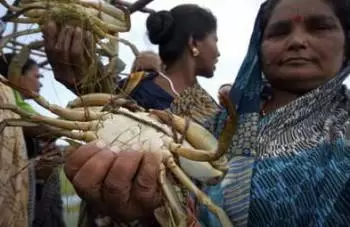 Market price: Four hundred grams of baby crabs sell for Rs 50 (Photos: Infochange News & Features)
After our welcome, the women turned to lead us through the village, following sandy tracks lined with prickly pear cactus and towering palm trees. At the front of the group was 43-year-old Basanti who was born and raised in Mahinsa.

Like the other women, she belongs to the Kyabarta (fisherfolk) caste, a scheduled caste, and although she studied up to Class 7, there was no school for Basanti once she got older. She was married at the age of 14 before giving birth to her son and two daughters.

Three years ago, Basanti was one of a number of women from Mahinsa who became involved in a new initiative called Project Eco. That was the time their village was first identified by a UK-based NGO, the Jeevika Trust, as a site for potential collaboration and development. Based just outside central London, Jeevika is involved in over 20 rural development projects across India, focused primarily in the states of Orissa and Tamil Nadu.

At the heart of Jeevika's mission is village livelihood development, based on the ground-level economic principles set out by E F Schumacher in his 1973 work, Small is Beautiful: Economics as if People Mattered.

Named after the Hindi word for livelihood, Jeevika believes strongly in addressing the root causes of rural poverty, not only by providing necessities such as toilets, handpumps and access to clean water but also by cultivating new sources of income for villagers.

Towards this end, the organisation teams with local partners such as Jeevan Rekha Parishad (JRP) in Bhubaneswar, to locate appropriate communities in which to implement its projects.

Other current initiatives include beekeeping in the Chandaka tribal forest area of Orissa, goat-rearing in Goharra, Uttar Pradesh, and candle-making and fish hatcheries in villages in southern Tamil Nadu.

Mahinsa's Project Eco incorporates diverse activities from vermicomposting to groundnut and mushroom cultivation. But one of its key income-generators has been crab cultivation.

So far, six ponds have been leased from local landowners on the island for Rs 10,000 a year each, as well as bamboo and netting provided by JRP with which the crabs are harvested. Jeevika and JRP covered the ponds' leasing cost in the first year only; since then the women have been meeting this expense themselves.

After the harvest, the island's menfolk are responsible for marketing the crabs. They transport them in boats to the mainland where the catch is sold to local middlemen, who in turn sell them to countries in the Middle East. But it's Basanti and the other women of Mahinsa who share the tasks that are directly involved with the crabs.

Located across the fields are a number of thatched-roof huts where they keep watch over the ponds. Working on a rotation basis, three or four women stay up each night playing cards to occupy themselves whilst ensuring the crabs stay safe -- both from thieves and from the crabs themselves that escape if the water level drops too low.

As we walked through Mahinsa, I spoke with Jeevika's programme officer, Judith Crosland. Reflecting on changes she could see in the village, she said: "When I first came here, four years ago, the women wouldn't show themselves. They covered their faces and sat quietly in their houses. Now look at them. It's really empowered them."

In addition to following up on each activity, Judith also looks at the project's figures, comparing the number of annual crab harvests and their earnings against costs such as for baby crabs and lease of the ponds.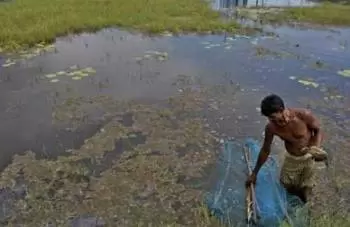 The island's menfolk are responsible for marketing the crabs
Four hundred grams of baby crabs can be bought at Rs 50. When each crab begins to weigh anywhere between 1.5 and 2 kg, they are removed from the pond and sold.

A hundred women are involved in this livelihood project, representing six self-help groups (SHGs). Currently, the total annual yield is 102 kg of crabs per SHG. Annual sales amount to Rs 237,000, equating to Rs 154,200 in profit. Each woman can hope to receive nearly Rs 1,550 in extra income, per year.

"It's all about survival," Judith continued. "If you have a need to do it, nothing's going to stop you."

On Mahinsa, there was certainly no sign of stopping just yet. Since Jeevika and JRP began Project Eco, women like Basanti have formed SHGs and learned to work together to earn a second income for their families.

Despite great improvements to their quality of life, what continued to particularly inspire me on Mahinsa was the picture of these women three years ago -- shy and withdrawn, as Judith had described them. Because the women who led me across their island walked with nothing but strength and purpose, eager to open their baskets of crabs and show off the day's catch.

Just before leaving the village, I asked Basanti about her plans for any new project. She replied: "As a group we will decide what to do in the future. Earlier, we were dependent on our husbands. They used to go to the lake and get fish.

"When the NGO came, we got financial support and now we are self-dependent because we are earning. Earlier we were very idle. Now we are active. I have become self-dependent and sufficient. We are free from the four walls of the house." - Infochange News & Features


Trending Now: