Ophthalmology is her profession, motivational counseling and writing passions

15-December-2011
Vol 2&nbsp|&nbspIssue 50
One ambition that is common to everyone is 'to be successful', says Roopleen Prasad, an ophthalmologist and author of the book, 'Principles of Success'. In an interview to Faraaz Kazi, she says 'follow your heart' if you want to succeed.

Q. How did 'Principles of Success' happen? What was the inspiration behind the book?
'Principles of Success' is my first book. I always wanted to write but kept prioritising other things over this- like having a career, getting a real job, fulfilling my professional ambitions, having a family and 'settling down in life.'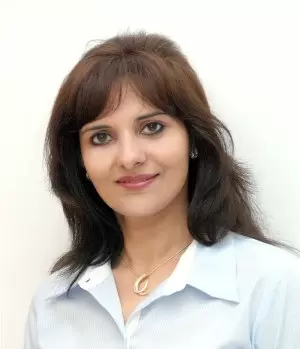 Roopleen Prasad derived inspiration from Oprah Winfrey's talk shows
Finally, I reached a point in my life where I felt happy and content having fulfilled most of my 'other' life goals. I was now ready to 'gear up and go' in pursuit of my dream of writing and reaching out to people through this medium.
The idea for the book came from a realization that if there is one ambition that is common to all, it is the ambition to be successful- in whatever one is doing. Everyone wants to be successful but not everyone is able to figure out how to go about achieving it.
Why is it that some people are successful while others find success elusive? What is it that the successful people have which others don't have? After my years of research and understanding of the dynamics of success I came to the conclusion that there are certain universal and time tested principles which govern the game of success.
I wanted to share the distilled essence of my years of observation and study of success with my readers. That's how the book came to be.
Q. Doctors are seriously busy people. How did you find the time to write the book?

I believe that if you think of something deep in your heart, you can make it happen. As Buxton put it-"you will never find time for anything. If you want time, you must make it."
Q. Today there are number of motivational and self-help books in the market. So how is 'Principles of success' different from the crowd? What would be your best pitch forward?
True. There's a plethora of books written on this subject. The USP of 'Principles of success' lies in the fact that the theme of the book is highlighted in a clear and precise language. The book helps you get a clear picture of WHERE you stand and what you have achieved, WHAT you aspire to achieve and the most important thing - it tells you 'HOW TO.'
Success is not reserved for a select few. Anyone can accomplish their goals and be successful in life. It's just a matter of believing in yourself and following the right principles and this is precisely what the book does for you. It motivates you to believe in yourself and teaches you the principles which will help you climb the ladder of success.

Q. How can one stay motivated on one's goals in today's tiring environment where someone/ something or the other is always trying to pull you down?
The first and the foremost thing is - look at life from your perspective and not through other people's eyes. Stop bothering about others' opinion about you; stop judging yourself by their parameters and living up to their expectations.
Next, get a clear idea of the big picture- what you want to achieve in life. Once you decide a vision for yourself, put your heart and soul into it. Visualizing your goals will keep you focused and constantly motivated.
Q. What was the experience in getting the book published? You have a decent reach on social networks, how did you go about building that?
I approached a couple of 'lesser known publishers' initially. Things didn't work out as both were budding publishers and didn't have any prior experience in this genre. However interacting with them was a great learning experience and I'm thankful to both of them for giving me a deep insight and helping me understand the ins and outs of the publishing world.
Macmillan was the third publisher I approached. 'Frequencies matched and things clicked instantly!' I was impressed with their quality work, commitment, high level of professionalism and the expertise of the team. It was a smooth sailing, an enriching experience and a memorable journey.
I didn't do anything drastic or go out of the way to make my presence felt on the social networks. I began using these sites purely as a means of interacting with people and understanding their viewpoints.
I went around sharing my thoughts and ideas and tried to send across positive and motivating vibes. There was no hidden agenda or vested interest. Thus, what I understand is - social networking is more science than art. If you have a clear heart and your message has warmth, it is sure to reach your audience by all means.
Q. On a personal note, what keeps you motivated? Whom do you draw inspiration from?
'When you follow your heart, the motivation comes from within.'

Ophthalmology is my profession but motivational counseling and writing remain my passion. I have always aspired to be in a role where I can serve people and help make a difference in their life.

So while my medical profession gives me a platform where I can be in the role of a healer at a physical level; counseling gives me a medium through which I can serve people and help them at mental and the emotional level as well. In this regard, writing provides an even wider canvas to paint on.
One can derive inspiration from anyone and everyone around. You just need to have an open mind. Oprah Winfrey has been a great source of inspiration to me since childhood. I grew up watching her talk shows. It was through her shows that I realized the enormous power of positive and meaningful words and how these could make a huge difference and touch the lives of millions of people across the globe.
Q. What next?
Getting my first book published marks the fulfillment of a life-long ambition. However, this is not the end but the beginning of a new journey. Hopefully, many more books will follow suit. I'm currently working on a couple of manuscripts.
Q. Any advice to your readers out there?
Live your life in sync with your principles and core values. Believe in yourself and follow your heart. 'Keep your dreams alive, keep yourself motivated.'

Faraaz Kazi is the author of the romantic best-seller 'Truly madly Deeply' that was recently nominated as the only Indian book in the 'Top 100 YA Fiction' global list. He is also the CEO of Digi Imprint Solutions, India's first exclusive promotional agency for authors. He can be reached at [email protected]

Trending Now: