TV journalist Nidhi Razdan speaks about her life and success
Rohit Manchanda & Anando Bhakto
25-November-2011
Vol 2&nbsp|&nbspIssue 47
A household name now, Nidhi Razdan, Associate Editor, Foreign Affairs, NDTV 24x7, says television is less about glamour and more about hard work.
Why did you think of becoming a journalist?
It was a natural choice, because my father is a journalist, and I grew up in a house that was obsessed with news and current affairs.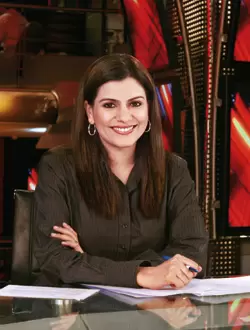 No glamour : TV journalism is not about glamour, but about getting 'dirt under your finger nails' (Photo: The Sunday Indian)
What are the challenges that you have faced as a woman journalist?
I haven't looked at it from any gender prism because I work in an organisation that is dominated by women. But there are huge challenges in this profession.
Are there any advantages or disadvantages of being a woman journalist?
Again, I haven't encountered any such advantage or disadvantage. I have done documentaries in Pakistan Occupied Kashmir, Tibet, Iran... Such reporting involved travelling alone in a car all night and sleeping on the road while covering sites of natural disasters. Doing this is difficult for any journalist, irrespective of gender.
How difficult is it to relate to the cultural ethos of countries like Afghanistan when you report from there?
You have to adjust to the sensitivities of the country. For example, when you are reporting from Iran you have to make sure that your head
is covered.
How do you balance your hectic work schedule with your personal life?
My family is very supportive because we are a family of journalists. They don't even blink if I have to suddenly come to office at two in the morning.
Is it easier if you are the child of a journalist?
It's more about feedback. In my case my dad is my harshest critic. In a sense it is constructive because I know I have someone who will tell me the truth.
Do you think it is easier for women to be print journalists?
I think the electronic media is much tougher for both men and women because it is physically more demanding and there are at times hourly and even half-hourly deadlines to meet.
What have been the high points of your career?
One of the early challenges of my career was covering the Gujarat earthquake. But reporting on Kashmir has always been the high point of my career.
My most challenging assignment has been covering the nuclear deal between the US and India because I tracked it from the beginning to the end. It was a difficult story as it involved different countries and diplomatic sources, most of whom would not talk on record. I had to also explain to the viewers in simple language why the deal was very important.
What is your message to young journalists who are women?
Don't come into this profession if you think it is glamorous, because it is not. If you want to be successful in this field, you will have to forget about your off days, you have to live and breathe this profession, and you have to travel to places where you don't get to sleep or eat. You really have to get dirt under your finger nails.
By arrangement with The Sunday Indian


Trending Now: