DLF's K P Singh reveals little-known facts from his life in a recently released book
16-November-2011
Vol 2&nbsp|&nbspIssue 45
Billionaire realtor Kushal Pal Singh almost sold his stake in DLF for a paltry Rs.26 lakh in 1975 due to red tape but decided to fight back to build one of India's most valued real estate companies.
"It was January 1975. I picked up my pen to sign a share transfer form. I was about to sell all my shares in DLF," Singh recalls in his book, released Monday by legendary corporate visionary, former General Electric chief Jack Welch.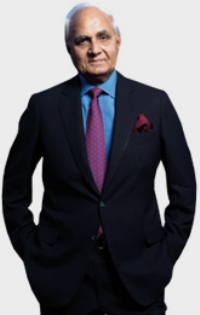 Landmark decision: K P Singh had decided not to sell his stake in DLF at the last moment for a paltry Rs.26 lakh (Photo courtesy: DLF)
"On the desk before me was a cheque in my favour of Rs.26 lakh, or Rs.2.6 million -- being the approximate book value of the shares. It was the amount I would get for severing my links with DLF, forever," he recalls.
He, nevertheless, resisted. That gamble or resolve, whatever you may call it, paid off, handsomely -- the market capitalisation of DLF today Rs.32,273 crore, or $7 billion. In fact, five years ago, it was three-and-a-half times higher.
Published by Harper Collins, "Whatever The Odds: The Incredible Story Behind DLF" is his account in 322 pages (Price: Rs.699) of a long journey that catapulted a village boy from Bulandshahar in Uttar Pradesh to the top echelons of the corporate world.
"Had I signed it, my DLF story would have ended there and then. My life would have been entirely different. Perhaps, this memoir would never have been written," says the 80-year-old entrepreneur who put Gurgaon on the global outsourcing map.
According to him, the decision was taken on his behalf by his father-in-law, Chaudhary Raghvendra Singh, from whom he had inherited the business and there was no question of any disagreement. "That was the culture in our families."
But the company's then financial advisor, Y.S. Tayal, warned him and asked him to re-think. "It was a wake-up call for me. In a flash, I realized the truth of what he was saying and the implications of giving away my DLF shareholding."
Singh also recounts his ordeals in acquiring acres of land in Gurgaon and the red tape he faced before he could transform Gurgaon into a mega-town of high-rise towers, fancy apartments, malls and the India hub for a host of multinational corporations.
It is there in early 1980s that Singh also had a chance encounter with Rajiv Gandhi, when he was general secretary of Congress Party and his jeep broke down in Gurgaon. Singh helped him get his jeep in shape.
Gandhi asked Singh what he was doing in Gurgaon in the middle of nowhere. To that, Singh replied: "I am dreaming, dreaming of a new city." Gandhi, who later became India's prime minister, was impressed. That eventually led to a long friendship.
The DLF chief also recalls his journey as a science graduate from Meerut, who went on to pursue aeronautical engineering in London, as also his commissioning in the cavalry regiment of British-led Indian Army before independence. - IANS

Trending Now: