The Weekend Leader garners attention for its positive journalism
15-November-2011
Vol 2&nbsp|&nbspIssue 45
The Weekend Leader was among the few publications featured in an article by Mumbai's leading daily, Mid Day, on new media players in the Indian market covering 'happy' stories unfolding across India.
The article said The Weekend Leader's Editor PC Vinoj Kumar, who has been a journalist for 15 years, having worked with MID DAY, followed by a five-year stint with the news magazine Tehelka, could have landed a fancy mainstream editing post, but chose to found The Weekend Leader, a news website that focuses on positive journalism.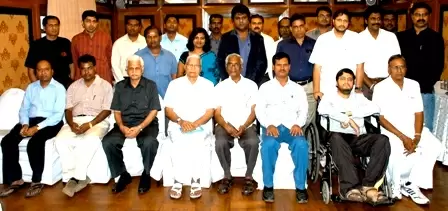 The Weekend Leader's Editor P C Vinoj Kumar, and Consulting Editor Sam Rajappa with Friends of Positive Journalism - a group of well-wishers of TWL

Here's an extract from the Mid-Day article :
"I've been in the industry long enough to know what the pressure is like. You are bombarded with news through wire and news agencies, and there is always too little a space to say it all. We carry a barrage of newsbreaks but there are hardly any follow-ups.
"At the start of your career you are driven by the thrill of seeing your byline in print. But gradually I found myself wondering, what is my contribution?" says Vinoj Kumar, who brings you stories of 'Good people, change agents and unsung heroes'.

His hero for this week is 24 year-old Anil Chauhan, a Hindu calligrapher from the Moosa Bowli neighbourhood of Hyderabad who taught himself calligraphy and Urdu for four years to be able to paint Quranic verses across the city's mosques with a modest reed pen. The messenger of peace's service is free, and instead of money, he asks mosques for a few words of appreciation on paper.
For those who dismiss the portal launched in 2010 as one that carries 'light' news, Kumar says, "It's not happy soft news, it's news with a positive impact. While a mainstream newspaper might choose to simply report a catastrophe, we will talk about the people working to set things right in the aftermath."
Kumar, who puts out the news on his site with a team of freelance journalists stationed across the country, was aware that happy news wouldn't necessarily translate into big bucks.

"I put in some money, and we rented a small office in Chennai. I worked with the contacts I had and the support was encouraging. We thought we'd manage with corporate support, but the response has been slow. We will be hiring professionals to handle fund raising now," he says.
The Weekend Leader runs on revenue generated from advertising on the site, and had over 800 fans on its Facebook page within its first ten months of business. - TWL Bureau


Trending Now: