They patrolled Delhi's streets to ensure happy Diwali
28-October-2011
Vol 2&nbsp|&nbspIssue 43
From patrolling the streets to keeping a tab on drunken driving till the wee hours of the night, Delhi Police personnel spent Diwali shouldering added responsibilities even as the city celebrated.

And they weren't complaining - although some did wish that people would be a little more considerate.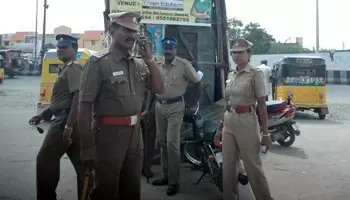 Faced with threats of possible terrorist strikes, Delhi police patrolled the streets until the wee hours to ensure the public had a safe Diwali (File picture is of Tamil Nadu police and is for representation purpose only)
"This is part and parcel of our job. When we joined as policemen, we knew what was in store for us. So we cannot complain," said a senior police official about the festival that fell Wednesday.
Citing the Delhi Police Act, the official said a police officer is on duty 24 hours unless he is on leave.
"The threats increase during this period, so we have to be on our toes. We are on the job 24 hours a day," he added.
The city police have around 74,000 personnel. "On Diwali, around 12 companies, with 75 policemen each, and 460 commandos were deployed across the city," said Delhi Police spokesman Rajan Bhagat.
According to constables, inspectors and assistant commissioners posted across Delhi, being away from families and guarding the city on festivals, especially Diwali, is a routine affair.
But the cops wished that denizens would be a bit more considerate towards each other -- and policemen.
"During this season we are already working overtime and it's frustrating when you have to attend petty calls like two neighbours fighting with each other as one spilled water in front of the other's house while cleaning!" said an official posted at west Delhi's Patel Nagar police station.
Some say neither they nor their families are bothered when they have to work even during festivals.
"It's nothing new for us. I've been in this job for the last 10 years and I have celebrated Diwali with my family only on a couple of occasions," said Dharamvir, a head constable manning a check post near west Delhi's Shankar Road market.
Though his kids complained when they were young, eventually they got used to Dharamvir's absence. "Honestly, my family is very supportive," he added.
Another senior official who did not wish to be named said it was not only policemen who work on Diwali but those in many other professions too.
"There are doctors, restaurant employees, people working in power companies… They all work on Diwali till late or even through the night. The only difference is that our jobs are a lot riskier," he said.
However, the cops believe over the years, the rapid increase in Delhi's population, lack of enough police personnel to guard people and the threat of terrorism has definitely increased their stress levels.
"The job is definitely tougher than what it was earlier. Pressure has increased manifold. Moreover, Delhi is India's capital," said one official posted at the Darya Ganj police station. - IANS

Trending Now: