Three Indian Americans get innovation, research awards from Obama
Arun Kumar
&nbsp | &nbsp Washington
24-October-2011
Vol 2&nbsp|&nbspIssue 42
Recognising the work of two Indian American inventors and a researcher, President Barack Obama has presented them the nation's highest honours in their fields with nine other scientists and innovators.
New York University's Srinivasa S.R.Vardhan was among seven researches who received the National Medal of Science from Obama at a ceremony in the East Room of the White House Friday.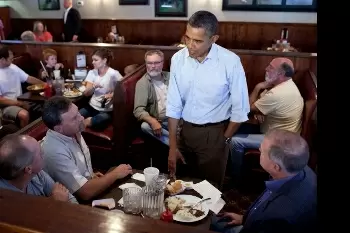 President Barack Obama talks with diners during a stop at Countryside Barbecue in Marion, N C (Official White House Photo by Pete Souza)
Two Indian Institute of Technology alumni, Purdue University's Rakesh Agarwal, and North Carolina State Univeristy's B Jayant Baliga are among the five who were presented Technology and Innovation medals.
"We recognize them today," said Obama, "because America has always been a place where good ideas can thrive and dreams can become real."
"From China, Germany, India, Canada and England, they searched for the best universities and the most advanced labs-and they found them here, because America is the best place in the world to do the work that they do."
"And just as each of today's honourees has had someone in their lives who lit a spark, or kept that spark burning, they've paid it back by inspiring somebody else," he said.
"When Jay Baliga first got interested in physics by picking up a book at the local bookstore," Obama recalled, "he remembered that and he now tells his students to go beyond the curriculum and come up with ideas of their own."
As Obama honoured the nation's top scientists, he also recalled his meeting with three young winners of the Google Science Fair, including an Indian American, Shree Bose who "did her first experiment in second grade by trying to turn spinach blue."
"In fourth grade, she built a remote-controlled garbage can. And for this science fair, at the age of 17, she discovered a promising new way to improve treatment for ovarian cancer-at 17," he said.
"And she also told me very matter-of-factly that she'll be going to medical school and getting a doctorate, and I suspect she will do so," Obama said.
"She did not lack confidence. And it's young people like Shree, but also the people on this stage, who make me incredibly hopeful about the future."
Varadhan, an alumnus of Presidency College, Chennai and Indian Statistical Institute, won the Science medal for his work in probability theory, especially his work on large deviations from expected random behaviour "which has revolutionised this field of study during the second half of the 20th century, and become a cornerstone of both pure and applied probability.
"The mathematical insights he developed have been applied in diverse fields, including quantum field theory, population dynamics, finance, econometrics and traffic engineering," the citation noted.
Agrawal, an alumnus of IIT Kanpur, won the National Medal of Technology and Innovation, "for an extraordinary record of innovations in improving the energy efficiency and reducing the cost of gas liquefaction and separation.
"These innovations have had significant positive impacts on electronic device manufacturing, liquefied gas production and the supply of industrial gases for diverse industries," the citation said.
Baliga, an alumnus of IIT Chennai, also won the technology medal, "for development and commercialisation of the insulated gate bipolar transistor and other power semiconductor devices that are extensively used in transportation, lighting, medicine, defense, and renewable energy generation systems." - IANS


Trending Now: