Suresh Chand Dhakad's initiative brought employment to a village
20-October-2011
Vol 2&nbsp|&nbspIssue 42
The Nagla Sirsiyan village in the Weir panchayat samiti of Bharatpur district in Rajasthan has emerged as an embodiment of visionary work done by a small group of youngsters, who have discovered a unique way for generating livelihood opportunities for the rural unemployed.
Thanks to their pioneering efforts, polishing of gems and precious stones has emerged as a profitable occupation in the remote villages and backwaters of eastern Rajasthan.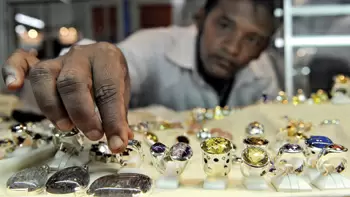 Gem of a move: Around 25 gem polishing machines have been installed in in Nagla Sirsiyan and they provide jobs to nearly 225 youth (Photos courtesy: The Sunday Indian)
A visit to Nagla Sirsiyan during the daytime is quite literally a bustling experience. A visitor is greeted by the gentle drone of power generators in each household of the village.
While the village gets only a limited supply of electricity for a brief duration, generators supply power for running the gem polishing machines during most of the working hours in the day.
About 60 young men from nearby villages join their colleagues in Nagla Sirsiyan everyday to polish gems and precious stones which they bring from Jaipur, widely known as the hub of the gem industry.
Through this work, each of them easily earns Rs 3,000 to Rs 4,000 every month, bringing prosperity to the village and the rural families. This rural enterprise has its origin in the brave initiatives taken by Suresh Chand Dhakad, a resident of Nagla Sirsiyan.
Suresh earlier lived in Jaipur to work on a jeweller's gem polishing machine as a labourer. He acquired sufficient expertise in doing so and earned anywhere between Rs 5,000 and Rs 6,000 per month.
The high cost of living in Jaipur did not leave him much and in the process, his agriculture-related work also suffered.
Then about a year ago, the Lupin Human Welfare & Research Foundation (LHWRF), which is actively working in Bharatpur district for quite some time, adopted Nagla Sirsiyan village for its all-round development and organized a meeting in the village to explore the avenues for self-employment.
The Lupin Human Welfare & Research Foundation was set up on October 2, 1988 with the objective of providing an alternative model of rural development in India which it believes is sustainable, replicable and ever evolving.
At the meeting, Suresh sought the foundation's help in getting loan for procuring a gem polishing machine. He told the agency he could start work in the village and provide employment to eight to ten youths.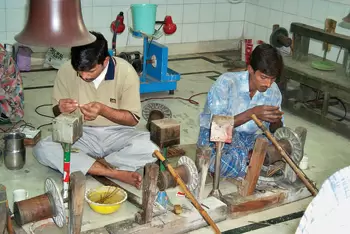 The Lupin Foundation is making efforts to encourage more youth to join the enterprise
The Lupin Foundation's executive director, Sita Ram Gupta, applauded Suresh's spirit of enterprise and obtained a loan of Rs 35,000 on easy instalments for him from the Small Industries Development Bank of India (SIDBI).
Suresh promptly purchased a machine, brought the raw material from Jaipur and started his work.
He earned Rs. 12,000 in the first month and employed about ten youngsters. That was enough cue for the others. In Suresh's footsteps, they started working with him and also planned on purchasing their own machines.
The Lupin Foundation once again played Santa Claus and picked up six others for their lending programme.
Today there are as many as 25 gem polishing machines installed in Nagla Sirsiyan comprising about 60 households.
They provide profitable employment to nearly 225 youths from this village as well as from half-a-dozen villages such as Dhawla Ka Nagla, Chaitoli, Mudia and Saipur.
According to Gupta, a major reason for expansion of this skill-based vocation to other villages in Weir panchayati samiti is that it provides home-based livelihood, at the same time enabling the young people to look after the agriculture-related work on their farms along with other family members.
For centuries, Jaipur has been a major centre for trade in gems, jewellery and precious stones. Factors such as geographical proximity and availability of means of transport enable the young men and women to get the raw material and supply the finished products to Jaipur.
Gupta says rural youngsters could easily start this work after training for three to four months.
Published by special arrangement with The Sunday Indian


Trending Now: