From slums to queen of suburbs, Rubina Ali goes places
Quaid Najmi
&nbsp | &nbsp Mumbai
17-October-2011
Vol 2&nbsp|&nbspIssue 41
Star-studded Mumbai suburb Bandra will soon have a new celebrity resident, Rubina Ali, one of the popular child actors in the multi-Oscar winner "Slumdog Millionaire", whose life began in a shanty town 13 years ago.
She now has a flat costing around Rs.4.5 million in Bandra West. While her new home is located in a government project in a middle-class locality in the area, the Bandra address itself is significant for being home to celebrities like Shah Rukh Khan, Salman Khan and Preity Zinta.
Rubina is thrilled.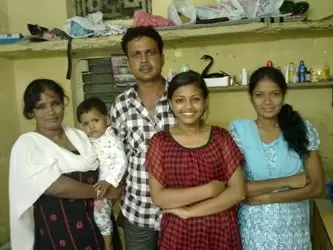 'Slumdog Millionaire' child actor Rubina Ali (second from right) with her family. They will move into her own new flat in Bandra west around Diwali (Photo: IANS)
"I am very happy with the developments. Ever since the movie was released, it has been my dream to have my own house in Mumbai. I even have my own bedroom!" said a proud Rubina, adding she will live with her parents, two sisters and brother.
She had moved from the erstwhile Garib Nagar slum to a rental room in Bandra West and now into her own flat in the locality -- all within three years of "Slumdog Millionaire" bagging eight Oscar awards, catapulting the girl to fame worldwide.
"A few weeks ago, the Jai Ho Trust set up by British director Danny Boyle bought a small 1-BHK flat for Rubina. She plans to move in there after Diwali, or around Bakra Eid, with her family," said her business manager Dinesh Dubey.
He added that Boyle is likely to pay a visit to Rubina at her new home in Bandra, known as the 'queen of suburbs', sometime this yearend.
The family and Jai Ho Trust trustees spent several months hunting for a suitable flat within a certain budget. Finally, Rubina zeroed in on a flat in Bandra West and the trust readily made arrangements to buy it for her, Dubey said.
Other Bandra residents include Dilip Kumar and Saira Banu, Sanjay Dutt, Sachin Tendulkar, Rekha, other top Bollywood actors, top models, filmmakers, cricketers, politicians, leading industrialists, businessmen and diplomats.
Barely eight months ago, Rubina's family had been thrown to the roads after a massive fire in Garib Nagar slum burnt her tiny shanty March 4 when her school final examinations were round the corner.
Rubina lost the felicitations which the team got with the Oscar awards and other national and international award mementos, plus her other personal valuables in the fire.
The trust and some good Samaritans made quick arrangements for a rental room in Bandra west where she lived the past six months, and simultaneously hunted for a proper accommodation, Dubey said.
However, Rubina did not let the slum fire burn away her dreams - instead her resolve to pursue a career in movies became stronger.
She is presently signed for an upcoming international movie, "Lord Owen's Lady", which is under production and shall be shot in Britain and India.
Rubina's co-star in "Slumdog Millionaire", Azharuddin Mohammed Ismail will also play a role in "Lord Owen's Lady", being produced by Sunil Manchandel and Martin Pennell, said Dubey.
Fortunately, the excitement of her next major international movie venture has not dampened her enthusiasm to get educated.
"My family and I shall be starting a new life in the new house soon. But for me, the topmost priority is to complete my school and college education. Then I shall pursue my dream of becoming a full-time actress," Rubina said in a soft but determined tone.
Both Rubina and Azharuddin study in Class 4 in the English-medium Asima High School in Bandra west -- a stone's throw from her new residence.
Azharuddin, who lost his father nearly one-and-half years ago, opted for a small flat in Santacruz suburb and commutes daily by bus to his school.
Dubey explained that Azharuddin had faced an emergency situation after his family was repeatedly evicted from their shanty in Garib Nagar. So the Jai Ho Trust arranged for a flat in Santacruz.
Three years after "Slumdog Millionaire", Rubina penned her autobiography, "Slumgirl Dreaming", which has been translated into several Indian languages after its release nearly two years ago. - IANS

Trending Now: