It is the love and encouragement of readers that give an author the hope and strength to write more

Saborna Roychowdhury
&nbsp | &nbsp Houston
01-September-2011
Vol 2&nbsp|&nbspIssue 34
I've just been asked to submit the manuscript of my second novel to a big Indian publisher. For the past couple of months, I didn't have to drag myself out of bed and fight the insane traffic to make it to work.
I didn't have to jump out of the shower, rummage through my closet for something to wear, burn the toast, drop the glass of milk and send the kids off to daycare at the crack of dawn.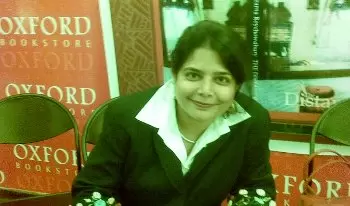 Full of hope: The writer (in picture) is encouraged by her readers who do everything to promote her novel
At work, I don't have to fight for parking, stand in line for an insipid lunch at the office cafeteria and drink five cups of coffee to keep my brain cells active.
Yes finally, I get to do what I like to do most -stare at the newly painted walls of my house and think of imaginary characters participating in a twisted and complicated plot. Some days I get two acceptable pages of writing down while other days, almost all of what I write, lands in the trash.

It is only when I switch on the television or listen to the radio news, that I feel the tension twisting inside my stomach like a slowly moving knife. The depressive news echoes inside my head even when I fight to keep it out. "American economy is entering into double dip recession, the housing market is showing no signs of recovery, the unemployment numbers remain high and the job market will not bounce back anytime soon."

"C'mon you know you are good at what you do. You can always find another job. You can go back to work when your novel is finished," I try to convince myself.
But then self-doubt replaces all my conviction and that nasty voice in my head, the one I have come to dislike very much, whispers, "Why will anyone hire you after a long break? Will you ever find a position in this job market? Will you retain your software skills? What if you are asked to get re-certified and start over?"

These are the days I feel my decision to do full-time writing is a tragic mistake whose consequences will hurt me for a long time. I am a first generation immigrant in North America-my life should be one of sacrifice and struggle.
I am here to sow the seeds so the next generation can reap the harvest. I should not be allowed to have options, to have this kind of privilege where I get to do what I like to do.
I should be thinking of my salary, benefits, 401K plan like every other American…..not chasing some fictional characters and an impossible dream. "Social security will not be around when you retire," whispers that annoying voice in my head. I shudder.

It is only when my confidence recedes and I feel the ground under my feet slipping away, that I look at all the messages I receive from my readers on a daily basis. My readers (many of whom are now my face book friends) do everything in their power to promote my book.
They write blogs about the book, participate in discussions, visit my website, buy my book, review my book for magazines, interview me and then publish the interviews in respectable magazines. I have not received so much love and encouragement from my own family and I did not expect any of this from people who I have never met.

If I am suffering through the financial crisis and feeling insecure, my readers live in the same world and face same amount of worry. Despite that, they take time away from work, children, chores and hobbies, just to support me in my writing.
If I am a crazy/ impractical writer pursuing a challenging dream, then all I can say is there are many crazy dreamers out there just like me. No amount of bad news, rough economy, and a turbulent world is going to dampen their enthusiasm.
These are hungry….very hungry for good literature. These people, my readers, my friends who fight for what they want, despite the obstacles, keep me going and give me hope. I am a writer for them and because of them.

The writer, Saborna Roychowdhury, is author of the novel, The Distance and is based in Houston


Trending Now: