Mumbai fishing village makes jewellery, touches the world
Mauli Buch
&nbsp | &nbsp Mumbai
30-August-2011
Vol 2&nbsp|&nbspIssue 34
Nestled in the heart of India's buzzing financial capital but still cast adrift, the fishing village of Worli has found a way to keep pace with the progress around it. Stepping out of their sheltered lives, women are reaching out to markets worldwide through jewellery created from fallen wood, glass and the like.
Their products are in demand not only in India but also abroad. Inspiring them to make a mark for themselves is 27-year-old Tarun Thadani, a third generation resident of this settlement.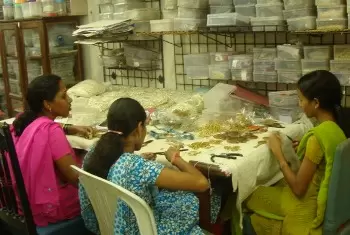 Spirit of enterprise: Around 1500 women in Worli are involved in producing jewellery
Thadani, a business management graduate from Bryant University in the US, initially set up an informal group of village women skilled in making jewellery out of natural elements like wood, glass and porcelain.
Working under the aegis of Worli Village Association, these women produce jewellery that is sold under the brand name Tent.
"We export 50,000-500,000 pieces of jewellery every month, depending on the orders," says Thadani.
Although the association was formalised only last year, he said the women have been working informally since 2003.
"I attended the first year of college at Bryant University but the village came calling and I returned. I finished the rest of my studies through correspondence," he added.
Women come to the workshop established at Thadani House, right at the beginning of the village to get raw materials. The supervisor, Leela Shinde, explains to them the kind of work required and hands over the raw materials after making a register entry.
The women then go back home, assign it to other women in the group and deliver the finished product right on time as promised.
"On an average, around 60 women come to Thadani House on a regular basis. They go back and assign it to another 20-30 women in the neighbourhood," Thadani said.
"Hence, at any given point, we have around 1,500 women producing excellent designs in necklace, bracelets, earrings and anklets," he explained.
"There are 20,000 women in our village who are skilled in various arts and crafts like jewellery making, cooking and stitching. We started off with jewellery making but will slowly venture into food production also," Thadani said.
Women of the village are also glad that they can contribute to the household income, support their families and help their husbands.
"I have been working here for a year now. I am able to earn at least Rs.75 a day. It pays more when I put in a little more effort," village resident Meenakshi Shinde said.
Thadani is exploring other avenues of employment for the residents of the 600-year-old village.
He has opened a restaurant called Cool Chef Cafe. "The entire staff of the restaurant is from the village. The chef is my elder brother Kaviraj," Thadani said.
The colonial style cafe, done up in bright, edgy colours and antique furniture, serves a range of cuisines, including oriental and continental dishes.
Worli village is one of Mumbai's 189 'gaonthans' (indigenous villages). It is spread across an area of 72 acres and houses 25,000 families. Members of this 100,000-strong village stay as a close knitted community, taking care of each other. - IANS

Trending Now: