Behind the revival of a government corporation in Bihar is Pratyay Amrit
Rajan Prakash
&nbsp | &nbsp New Delhi
08-July-2011
Vol 2&nbsp|&nbspIssue 27
The walls were dank, the curtains tattered, chairs broken and toilets that could be smelt from a mile, the whole picture not much different from a second class waiting room at a railway station or worse, a bus terminal. By no stretch of imagination did it look like it was the office of a major state corporation about to embark upon the onerous responsibility of creating a bridge infrastructure in one of the poorest states in the country.
"It was like hell. It did not look like an office at all. I did not know where to begin,'' Pratyay Amrit recalls. But things had begun to change in Bihar with the-then new Chief Minister Nitish Kumar keen to implement his twin pre-poll promises, namely maintenance of law and order and a drastic improvement in Bihar's benighted roads. While law and order was pretty much the CM's own baby, the road project came to Amrit.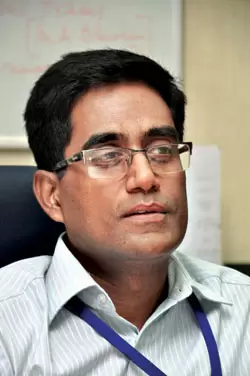 Man of action
:
Pratyay
Amrit
was given the mandate to build better bridges in
Bihar
and he exceeded everyone's expectations (Photo: Governance Watch)
When he took over as Managing Director in 2006, the turnover of the Bihar Rajya Pul Nirman Nigam (BRPNN) stood at a measly Rs 47 crore, with the state government having made up its mind to close it down. Within two years, the turnaround took every one – including Nitish Kumar – by surprise. A defunct organisation was now in a position to donate Rs 20 crore to the CM relief fund during the Kosi floods.
Reminisces Amrit, "My friends offered their regrets when I told them about my transfer to the Bridge Corporation."
Notwithstanding Amrit's early success, the road was far from smooth. The system in place lacked basic amenities, and the morale of the employees was low.
Amrit, an able administrator and HR expert, ensured that the staff got the basic facilities to carry out their jobs. For instance, he provided them with GPS-enabled phones making it easier for them to monitor progress of work. In an effort to create a congenial environment, family picnics and movies were organised.
Thanks to his initiatives, by July 2009, the BRPNN's turnover had surged to Rs 768 crore, when he was relieved of his responsibilities and made Principal Secretary, Road Construction.
Today, BRPNN justifiably claims to be an ISO 9001, 2000, & 1410:2004 certified company, which has successfully constructed over 297 high-level bridges with an investment of Rs 708 crore. Apart from building bridges, the corporation also undertakes projects relating to irrigation and road construction.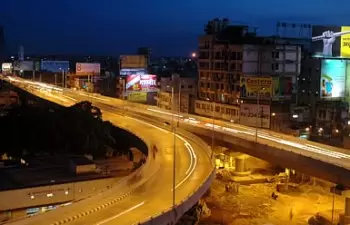 A bridge constructed by
BRPNN
in
Patna
(Photo Courtesy:
BRPNN
)
Apparently, the same bunch of people who were tweedling their thumbs a few years ago are among the busiest today. Construction of 520 bridges under the CM's Setu Nirman Yojana, eight road over bridges with an investment of Rs.306 crore and a high-level bridge project at an estimated cost of Rs.438 crore is what keeps the corporation wholly occupied these days.
Prior to his bridge-building exercise, he had worked as district magistrate (DM) across four locations. As DM of Katihar, he implemented, for the first time, a public-private-partnership for the district hospital. He asked the NGOs to take responsibility of a ward each and hey presto, in no time the scenario changed from a health-provider deficit to one of surplus.
As DM of Chapra (a tier-III location adjacent to Patna), he put an end to sleaze shows at the famous Sonpur fair, the site of Asia's largest cattle fair. Amrit made it compulsory for CCTVs to be installed in theatres.
His management style has helped improve Bihar's roads significantly and even earned a few words of praise from the World Bank. His popularity has crossed national frontiers - he was invited to attend the Urban Planning and Economic Development Programme by the US in February this year, and was also awarded the PM's excellence award in April.

Published by special arrangement with Governance Watch

Trending Now: