Lalitpur's community radio station is making waves in rural UP

Anjali Singh
&nbsp | &nbsp Lalitpur, UP
24-June-2011
Vol 2&nbsp|&nbspIssue 25
The moment Rachna, 19, steps behind the microphone she is a changed person. A radio jockey, she loves to communicate with her listeners on the community radio station in Lalitpur, a district in the impoverished, drought-affected Bundelkhand region of Uttar Pradesh (UP), India's largest state.
Now a role model for girls in her village, she remembers a time when she was not even allowed to leave the house without a male escort. Today, of course, Rachna's voice is heard in every home in the remote corners of Lalitpur.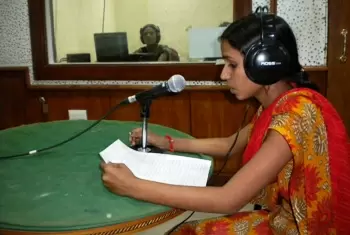 Towards change: A RJ at work in Lalit Lokvani, the first community radio station in UP (Photo: WFS)
Sitting at the radio station in Alapur, a small hamlet in Birdha block of Lalitpur, she says: "I can't believe I am now a RJ broadcasting and anchoring radio programmes. What makes it even more meaningful is that I get to talk about actual issues like mother and child mortality that affect my community."

Similar sentiments are echoed by Uma Yadav, 33, a housewife, mother-of-five and one of the 12 community reporters at the station, "Until now no daughter-in-law in the village had ever taken to reporting, recording programmes and getting involved in solving issues related to women. Initially, my family members refused to give me permission but once they realised how productive the work was, they relented."

So committed is Yadav that after completing her daily chores she is motivated enough to walk three kilometres to reach the Lalit Lokvani office in Alapur to anchor shows and hold discussions on issues like breastfeeding and mother and child nutrition, which are two concerns that need immediate attention in Lalitpur.

Both Rachna and Yadav are part of a new communication revolution that has swept rural UP in the form of the much-needed Lalit Lokvani, the first community radio station in the state, which serves over 80 villages at the moment.

What makes this radio station unique is the fact that it has encouraged women from within the community to take to reporting and anchoring programmes on issues that concern them. These focused scripts - that are usually written with women in mind - draw tremendous responses, especially because it uses the typical Bundelkhandi dialect.

Explains Shilpi Yadav, 25, a graduate who is a field co-ordinator of Lalit Lokvani: "At first it was a challenge to get the village women to listen to the broadcast. Gradually, however, they understood that we had their welfare in mind. Today, even the men listen to us - not only on their radio sets but on the FM radio stations available through their mobile phones."

The community radio station had begun in 2007 by narrow casting programmes to a few villages. The station received its wireless operating licence (WOL) in August 2010, which allowed it to officially broadcast on a frequency of 90.4 megahertz to villages within a span of 15 kilometres around Lalitpur.
Programmes are broadcast for an hour every morning from 7 to 8 am, with two repeat broadcasts - 1 to 2 pm and then 5 to 6pm. Talks are already on with the district administration, which is keen to disseminate information about government schemes being run for people. They feel community radio is a good medium for this.
Vidya Galav, 20, another talented RJ on Lalitpur Lokvani, couldn't agree more. As she put it, "I believe community radio is the ultimate agent of social change that will liberate our mothers, daughters and sisters from their mental and physical shackles. Through the radio they can listen and learn that women can go beyond the role that society has laid down for them and transform themselves." - Women's Feature Service


Trending Now: