Turn on the fountains of love to help find joy, says mind guru
Madhusree Chatterjee
&nbsp | &nbsp New Delhi
17-June-2011
Vol 2&nbsp|&nbspIssue 24
The latest corporate buzz is to make people happy at workspace - to liberate the butterflies, turn on the fountains of love and to help find joy in the small things in life, says mind and innovation guru Rekha Shetty.
"In workspace, people should have two real daily laughs - the first laugh and the last laugh. I don't want to talk about the rocks, stones and the scorpions at work, but I want to liberate the butterflies and turn on the fountains of love in companies," Shetty, founder of the Mindspace brand, said.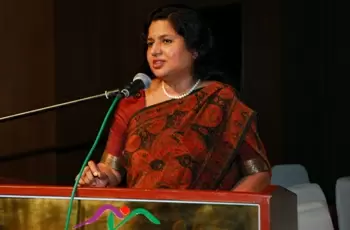 Eureka! Anger and stress pour 36 toxic chemicals into the blood which require 48 hours to get out, says Rekha Shetty
Mindspace and the company Farstar have been working on innovation initiatives and work-life balance for the last two decades.
Shetty, who has launched her new book "The Happiness Quotient", has already written 'Corporate Strategy: Mindpower, Innovation and Innovate! 90 Days to Transform Your Business'.

"Companies were waking up to the need to make their workers happy. The ICICI Bank, at one of its Mumbai branches, allows its workers to bring their kids to the workplace on Saturdays. The children have fun for a couple of hours while their parents work. And then they take off directly from the office for the weekend," Shetty said.

"I know of a top bank executive - a strategist - who works for the first six months of the year. He is on leave for the rest of the year, which he spends in his village developing it. He is building a school there. His bank has realised that he does not need to work round the year because he plans strategies at the beginning of the new fiscal," the mind guru said.
According to her, people spend two-thirds of their working hours in office and happy employees can do double the work compared to their unhappy colleagues.
She reminded that "more and more women were working from home after they have babies."
Shetty stressed that the days of Henry Ford (who wanted working hands) are over.
"Most of the workforce in corporate houses now is knowledge-based workers and they cannot be forced to do anything. They have to be inspired to work," Shetty said.
According to her, preventing stress is a negative way of looking at life; "instead, fill your mind with your garden of poetic emotions like laughter, wonder, love and compassion to counter lust, anger, obsession, greed, jealousy, fear and repulsion."
Citing statistics, Shetty, who was the group vice-president of Apollo Hospitals, pointed out that "anger and stress pour 36 toxic chemicals into the blood which require 48 hours to get out."
"Countries like Bhutan, India, Thailand and Australia are carrying out surveys to establish whether 'Gross National Happiness' will increase their GDP. You need happy people to solve problems and innovate."
Shetty, who has worked with hundreds of blue chip executives in the last 21 years, said she has developed a "cascading methodology of 47 methods to think out of the box at workplace."
Her book "Happiness Quotient" looks into wellsprings of happiness and draws from traditional Indian wisdom to map the road to increased happiness - how to be emotionally, socially and physically compatible with everything around us - to "lead significant lives." - IANS


Trending Now: