An IPS officer makes a mark as an international adventure swimmer

Mahesh Avadhutha
&nbsp | &nbsp Hyderabad
27-May-2011
Vol 2&nbsp|&nbspIssue 21
English Channel, Strait of Gibraltar and Palk Strait. These are some of the hostile international waters that 50-year-old Rajiv Trivedi has tackled. But if you assumed that Trivedi is an international adventure swimmer, remember he is an IPS officer, now an Additional Director General of Andhra Pradesh Police. Belonging to the 1986 batch of the Indian Police Service (IPS), Trivedi had a passion for swimming right from childhood. He even participated in junior nationals during his school/college days.

But after joining the highly stressful police job, he turned his focus towards endurance and adventurous swimming. He swam the 32 km long English Channel in 2001, encountering oil spills, debris, sea weeds and poisonous jelly fish during that 13 hours marathon effort.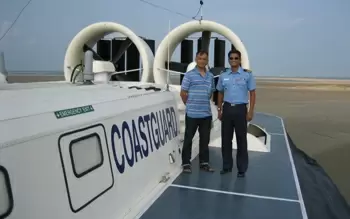 Thrill seeker: Rajiv Trivedi (left) believes endurance swimming makes him mentally stronger, and a tougher cop
Very same year he became the first IPS officer to swim across the Strait of Gibraltar when he swam from Karifa in Spain to Mount Moosa on the Moroccan coast. The officer took around five and half hours to complete the 20 km long strait which was very remarkable considering the expected time was at least 8 hours.
"The water temperature was between 17 and 20 degrees Celsius. There were also sharks and killer whales in the waters and I was lucky they stayed away from me," he says.
A decade after achieving these rare feats, Trivedi added one more feather to his cap by becoming the most senior man to swim across the Palk Strait. On March 25 this year he swam for 12 hours and 31 minutes non-stop and completed the 30 km long Palk Strait from Thalaimannar in Sri Lanka to Dhanushkodi in Tamil Nadu.
He started his attempt very early in the morning at 4 am. "The most difficult thing was not being able to see anything in the dark. The only point of reference for almost 2 ½ to 3 hours was the light from the support boat. The danger in the sea is mostly from sharks, snakes, jellyfish and other harmful bugs. An imported electronic shark repellent device was hung from the support boat to dispel them," recalls Trivedi.

"Endurance swimming keeps you supremely fit, makes you mentally strong, and helps you stay focused," he says, adding, "and what more, these qualities indirectly help me in discharging my policing duties very effectively."

You can't disagree with what the police officer says. Because, when the then AP Chief Minister Dr Y S Rajashekar Reddy's crashed helicopter was traced in Nallamalla forests, Trivedi was the first cop to reach the accident spot and identify the deceased CM'S body. Though he was posted in a different wing far away in Hyderabad, this IPS Officer voluntarily came forward in overseeing the rescue operations which reflects his bold and fearless attitude at work.

"Self motivation and strong will are the driving forces that keep me going," says the officer, who is now with the AP Police academy. "My wife Udaya and sons Prasoon and Prashant are my pillars of support without whom I couldn't have scaled these heights," he reveals.

Hailing from Uttar Pradesh, Trivedi spent a major part of his childhood in Rajasthan. He was in Punjab to do his MBA. Before joining IPS, he worked for Tata Consultancy Services. Apart from serving state and central duties, this champion officer also worked in Bosnia warzone on UN deputation.

In spite of the hectic work schedule and constant transfers Trivedi makes it a point to swim regularly. While he was working in East Godavari district of A.P, Trivedi once swam in Godavari River from Rajahmundry to Kovvuru, a distance of 5 km.


Trending Now: