Meet Nikhat Zareen, an uncelebrated world champion from India

Mahesh Avadhutha
&nbsp | &nbsp Hyderabad
25-May-2011
Vol 2&nbsp|&nbspIssue 20
Sania Mirza, and Saina Nehwal have competition. Andhra Pradesh has got a new world champion. Nikhat Zareen, a 15-year-old girl from the small town of Nizamabad has bagged the gold medal in the World junior boxing championships held recently in Antalya (Turkey).

Nikhat, who says her dream is to win a gold medal in the 2016 Olympics, took to the sport just two years ago. She developed an interest in boxing watching her uncle, a boxing coach, training his sons in the sport. Seeing her interest, her uncle, Shamshamuddin, started training her as well.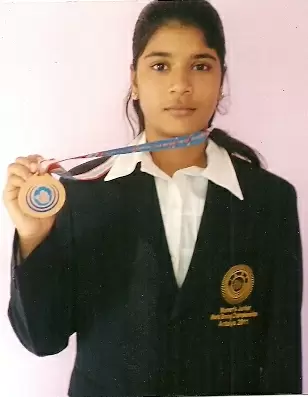 Gritty champ: Nikhat says she is determined to win a gold medal in the 2016 Olympics
Soon, she participated in junior and state level competitions. In the 2010 Junior Nationals held in Chennai, she not only won the gold medal but also got the coveted 'Best Boxer' award. Her consistent performances in the domestic circuit got her a ticket to the junior world championship in Turkey, where she took the gold.

Nikhat is the third among four daughters born to Jameel Ahmed and Parveen Sultana. She hails from an ordinary family. Her father works as a salesperson in the Gulf.

The world champ attributes her success to sheer hard work and the hours of practice she had put in for the last two years. "I needed to put in a lot of extra effort in order to focus on studies and boxing simultaneously," says Nikhat, whose idols are boxing legend Mohammed Ali and his daughter Laila Ali.

Everyday this teen wonder gets up very early in the morning and reports to the training by 6 a.m. After about an hour and a half of intense boxing session, she gets back home to leave for school. She sweats out in the ring for another hour and a half in the evening after she returns from school. After dinner, she completes her homework and goes to sleep.

She realizes that things are going to get tougher from the next academic year onwards, when she will be in tenth standard. "I am confident of clearing board exams without disturbing my daily practice routine. Boxing and studies are both important to me. I carry my textbooks to coaching camps and tourneys and go through them whenever I find the time."

Nikhat is glad that her hard work has borne fruit. "Seeing my struggle for the past two years, friends, classmates and even relatives used to wonder why I was 'wasting' my time and energy. Many had doubts whether this girl from small town will ever make it big. But that did not deter me a wee bit because I believed in my abilities. And once I started tasting success, the perception of all those around me changed. Now that I got a world champ tag, everybody is over the moon," she says excitedly.

"We are not looking for any awards or rewards; Zareen's sole aim is to bring more laurels for the country," her uncle and coach Shamshamuddin said. However, some companies are already showing interest in sponsoring her training costs. Sources revealed that the State government, Sports Authority of A.P and State boxing federation are likely to bestow cash prizes on the new champion.


Trending Now: