Bihar's change has been noted far and wide: Nitish Kumar

Sankarshan Thakur
&nbsp | &nbsp New Delhi
25-March-2011
Vol 2&nbsp|&nbspIssue 12
In a granite alcove to one side of his work den at 1 Aney Marg sits a display of trophies the man has won, serried from one end to the other like Easter Island monuments, a brass Buddha in the centre as presiding deity. Bihar chief minister Nitish Kumar has been named 'Indian of the Year' by some notable or other each year since 2007, but his accumulation has now begun to look more than a dare than a feat: can he do it again, can he live up to them? Or to the license the people of Bihar have handed him? There was another side, after all, to the extraordinary landslide of November last. If it gave Nitish all authority, it also left him with no option of resort to excuses. Two months into his second term, he clearly feels the burden of expectations. He keeps those trophies close, he says, less as mementos of pride, more as reminders of his onus. "I am on test," he tells us, as he settles down for his first interview since he began his second term two months ago, "We have been appreciated far in excess of what we have achieved, that is the challenge we have to measure up to. What was electoral promise has now become government programme, there can be no getting away from that." Excerpts from the conversation:

Q: What's the outlook, are you feeling up to the task you've undertaken?

A: There is no option, the mandate left me with none. It was a directive to perform and we must. We have much to catch up on and make up for. If I can't do what I am committed to I will suffer the consequences. I am on test. I have put myself on test.

Q: The going will be tough.

A: It will be, but there is no getting away from that, that is what I am here for. I constantly have the sense that we have been appreciated far in excess of what we have achieved, that is the challenge to measure up to. That is what these trophies constantly tell me, the real tasks lay ahead. But things are changing. You know (Robert) Zoellick, the World Bank president, asked me at the end of his visit what had really changed in Bihar and I told him it was the very fact that the World Bank boss had decided to visit. And he had a hearty laugh. But on a serious note, the change has been noted far and wide, not that we should be complacent.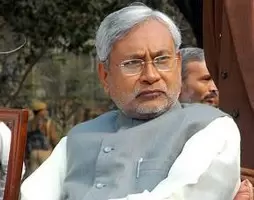 New benchmarks: Nitish isn't relaxing yet on his achievements. He has lined up ambitious programmes for Bihar in his second term as chief minister
Q: What are the main challenges of term two?

A: Essentially Bihar's rudiments need correction and upgrading. We are very low on our human development indices, on infrastructure in key sectors of business, all of that needs to be lifted up. Some basic work had begun in my first term and we have results, but much more needs to be done.

Q: What are the priority areas?

A: The obvious ones are education, health, welfare and roads, on which some work has progressed. But food security, power and corruption are big ticket issues we must get to grips with. They are the key to Bihar moving ahead.

Q: You seem to have a big problem on your hands with land acquisition for the Nabinagar power project, your most ambitious project.

A: Look, there will be hurdles. Our job is to find ways of overcoming them. All big infrastructure projects require land and land is limited, it is not going to fall from the skies. There are some issues in Nabinagar but it is not going to become Bihar's Singur or Nandigram as some people are saying, or wishing. We are not grabbing land from the tiller to give it away to some Tata or Birla. This is for a government project to provide power to power-starved people. This is a project for Biharis by the Bihar government and the beneficiary is not some private party. In any case most of it is government land and has already been acquired. There is a little more required on which there might be a dispute but we are in the process of sorting that out. If some people are instigating villagers to take law and order in to their hands, my government will not tolerate it, nobody has that right.

Q: Many people, especially prospective investors, say that it will take a long time for Bihar to be power-surplus and till then the investment/industry scenario will not really change.

A: That is the test. We have set ourselves a stiff target by 2014. We cannot achieve anything if we are not ambitious. There are hurdles. There is land, there is the issue of coal availability, there is finally the issue of overhauling current generation and distribution and fast-tracking new projects.

Q: How optimistic are you on dealing with corruption? It is almost unthinkable the current culture can change.

A: The message I have sent out is clear: zero tolerance. That message is as clear to my colleagues in the party and government as to the police and civil services. We have made a start. All ministers have published their assets. All officials from top to bottom are going to have to do that.

Q: Will that too be published?

A: Of course, every one declares assets openly. And we go after anyone in possession of anything beyond their means. We are going to review assets of relatives too in order to check benami investments. Here again, there are some legal hurdles, but we are working to neutralise them. If it takes creating a certain fear in the minds of miscreants, then we will create fear but we must move against corruption; it was one complaint I heard loudly throughout the campaign and it is something I earnestly promised. I can sense that people are moved on the corruption issue, they are with anyone who fights it.

Q: Does the recent spurt in crime worry you? Why is it happening all over again?

A: That is something that concerns me 24/7 but I would not say it worries me. Yes, there has been a spurt over the last month or so. One reason may be that the police force worked very hard in the pre-election and election days to ensure a free and fair poll. A bit of slackening is natural, but that cannot be allowed unchecked, we are pulling up, we are alert, there isn't a genuine worry. One thing I can say with absolute certainty is that I have abolished all political patronage or protection to criminals. I am willing to be challenged on that count.

Q: Ironically now, you don't seem to have much of an Opposition to challenge you. Do you think it is healthy for democracy for the Opposition to be so thin?

A: That's a very important question. The Opposition in Bihar did not get enough seats to technically qualify to claim the leader of Opposition's job, but I insisted that the RJD be given it, because in the Assembly I should feel answerable to someone. We have got a huge victory but that does not mean we can take the Opposition lightly or to ignore it or scoff at it. There is a temptation to be drunk on power but that is a sure way to downfall. And the truth is that though the Opposition in Bihar has been reduced drastically in the Assembly, they still have a substantial mass base and nobody should forget that. I am conscious of that and I am not going to take the Opposition lightly.

Q: What about your national Opposition, the Congress and the UPA? What's your view on the UPA's second term?

A: The Congress is an inherently arrogant party and when it is in power at the Centre, it also develops a very anti-federal attitude. I fear the Congress' decline has begun again. Each time the Congress has been thrown out of power in Delhi, it has been on the back of corruption allegations. In 1974-75, the allegations were against Indira Gandhi, then the Bofors scandal which took down Rajiv Gandhi. The same atmosphere is laying siege to UPA II and they should see the writing on the wall instead of being in such deep denial.

Q: So let me ask you again: are you a prospective player in Delhi? Many believe you and the Bihar model can best push the NDA's chances at the Centre.

A: (laughs) Again that question. I will repeat that I have been given a mandate to serve the people of Bihar and that in itself is a huge task. I am devoted to my given job. Having said that, I also think that Bihar is somehow at the centre of what happens nationally, it is the core of this country. Bihar evokes a certain sense of belonging everywhere because our history began here with Buddha and Ashok and the other greats. So Bihar has a very special place and it will always play a role in what happens in Delhi.

Q: Is that a yes or a no?

A: (laughs again) At the moment my job and my project is Bihar.

Sankarshan Thakur is Roving Editor of The Telegraph; this article was originally published in The Telegraph'


Trending Now: