Suicide is no "Last Option" says Octopus

Arpit Gupta
&nbsp | &nbsp Kanpur
07-January-2011
Vol 2&nbsp|&nbspIssue 1
Concerned over the rising incidents of student suicides in the country, a group of youth from Kanpur made a short film on the issue and it went on to become a super-hit by even bagging an award at a festival in Goa last year.

The six-minute video clip, 'Last Option', directed, shot, scripted, produced, and edited by 'Octopus', a group of eight Kanpur based youngsters, which discourages suicides by students, is grabbing eyeballs and has already got 183,095 hits on You Tube.
Gujarat Chief Minister, Narendra Modi is one of two lakh visitors, who had appreciated the efforts of the youth.
The film, which was the second runner up in the Frame Flicks award held at Goa in May 2010, is also being sent to many film festivals like 'Aahan 2011 Film Festival' and an international film festival to be held at Chennai. Modi, who posted the clip on his website, 'www.narendramodi.com', observed: "Friends, today's age is that of learning rather than teaching. In this context watch a small video clip here. I like it very much. I hope you too will like it."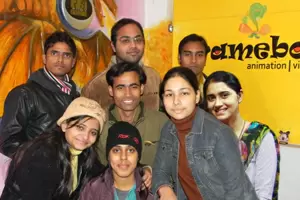 Alive and kicking: The

Kanpur

Octopus, a group of eight youngsters, shot to fame with their film on dealing with suicidal tendencies among students
The Octopus group comprises Harneet Kaur (20), Pankaj Kushwaha (22), Arzoo Nishi (22), Harsh Agarwal (23), Khyati Singhal (19), Dharmesh Singh (22), Asna Nikhat (24) and Deepak Rathore (23) - all students of animation and visual effects at Frameboxx Institute, Swaroop Nagar, which was set up in 2008.

The students conceived the plot for the film after reading about the rise in suicide attempts of students, especially in premier institutions like Indian Institute of Technology (IIT), Indian Institute of Management (IIM), and medical colleges.

Asked about the unique name the group has given itself, Deepak Rathore says: "We are eight members and so we named it Octopus, since the animal has eight tentacles."

The success of 'Last Option' has left Octopus all charged up. They are planning to produce eight different movies, including a live action movie, a 3-D animated movie and a corporate film this year.

What differentiates this clip from other movies made on the subject of suicide is its positive climax, which could inspire youngsters and prevent them from taking the extreme step. The movie shows a young boy teased by his classmates and scolded by his teacher for failing in his exam. The crestfallen boy does some research on the methods of committing suicide and learns some basics of mathematics and chemistry in the process. In one scene, he is unable to tell the exact measurement of the rope he requires (for committing suicide) to the shopkeeper. The movie has a happy ending after the boy decides to live and prove a point rather than take his life.


Trending Now: