Bengaluru Lad's Vegan Footwear Brand Grosses Rs. 1.3 Crore After Bold Online Pivot
Rama Devi Menon
&nbsp | &nbsp
23-August-2023
Vol 14&nbsp|&nbspIssue 34
When Bengaluru lad Pankaj Khabiya took the bold step to start a vegan footwear brand called Ethik in 2013, he was only 23. Started with an investment of Rs. 25 lakh, provided by his family, the brand has found a niche market and made revenue of Rs. 40 lakh in the last financial year.

Ethik's pivot to an online-only model in December 2019 marked a turning point for Pankaj and his business. This change led to a growth in sales, and the company has grossed over Rs. 1.3 crore in sales since the transition.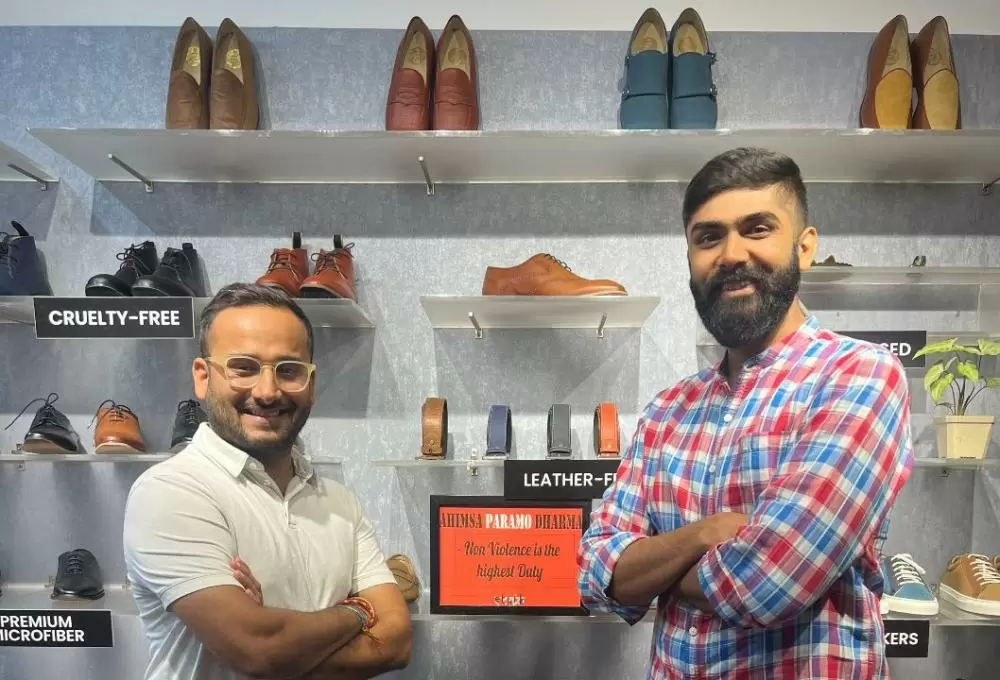 Pankaj Khabiya with Bharat Ranka who helped pivot Ethik into an online brand in 2019 (Photos: Special Arrangement)
Pankaj launched his brand from a store on Church Street, a premium shopping destination in Bengaluru. The initial inventory included 68 SKUs of shoes, 12 SKUs of wallets, 10 SKUs of belts, and 2 SKUs of bags, along with non-leather jackets and passport cases.
"I realised that premium non-leather shoes are a high growth category, and with the vegan wave in the West, I knew this fashion category would be accepted in India as well," Pankaj reflects.
Ethik makes products that are traditionally made out of leather using non-leather materials such as microfiber and plant cellulose.
"Microfiber is sustainable, and although it has traces of PU/PVC compounds, it solves our purpose of making products that are cruelty-free. Our plant-cellulose materials are completely eco-friendly and recyclable," says Pankaj.
After completing his Bachelor's in Commerce at Shri Bhagawan Mahaveer Jain College in Bengaluru in 2008, he joined his family's wholesale clothing business.
Pankaj's passion for creating a vegan brand of formal footwear was fuelled by his Jain upbringing and spiritual beliefs.
"Born into a Jain family, principles like Ahimsa Parmo Dharma were inculcated in me in my formative years." he says.
"I am a firm believer in the higher consciousness, and a follower of Infinitheism, a spiritual movement founded by the well-known spiritual leader T.T Rangarajan, fondly known as Mahatria Ra."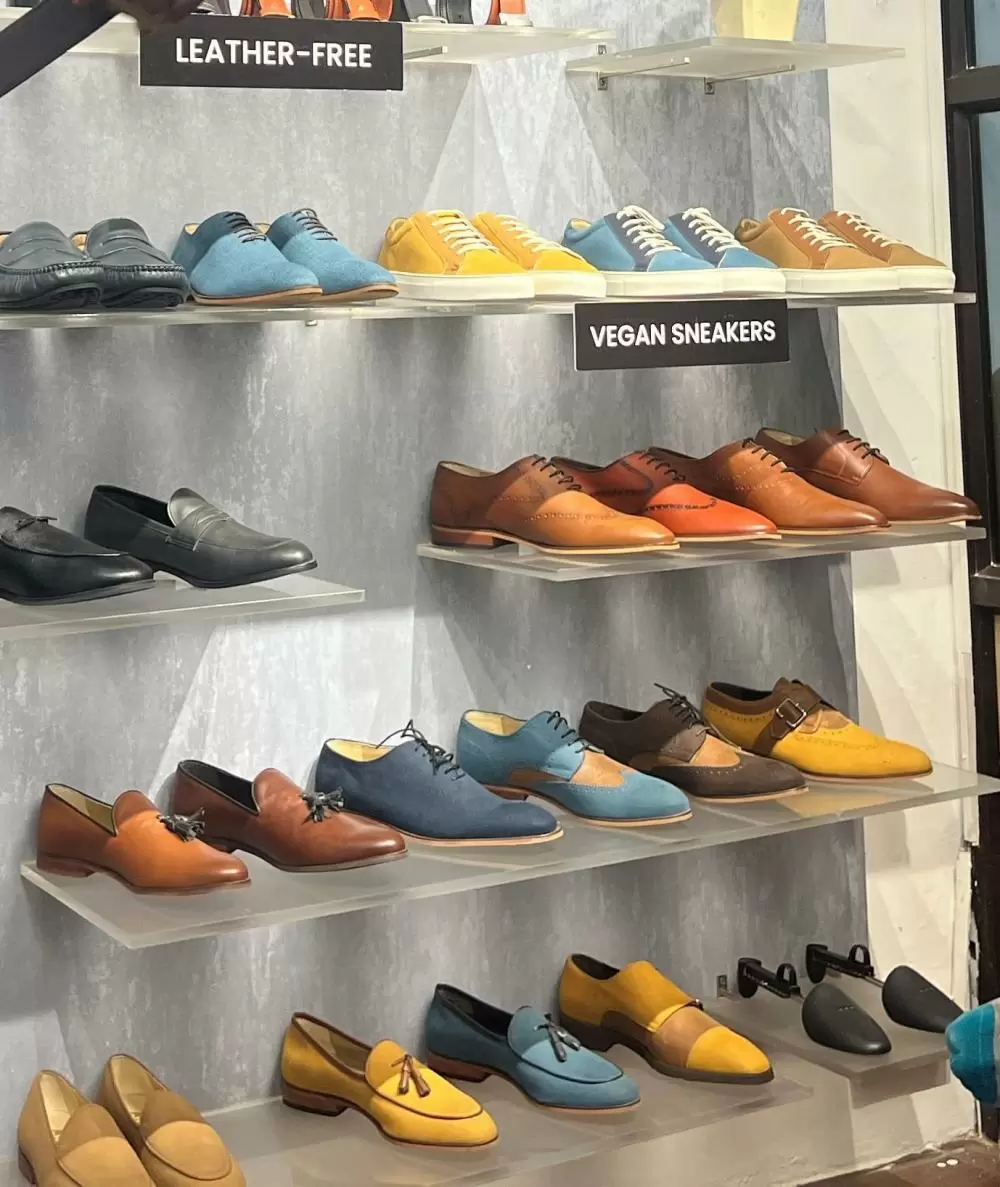 Ethik offers around 68 SKUs of vegan shoes

He continues, "I have also been staunchly campaigning against animal cruelty," reinforcing a belief that aligns with his vegan footwear brand's philosophy.
The struggle to find premium non-leather formal shoes led him to explore the potential in the market for cruelty-free fashion. "Of course, there are various non-leather options," Pankaj acknowledges, "but they are made of rexine, with hundreds of varieties flooding the market space."
"Finding the perfect material that looks exactly like leather but outperforming not just leather, but every other alternative available in the market was a major challenge."
He embarked on a journey of research and travel, seeking inspiration and understanding from existing vegan shoe brands.
"I began my research around the middle of 2010 and travelled all over India, looking for vegan shoe brands to understand and pick up successful business ideas," Pankaj remembers.
He discovered the perfect materials, teamed up with a manufacturing partner, and collaborated with a branding agency. "That's how my dream became reality. I opened Ethik on August 15, 2013, in a brick-and-mortar shop that was around 450 sq ft on Church Street."
In the early days, Ethik was run by just two people: Pankaj and his then-partner, Piyush Lunia. Gradually, they expanded, and by 2014, a store manager and a staff member had joined their team.
Ethik became a modest success, with revenue of around Rs. 77 lakh from 2013 to 2018. "We were doing average monthly revenue of about Rs. 1.5 to 2 lakh," says Pankaj. Sales came from word-of-mouth, walk-ins, and Vegan Facebook Groups.
But things would soon change after he hooked up with his co-founder, Bharat Ranka. Bharat's father, a regular customer of Ethik, was always an admirer of the cruelty-free products and he introduced him to his son, Bharat.
Bharat, then 28, was overseeing his family business and also ran his consulting firm, helping businesses transform into brands. "It was coincidental that I was looking for a partner and a new round of investment," Pankaj shares.
"Bharat was the right choice as a partner because we shared the same vision and purpose. He invested Rs 95 lakh in the business for an equal stake in the company."
With Bharat's entry, Ethik underwent a radical transformation. "We completely revamped our marketing model in 2019, winding up our brick-and-mortar business, and switching completely to an online mode. E-commerce was growing rapidly in India during this time," says Pankaj.
Expressing his excitement about the partnership, Bharat adds, "When the opportunity to collaborate presented itself, I jumped at the chance to work with Pankaj. I am convinced that Ethik provides a cruelty-free footwear alternative for men like no other brand in India does."
One can purchase Pankaj's products from their website, if you are based in India or the United Kingdom. For other locations, customers can contact them directly, and they will ship the products worldwide.
"Our most recent overseas consignment was to Australia. We are looking to expand digitally into international markets like the USA, Europe, which should give a fillip to our growth plans," shares Pankaj.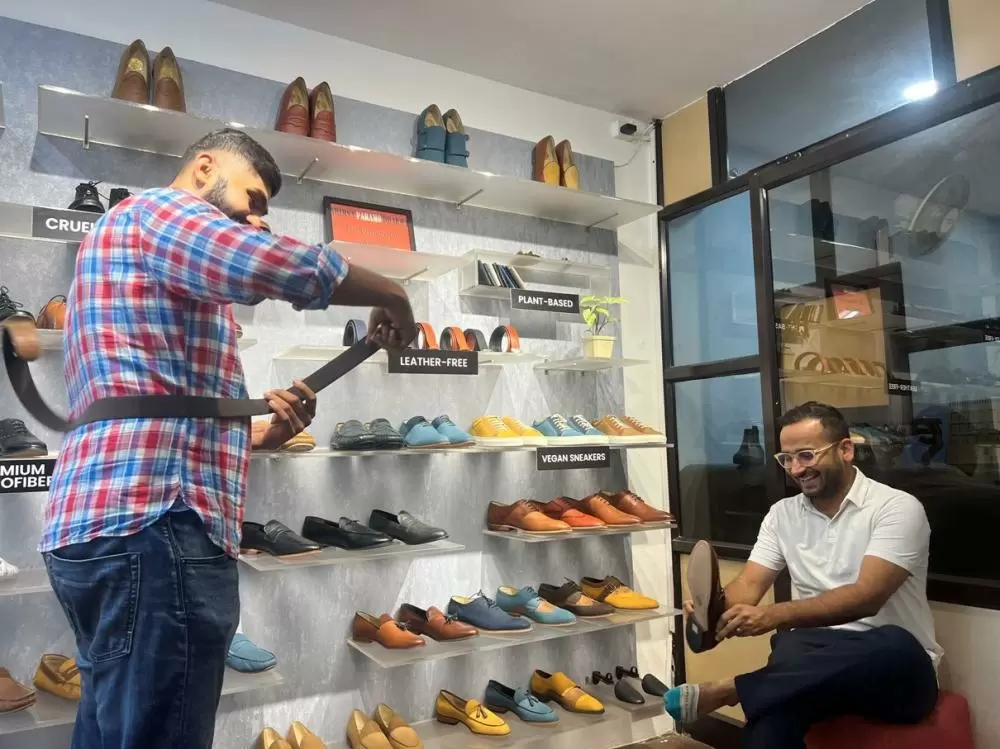 Ethik's mini-experience centre in Bengaluru

"Additionally, listing on niche fashion marketplaces like Myntra, Ajio, Tata Cliq Luxury and Amazon Global Seller Program remain other revenue streams that we are working on."
The brand also sells through various vegan and sustainable marketplaces, like Suspire, SustainKart, Meolaa, Vibecity, OurBetterPlanet, Angry Earth, Vegan Dukkan, Ecohoy, Upcycleluxe, and Popclub.
"Currently we do not have any retail outlet but we do have a mini-experience-centre at our office in Bangalore, where eight key employees make Ethik the brand that it is today. We have employees as old as 21 and as young as 55," quips Pankaj.
In June 2023, they launched their first-ever daily-wear vegan sneaker, Uno. "And now we are going to launch vegan premium keychains. Of course, the only constant complaint that we get is that we don't make products for women, which would definitely be a category we plan to enter shortly," reveals Pankaj.
Their products are priced between Rs. 3000 and Rs. 6000 for shoes and Rs. 1000 and Rs. 2000 for wallets and belts.
Popular vegan influencers like musician Vineeth Vincent, fashionista Divya Maben, and fitness expert Ajitesh have endorsed their products. "We also gifted some of the Indian cricketers our vegan products, like plant-based wallets and some of our comfortable formal shoes," says Pankaj.
"We were also one of the pioneers in this category in India. Our products are cruelty-free, and our plant-based leathers are certified by the European Certification agency," Pankaj proudly says.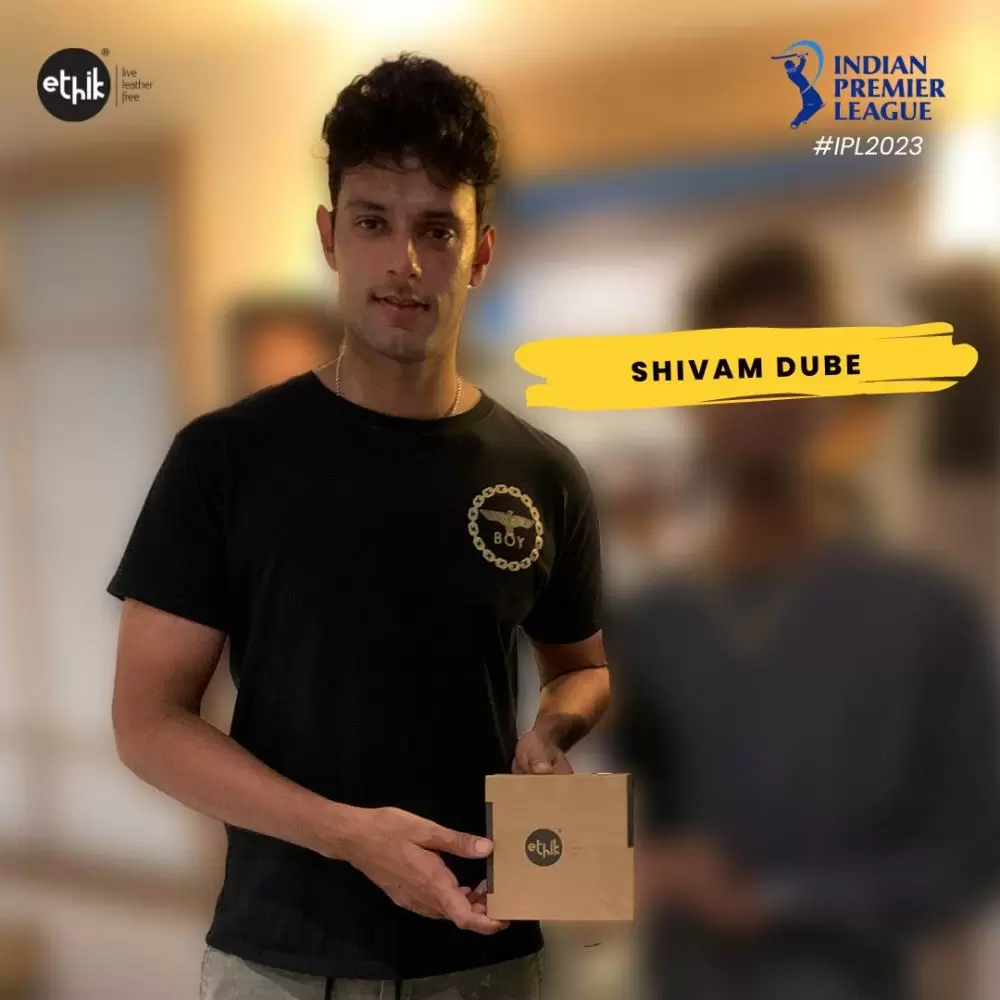 Cricketer Shivam Dube showing an Ethik product presented to him
Pankaj is married to Anita, who is the Directress of Eka, a Montessori School. The couple has a 5-year-old daughter, Prahas, and a 14-month-old son, Raahil.
Outside of work, Pankaj has a passion for music and sports, especially cricket. He believes that sports can teach essential life lessons and contribute to building strong character."
With a vision to redefine the way fashion is consumed and produced, Ethik's commitment to sustainable, cruelty-free production and a quality product ensures a bright future. - ©
TWL

Trending Now: